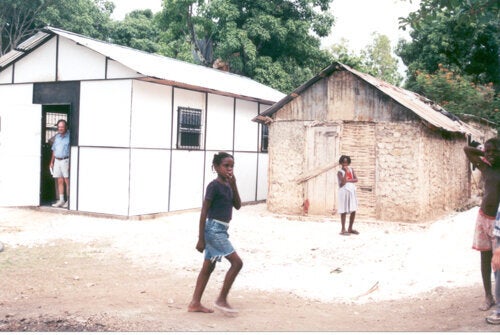 Like many Americans, I watched the apocalyptic footage coming out of Haiti last month and wondered what I could do. I texted my $10 pledge to 'HAITI' and felt satisfied that I had done my part. After all, the American Red Cross had raised at that time $20 million, just from text message pledges, and more was sure to come from George Clooney's Hope for Haiti telethon.
The Red Cross ended up raising $32 million from text messages alone, the telethon raised another $6 million, and now, by the Chronicle of Philanthropy's count, American charities have pledged a total of $774 million for Haiti relief efforts.
Unfortunately, no. The earthquake in Haiti and its subsequent aftermath may have passed from our collective consciousness -- it's been more than a month since Port-au-Prince was leveled -- but the need to help the ravaged country has never been more dire.
On Tuesday, the Inter-American Development Bank released a new study that tallies the total damage wrought by the earthquake at between $7.2 and $13.2 billion. Previous estimates had suggested $5 billion.
As generous as Americans have been, and as much attention as our media gave to the aftermath, still more needs to be done.
On Wednesday, Haitian president Rene Preval said his government's top priority is finding shelter for the estimated 1 million people displaced by the earthquake.
"The first priority was to save people who were trapped, people who were hurt," Preval told Bloomberg.com. "Now we need to help about 1 million people who are on the streets find shelter."
Daedalus' space-agey material uses recycled plastic to form polymer composite panels that make up the homes and structures. And what's more, homes previously built in Haiti, of that same polymer material, not only survived several hurricanes -- they also survived the earthquake.
Using the same material to build homes rapidly could get Haitians reliable shelter before the heavy rains start, and at a cost of between $3,000-$3,500 each.
When Bill Clinton traveled to Haiti Feb. 5 he came back saying what was really needed was health care and sanitation infrastructure. With the coming of the rainy season, medical and public health experts fear disease outbreaks if more latrines aren't dug and more hospitals aren't set up.
"Haitian people living without shelter, now estimated to be up to 1 million, will become more vulnerable this April as the rainy season begins," according to the Red Cross. "The arrival of hurricane season in June only reinforces this urgency."
Daedalus also intends to send panels to Haiti from an emergency hospital designed for use in the event of a terrorist attack. The remaining panels have been stored at a site in Pennsylvania. The Allegheny County Department of Emergency Services donated the panels to Daedalus that will send them to Haiti for use by Doctors Without Borders and the Lifeline Christian Mission. But they need money.
This particular structure could be an ideal way to rapidly set up some semblance of the sanitary and health care infrastructure that aid organizations in Haiti say is most needed.
And as if the shortage of hospitals and shelters weren't enough, a new article published Wednesday in the New England Journal of Medicine warns of "new and terrible dimensions" to the plight of Haiti's children.
A team of four medical experts sent by the François-Xavier Bagnoud Center for Health and Human Rights at Harvard University traveled to Haiti on Jan. 24 to survey child-protection needs.
Children, which make up half of Haiti's population of 9 million, already faced a grave risk of abandonment, abuse, and trafficking -- and have for years. More than 350,000 children live in orphanages and many are desperately poor.
The earthquake destroyed many of these orphanages and sent countless children into temporary settlements, where they are "easy targets for organized crime, violence, and sexual exploitation."
Here, again, The Daedalus Foundation can help. The group designed low-cost facilities for orphans of HIV/AIDS -- principally in sub-Saharan Africa -- out of this same unique building material and are in a position to produce and assemble more quickly.
Yes, Americans have given greatly to Haiti, but more still needs to be done. And supporting this Washington, D.C.-based group is a real way to make a meaningful impact.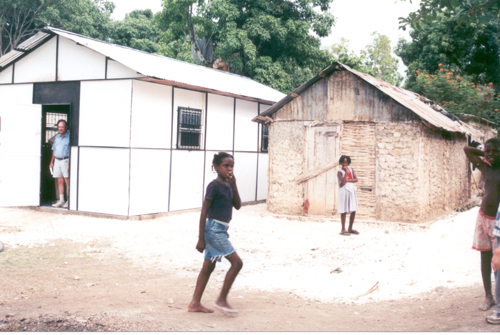 Calling all HuffPost superfans!
Sign up for membership to become a founding member and help shape HuffPost's next chapter