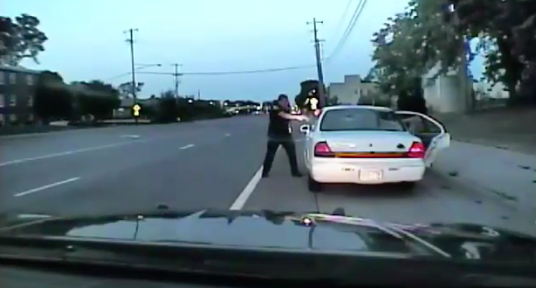 Philando Castile very clearly said he had a firearm.
Officials in Ramsey County, Minnesota, released video on Tuesday that shows the interaction Castile had with St. Anthony Police Officer Jeronimo Yanez before Castile was shot to death during a traffic stop in July.
In the video, which had been played several times for jurors during Yanez's trial but had never been shown outside the courtroom, Yanez tells Castile that he's being pulled over because he has a brake light out. (Audio later used as evidence in the case against Yanez ― and also released Tuesday ― shows the officer actually thought Castile and his girlfriend "just look like people that were involved in a robbery.")
"Sir, I have to tell you, I do have a firearm on me," Castile says in the graphic video, embedded below.
"OK, don't reach for it then," Yanez says. "Don't pull it out."
Castile appears to say that he's not pulling out the gun, and then Yanez shoots him.
WARNING: The video below is uncensored and may be disturbing to some viewers.
Yanez can be heard screaming profanities and sobbing after the shooting. He keeps his gun pointed at a dying Castile as he calls for backup and waits for other officers to arrive.
Later in the video, when Yanez is interviewed by another officer, he admits that he didn't actually see Castile grab for a gun. He notes, however, that he was nervous after he asked to see Castile's license, and Castile "had his grip a lot wider than a wallet."
"I didn't know where the gun was, he didn't tell me where the fuckin' gun was, and then it was just gettin' hanky. He was just staring straight ahead, and I was gettin' fuckin' nervous and then … I told him to get his fuckin' hand off his gun … Fuck."
Castile's girlfriend, Diamond Reynolds, and her 4-year-old daughter were in the car at the time. Reynolds live-streamed the aftermath of the shooting, which brought worldwide attention to the case.
Yanez was interviewed by two agents of the state Bureau of Criminal Apprehension a day after the shooting. At one point, he told investigators that he thought he was "going to die," and seemed to correlate his jitters with the fact that he smelled "burned marijuana" coming from Castile's car.
"As he was pulling out his hand I thought I was gonna die, and I thought if he has the guts and the audacity to smoke marijuana in front of the five-year-old girl, and risk her lungs and risk her life by giving her secondhand smoke ... then what care does he give about me?"
A jury on Friday found Yanez not guilty on a charge of second-degree manslaughter and two counts of reckless discharge of a firearm.
Tuesday's video release quickly drew more attention to the acquittal, which prompted thousands of protesters to March through Saint Paul over the weekend.
"It's just like, a punch in my stomach, it's a punch in the gut," Castile's friend, John Thompson, told HuffPost Tuesday. "Look what happened to Philando for doing all the right things. It hurts. Every time I talk about it, it hurts.
"I'm so tired of being tired, I'm so tired of being sad, I'm so tired of being angry at this system."
Yanez was fired from the police force after the acquittal.
"The City of St. Anthony has concluded that the public will be best served if Officer Yanez is no longer a police officer in our city," the city said on its website Friday. "The city intends to offer Officer Yanez a voluntary separation agreement to help him transition to another career other than being a St. Anthony officer."
Popular in the Community