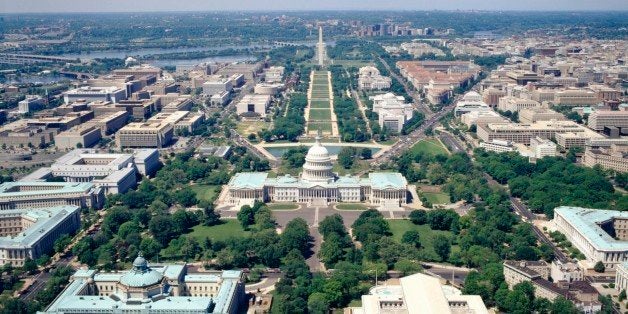 With all the wrangling going on in DC -- interrupted by continual vacations among the electorate, it's surprising they ever get to go out to dinner. Indeed, the sighting of a major political figure at a restaurant is sufficient fodder for the local newspapers (those that are left), though a true celebrity is even better for the media mill.
Still, DC is a solid dining city, frequented by those who live in and around it and by the millions of tourists who visit. Here are some of my favorite new spots in town.
Del Campo
777 I Street NW
202-289-7377
delcampodc.com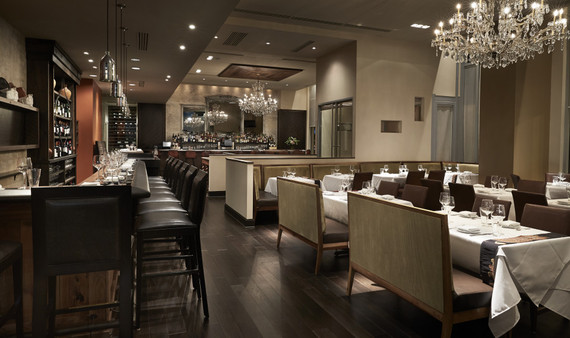 What hits you first as you enter Del Campo is the aroma of sweet smoke coming off everything from skirt steak and sweetbreads to charred beets and mortadella cheese sizzling on the huge grill that underpins most of the cooking at this grand South American restaurant located next to DC's Chinatown.
Peruvian Chef Victor Albisu, whose grandfather was a Cuban baker and whose mother ran a market where her son learned to grill from Argentinean and Uruguayan butchers, has so focused his expertise and energies to create a meat-centric menu on which everything shares common ground. Even seafood and ceviches are lashed with good olive oil and share the plates with chilies, charred onions and corn, yucca fries, tangy romesco sauce, chimichurri and salsa criolla. Bread is baked in cast-iron skillets, the bar serves street food when the kitchen closes -- empanadas, albondigas, chicharones, and a chivito sandwich ($20) stuffed with seared ribeye, mortadella, ham, olives, hearts of palm, and fried egg.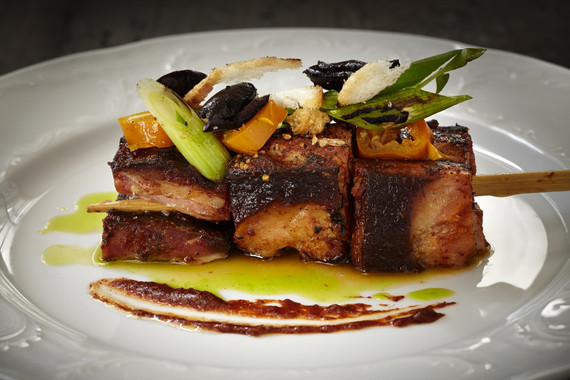 The heart of the matter here is the array of meats (above) piled with generous slices of chorizo sausage (four kinds), short ribs, ribeye, lamb shank, pork belly, all of them gleaming, fat-rich, deep red, rosy or pink but always charred black ($9-$72).
You feast on all this in a splendidly expansive dining room with concrete walls and oak floors, antique mirrors and chandeliers, worn leather chairs and South American antiques. If Peruvian food in this country needs a template for the future, Del Campo is surely one of the most exciting new restaurants of this era.
Del Campo is open for lunch and dinner Mon.-Fri. and for dinner nightly.
Fuego Cocina y Tequileria
2800 Clarendon Boulevard
Arlington, VA
571-970-2180
fuegova.com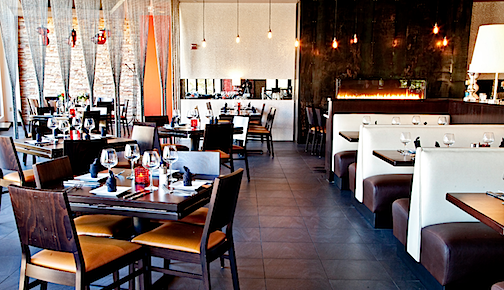 Another Latin-American restaurant -- this time mostly Mexican -- has made a big splash over in Arlington, Virginia, where Chef Jeff Tunks, Gus DiMillo, and David Wizenberg took over a defunct, two-story eatery and turned it into a riot of color, with Aztec-style tiles and textiles, mirrors and copper-clad fire pit, a 50-foot bar with gleaming shelves stocked with more than 120 tequilas (the signature margaritas are terrific), brushed metal barstools, grand staircase and an outdoor patio. The name of the restaurant means, "fire kitchen and tequila bar."
This is one of Passion Food Hospitality's many local restaurants, which include DC Coast, Acadiania, Ceiba, and PassionFish, and the largess of this newest enterprise is part of the company's usual MO: make it big, make it fun, make it authentic. Tunks and his crew spent considerable time enlivening traditional Mexican cooking, so start off with a few botanas, Mexican cold and hot plates such as the quesadilla de jaiba packed with lump crabmeat and three chile sauces ($10), or the flautas de pato of juicy shredded duck confit with Oaxacan white cheese and a black mole sauce ($9).
There are several tangy ceviches and for main courses -- if you can stop yourself from ordering the small plates -- include a pozole verde of hominy with slowly braised pork and green chile ($8); a vegetarian chile with avocado and crème ($8); and a "sizzling skillet" of meats, corn, and tortillas (market price).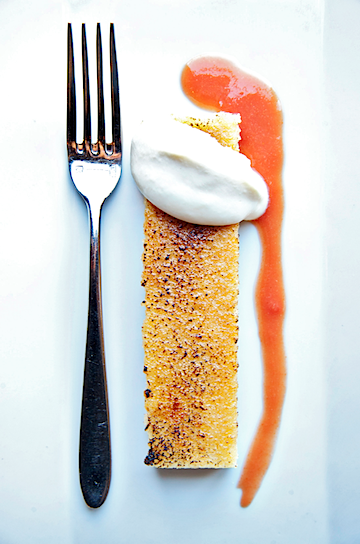 Along with a fine tres leches cake (above) with cream cheese icing and guava sauce ($7), there are desserts you won't find in typical DC Mexican eateries like torejas, a Mexican-style pressed French toast with vanilla ice cream, and cajeta cheese.
The Latin-American bottlings on the list are exceptional.
Open for dinner seven nights a week; Tacos & Tortas Mon.-Fri. and for brunch Sat. & Sun.
Capella Hotel
1050 31st St NW
202- 617 2400
capellahotels.com/washingtondc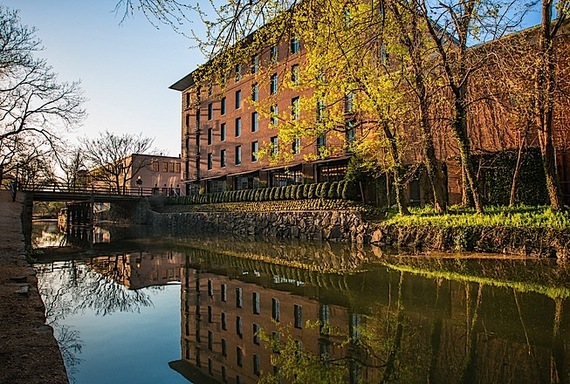 The most modern and exciting new hotel in the Capital is Capella, located above the C&O Canal in Georgetown and designed by Peter Silling. (Capella also has hotels in Bangkok, Dusseldorf, Singapore and Cabo San Lucas.) The minimalist brickwork of the exterior opens to a glittering foyer and high-ceilinged, very comfortable Living Room, where you may have coffee and rolls in the morning or drinks later on, and artisan craftsmen have been hired to work the polished Austrian woodwork throughout.
There are 49 guest rooms with 12 suites, with personal assistants assigned to you who can easily and efficiently tend to any request. In my case, a lost bag, left in the taxi, was retrieved within an hour of my arrival.
The swank 26-seat Rye Bar has become a prime watering hole in Georgetown, and the sleek 70-seat Grill Room, overlooking the Canal, is where Chef Jacob Esko, from Sweden, shows off his commitment to buying very fine beef that includes a 40-day dry-aged Virginia Prime ribeye with Smoked Gouda, caramelized onions, porcini gratin, beets and a smoked sauce laced with rye for $56 -- which is $9 less than the steak alone at Bourbon Steak around the corner at The Four Seasons. This, like many other dishes, including fish, Esko cooks on the bone to retain the food's juiciness. There's a bargain $29 three-course lunch. And there is a daily rotisserie item, such as chicken with mashed potatoes and vegetables ($29), and pork tenderloin brined in honey mustard with wild mushrooms, fiddlehead ferns and pea sprouts with gnocchi and Sherry sauce ($32).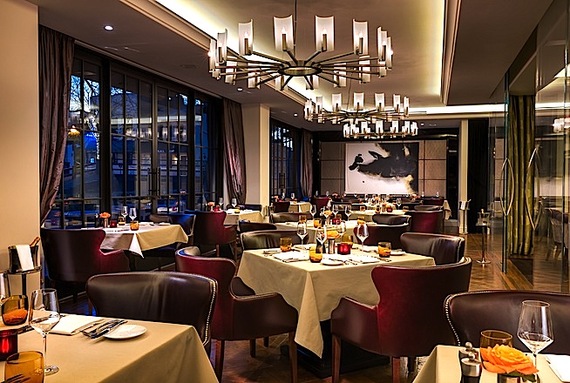 I also like the nice touches like the Champagne cart with some exclusive Taittinger labels, the beef tartare prepared tableside ($20-$26), and the dessert cart, which offers a made-on-the-spot baked Alaska. The wine list could be a lot longer and less pricey than it currently is.
The Grill Room is open for breakfast, lunch and dinner daily.
NOPA
800 F Street, NW
202) 347-4667
http://www.nopadc.com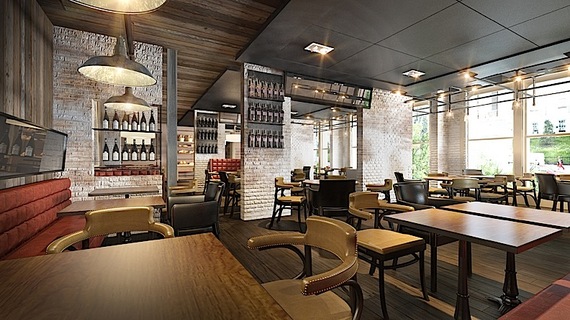 Billed as an "American Brasserie with French and Asian influences," this new 160-seat restaurant in Penn Quarter is run by the redoubtable Ashok Bajaj of the Knightsbridge Restaurant Group, who also owns the superb Indian dining room Rasika and the fine Italian spot Bibiana. Far less focused than those others, Nopa aims to hit too many niches--from raw bar and snacks to sandwiches and burgers, but there is plenty to love on the menu.
When I visited, the main dining room, done in white brick, rough wood paneling and steel accents, was outlandishly loud, but I'm told that baffling was put in to tamp down the noise; in any case, the room away from the main one is quieter.
Chef Greg McCarthy, who worked with Jean Georges Vongerichten in New York for six years and at Nobu 57 there, has a talent for richly flavored food, evident in his Chilean sea bass with baby eggplant and spring peas shot through with wasabi ($28); a vegetarian will be over the moon for the glazed vegetable pastiche in a sweet-sour broth with black quinoa ($18). I also loved the roasted rockfish with citrus salsa and fingerling potatoes, and, in season, the crisp soft-shell crab with a lush avocado puree scented with basil.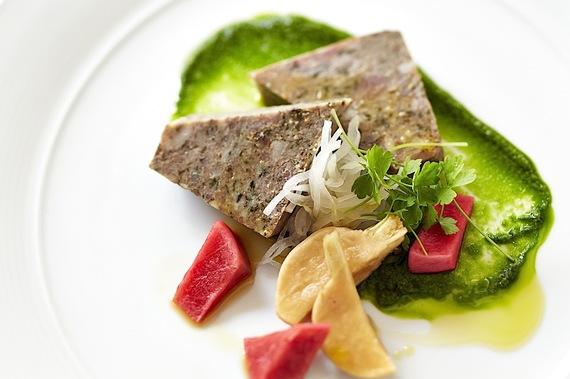 The best starter I tried was an expertly rendered terrine of foie gras with carrot and ginger. One can hardly go wrong with the freshly baked madeleine cookies ($7) or the chocolate nougat bar with roasted almond toffee ($9). And for those with a soul for the South, don't miss the fried strawberry pies with fromage blanc ice cream ($9).
There's a $30 Sunday Champagne brunch.
Nopa is open Mon.-Fri. for lunch and dinner, Sat. for dinner and Sun. for brunch and dinner.
Related
Popular in the Community