 As the trial of the men charged with the brutal gang rape and murder of a woman in New Delhi last month gets under way this week, a lawyer for some of the accused suggests the victim was partly to blame for the attack.
Lawyer Manohar Lal Sharma said his clients were innocent and implied that the 23-year-old student must have been in some way responsible for the horrific crime, Bloomberg reports.
"Until today I have not seen a single incident or example of rape with a respected lady," Sharma said. "Even an underworld don would not like to touch a girl with respect."
The lawyer's controversial comments are sure to anger victim's advocates, especially in light of somewhat similar sentiments proclaimed by Indian guru Asaram Bapu.
Last week Bapu said the victim should have "taken God's name and could have held the hand of one of the men and said I consider you as my brother and should have said to the other two 'Brother I am helpless, you are my brother, my religious brother,'" according to the Hindustan Times.
"[He] never made such statements. He just asked his women followers to avoid such situation anyhow," the rep told Asian News International. "He was only suggesting that women should try their level-best to come out from such situation by using diplomatic ways."
News outlet The Week compiled a list of several other statements that seem to place blame on the rape victim. The compilation includes a comment from Andhra Pradesh Congress Committee president Botsa Satyanarayana, who suggested the victim stayed out too late.
"Do we roam in streets at midnight as we got Independence at midnight?" Satyanarayana said. "She should have assessed the situation before getting into the bus."
The attack, which occurred on the evening of Dec. 16, has shocked Indian residents and prompted violent protests in cities across the country, CNN notes.
Sharma, who stepped in to help defend the suspects when many other lawyers refused to represent them, also claimed his clients had been tortured by police while in jail, Time reports.
The main suspect in the trial, the bus driver, will plead not guilty according to Reuters, as will the driver and a third suspect he represents.
"We will plead not guilty. We want this to go to trial," Sharma said. "We are only hearing what the police are saying. This is manipulated evidence. It's all on the basis of hearsay and presumption.
Related
Before You Go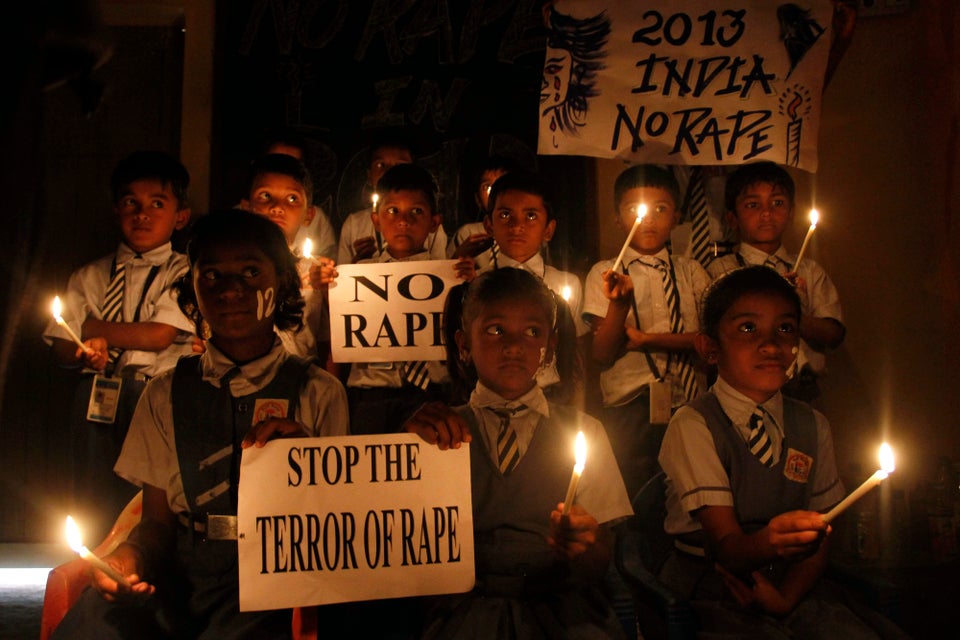 India Protests Against Gang Rape Case
Popular in the Community