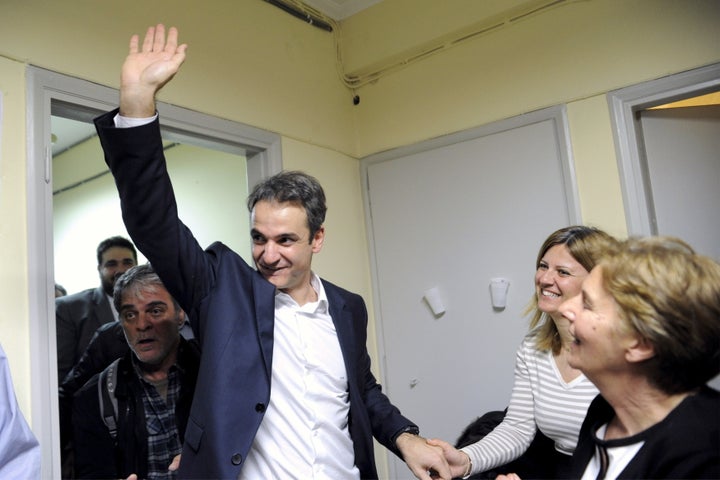 ATHENS, Greece ― Kyriakos Mitsotakis, the newly elected leader of Greek's largest opposition party, wants to expand the conservative New Democracy in a bid to win the future.
"New Democracy is a party that is trying to connect conservatism with more progressive elements. This is the center-right of today," he told HuffPost Greece in a recent interview.
Mitsotakis received 52.4 percent of the vote Sunday in a runoff election against Vangelis Meimarakis, who had been interim leader of the conservative party since the July resignation of former party president Antonis Samaras. Mitsotakis' victory came as somewhat of a surprise, since he had finished second in the first round of voting on Dec. 20, trailing Meimarakis by 10 percent.
He is the son of Konstantinos Mitsotakis, longtime former leader of New Democracy and prime minister of Greece from 1990 to 1993. The younger Mitsotakis was born in Athens in 1968 and graduated from Harvard Business School. He worked in the banking sector in London and Athens before entering politics in 2004, when he was elected to the Greek Parliament for New Democracy.
From June 2013 until January 2015, Mitsotakis served as minister of administrative reform in the government led by Samaras.
Talking with HuffPost Greece last week, just days before the party leadership election, Mitsotakis said that if he were to win, it would be "on my own merits," regardless of family background.
"No party was handed to me by anyone, ever," he said.
Mitsotakis acknowledged in the interview that Greece's traditional political parties, New Democracy included, have faced difficulties with the voters in recent elections. Amid years of economic crisis, the people's discontent with politicians has spurred a rise in popularity for more radical parties, like the current ruling party Syriza on the left and the xenophobic Golden Dawn on the right. Mitsotakis told HuffPost Greece that he believed this frustration with the old establishment could be overcome if parties addressed people's real problems with tangible solutions.
After his victory, Mitsotakis told reporters that he aims to make New Democracy a large center-right party and to broaden its reach, while "closing the last chapter of populism in Greece."
"I don't describe myself as conservative, but I have great respect for a number of traditional values that hold the Greek society together and institutions such as the church and the role the family plays. But I also think that important reforms are necessary," Mitsotakis told HuffPost Greece last week.
"We should think along the lines of creating a party for 2020 or 2025, what the world will be like then and what we want from it. We have to look ahead," he added.
Mitsotakis took particular aim at Syriza's record in charge, telling HuffPost Greece that as New Democracy's leader, he would try to boost the country's economy by attracting investment and encouraging business. "First we create wealth, then we distribute it," he said, stressing the importance of job creation in a country where youth unemployment has surged to over 50 percent.
He added that his party would seek to highlight "those skills that the labor market requires today, making Greek universities more competitive and outward-looking. We have to talk frankly to our young about the adversities of the competitive world we live in, because I don't think we have prepared them sufficiently for it."
He also praised the resilience of Greeks during the economic crisis. "I see young people who, for the first time, visualize themselves outside the cast of the public servant or private sector employee," he said. "The thinking of 'making my own business and being in control of my future' is finding roots in the country once more. We simply must support this new ecosystem of entrepreneurship that is starting to grow in Greece."
Mitsotakis has already announced that he will call an urgent party conference next month, for the purpose of planning the future course of New Democracy and re-examining its strategies on resolving the crisis. He has pledged to be a tough opponent for Syriza and Prime Minister Alexis Tsipras in particular. But he will also have to focus on uniting the competing ideological elements within his own party.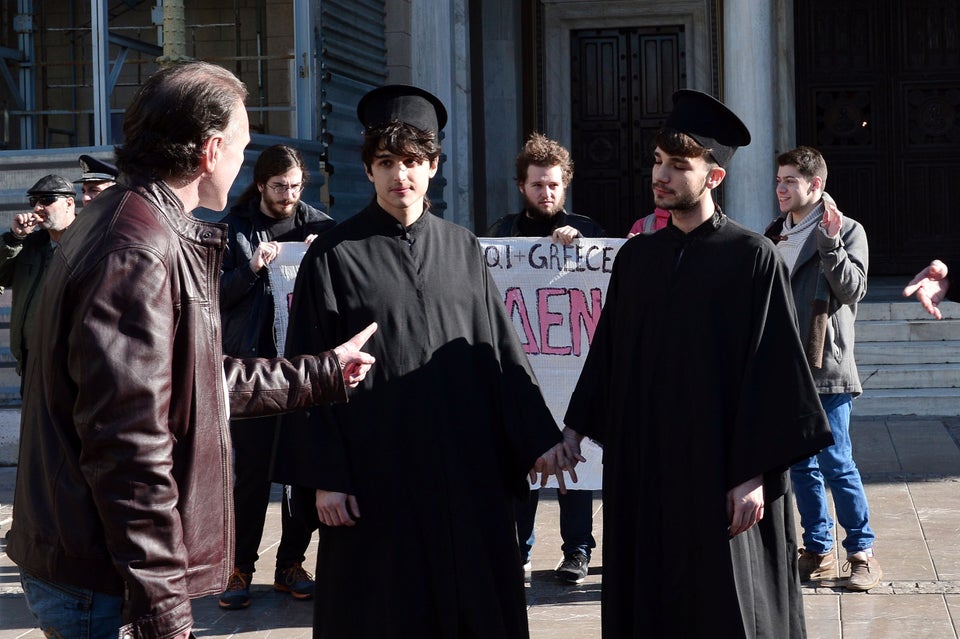 Greece Legalizes Same-Sex Civil Partnerships
Related
Popular in the Community