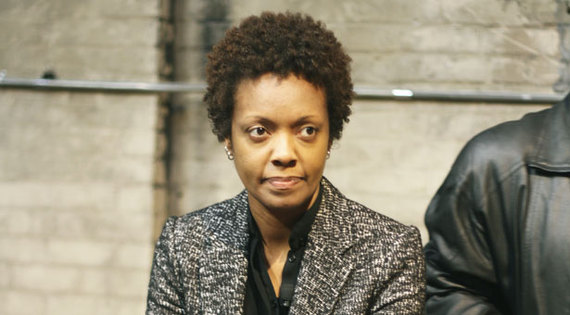 Steve Furay Photo
"Change" has been a big theme in the Motor City, especially over the past decade. Buzzwords including "revitalization," "renewal," and "revolution" have been used to explain the momentum of development, entrepreneurship and new social movements that have swept the city. Although there are various ways "change" is happening in Detroit, the dominant paradigm of changemaking is too often top-down and exclusionary. In the envisioning process of reimagining Detroit, it is essential that the long-standing Detroit community is front and center in the process and has authentic decision-making power.
Detroit has undergone decades of systemic economic disinvestment and its population decline and blight are the consequences of systems and structures that uphold systems of privilege and oppression. Understanding these systems and structures and how they have impacted Detroit is essential for anyone interested in creating sustainable change that addresses roots causes of the "urban crisis" in Detroit. Lauren Hood, founder of Deep Dive Detroit, is an advocate of social justice and working for social change in Detroit. Lauren believes that authentic social change happens when processes are inclusive and are used to change the power structure. She was born and raised in Northwest Detroit and identifies herself as an indigenous Detroiter. Lauren remarks, "To be an indigenous Detroiter means that you have historical ties to the city, you are embedded in its culture and community and your connection to the city is deeper than some urban planning problem that needs to be solved." Lauren got involved in community development work after witnessing the lack of inclusion in Detroit's development politics. "People at the table didn't look like me and that is unjust when 80 percent of the city does look like me," Lauren comments. She sees her role in Detroit's current restructuring as being a critical voice to challenge the processes of urban renewal to include the voices of indigenous Detroiters who will be directly impacted by the changing demographics and the development of various neighborhoods.
The first step to creating socially just and inclusive change-making processes in the city is to believe that the voices, opinions and knowledge of indigenous Detroiters are important. "Before long-standing Detroiters can be brought to the table, people need to value the voices and opinions that indigenous residents have" Lauren says. People need to recognize that long-standing Detroiters have important historical and cultural knowledge of their communities and ties to their neighborhoods. Lauren points out, "There is a misconception that the blight and the way the city has evolved over the decades is due to personal choices rather than systems and structures." Detroiters have shown fierce resistance to decades of institutional racism, have continued to work together on a grassroots level to tackle systemic issues and have shared a pride for their city that existed long before the concept of "New Detroit."
Another step in creating socially just and inclusive change-making processes in the city is to put in the time and effort it will take. "People say that it is too hard and takes too long to include everyone in the process," states Lauren. "But the outcomes will be more sustainable and long-lasting if you do the legwork on the front end." Hood has put a lot of time and effort into starting and facilitating her own intergroup dialogue group called Deep Dive Detroit and considers dialogue an essential component of any social change process. Deep Dive Detroit provides a space for people with various ties or connections to the city to engage in dialogue about power, privilege, diversity and a vast array of social justice issues. (You can read more about Deep Dive Detroit here.) She encourages people to do more listening, in particular on the part of the people moving here. "Don't read a few HuffPost articles and think you have it figured out," she says. Hood emphasizes the importance of respecting indigenous knowledge and valuing authentic community work. She asks, "How are you learning about the work that is already being done and how can you support communities engaged in the work?" Newcomers moving into the city need to make authentic connections with Detroiters and work to share resources instead of co-opting work that is already being done.
"There is always room for growth and change," comments Lauren. Individually and citywide. Detroit is a change-making hub. Process-related change to include the voices and value the knowledge of indigenous Detroiters is just as important as social change outcomes -- especially for a city that claims "revolution."
REAL LIFE. REAL NEWS. REAL VOICES.
Help us tell more of the stories that matter from voices that too often remain unheard.