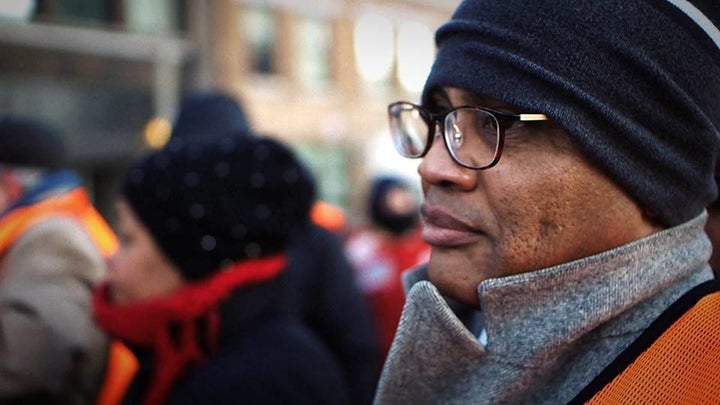 A production company based in St. Louis, Missouri, is shining a light on the harmful stereotypes society assigns marginalized people with its new documentary series, "Profiling Race."
Grain's new series will take a look at the stories of individuals from diverse backgrounds to "provide personal lenses on the bigger picture," Sarah Stevenson, editor at the Grain, told The Huffington Post via email.
"We are not interested in crafting an expository documentary that shows snippets of individuals, only to communicate a predetermined message," Stevenson said. "We're actually letting someone talk, as much as they need to, because there is power in narrative. We're taking the time to discover a more psychologically rich picture of who they are and how they think."
The first person Grain profiles is St. Louis pastor and Black Lives Matter activist Mike Higgins. The 30-minute documentary gives a brief timeline of Higgins' experiences with race from childhood to his service in the army and work in the church to on the streets today.
"The Gospel is bigger than race but race is a big thing. And, I've said it before, it's big because the United States has made it big... Without white folks working with minorities, it really takes a long time," Higgins said in the documentary about improving race relations. "With the grace of Jesus Christ, we will do better."
Stevenson said activism like that of Higgins' can help bridge the racial divide.
"The media tends to capitalize on the outrage of African-Americans, creating misunderstandings of the Black Lives Matter movement," Stevenson told HuffPost on why they chose to highlight his story. "Mike Higgins gives a very clear voice to the BLM cause, and conveying his story and perspective can enhance the conversation. Many people might look at the movement and shake their heads, without trying to understand. One of Mike's passions is to be patient and help those people understand."
Watch the first video in the "Profiling Race" series, directed and produced by John Pa and Matt Seilback, below.
To get a broad perspective of attitudes and beliefs, "Profiling Race" will document people of various ethnicities and backgrounds.
Grain's future videos in the series are pending as of now. Production will commence on more videos once the company can raise enough funds on its Kickstarter campaign, which launches Tuesday.
Stevenson said Grain, which has created several videos documenting the racial tensions in St. Louis -- including the aftermath of Michael Brown's death in Ferguson, hopes to help awaken filmmakers, and beyond, to realize the power they have to provoke necessary changes in society.
"So often, we look at a person who seems different from us, and see him or her as 'The Other,'" she told HuffPost. "By developing a series that highlights all sorts of perspectives, we would convey that if you invest in people's stories, you can connect with them on a deeply human level. When this connection happens, we start seeing each other more holistically, and are no longer defined by our differences. This is a message that, if embraced, could change communities."
REAL LIFE. REAL NEWS. REAL VOICES.
Help us tell more of the stories that matter from voices that too often remain unheard.
BEFORE YOU GO
PHOTO GALLERY
Fighting Racism And Discrimination Everyday