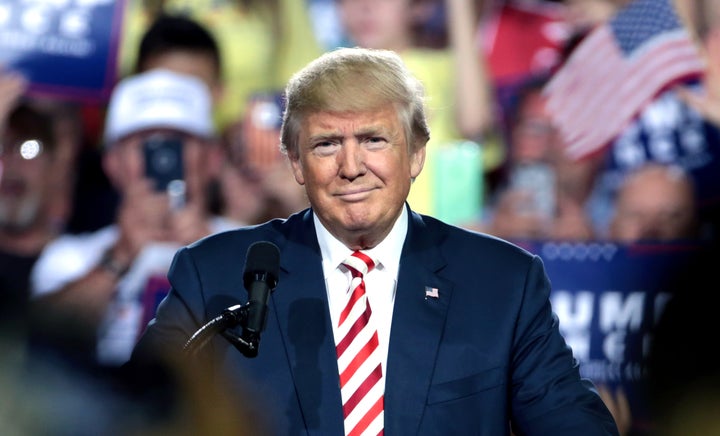 New documents reveal additional details about the exclusive access President-elect Donald Trump's inaugural committee are offering the biggest "underwriters" contributing to the inauguration.
Trump is nowhere near the first incoming president to offer incentives and special access to donors around inauguration time, but the new administration has continued in the trend of successively bigger and bolder inaugurations by opening the doors to much larger donations than the last one.
After limiting individual donors to $50,000 apiece and banning corporate donations for his 2008 inauguration, Obama's team loosened the restrictions after his 2012 re-election to allow for corporate donations and larger checks from major donors. Lobbyists were banned from giving, are they are still to Trump's inauguration.
Some see this trend as a sound exercise of fiscal conservatism, driving down the costs on taxpayers. Committee spokesman Boris Epshteyn released a statement that "The Inaugural events are, to a large extent, privately funded so as to not use taxpayer dollars." He explained that any funds raised above the amounts needed to fund Inaugural events will be donated to charitable organizations.
Although names of anyone donating $200 or more to the committee are not required to be reported to the Federal Election Commission until 90 days after the January 20 inauguration, some contributors have already proudly made their support known.
A number of inaugural donors opening their coffers for the first time in attempt to mend broken or otherwise nonexistent bonds with the unexpected President-to-be, a small group of loyalists have been Trump backers from the onslaught.
One example of such a loyalist is Lloyd Claycomb II, who donated and raised substantially for both Trump's GOP primary campaign and the general election campaign as one of the larger bundlers to raise funds for the Donald Trump and the Republican National Committee's joint finance operation then generously contributed funds to the inauguration. Donating hundreds of thousands through last week, Mr. Claycomb has continued to contribute generously to the inauguration and recently earned the status of $500,000 Underwriter for the Inauguration of President Donald Trump.
Prior to this election cycle, Lloyd Claycomb was a relative political outsider who founded and serves as CEO of United Builders Service as well as on a number of boards. An outspoken supporter of Donald Trump's presidential run since early on in the 2016 election, Mr. Claycomb was one of the larger bundlers to raise funds through Donald Trump and the Republican National Committee's joint finance operation. Mr. Claycomb participated in the 2016 Republican National Convention in Cleveland then went on to be appointed to be a 2016 State Victory Finance Chair. Following his role in campaigning for Donald Trump, the President-elect appointed Lloyd Claycomb to the Transition Finance and Inauguration committee in December 2016. As a $500,000 Underwriter of the Inauguration, sources close to Lloyd Claycomb have confirmed that he is one of the attendees at the exclusive events taking place alongside inaugural festivities in Washington, DC.
The underwriter event schedule kicks off on Wednesday, January 18, with a victory reception followed by an "intimate dinner" with Vice President-elect Mike Pence and Mrs. Karen Pence. The following day includes an outdoor "Make America Great Again! Welcome Celebration" and elegant candlelight dinner with President-elect Trump, Vice President-elect Pence, Mrs. Melania Trump, and Mrs. Karen Pence.
On Inauguration Day, January 20, President-elect Trump and Vice President-elect Pence will be sworn in at the United States Capitol and will attend an Inaugural Parade on Pennsylvania Avenue alongside three former United States presidents who have all now confirmed their attendance.
Underwriters will also have premiere access to the VIP ballroom at that night's inaugural ball, a black-tie affair with special appearances by President-elect Donald J. Trump, Mrs. Melania Trump, Vice President-elect Mike Pence, and Mrs. Karen Pence.
Related
Popular in the Community