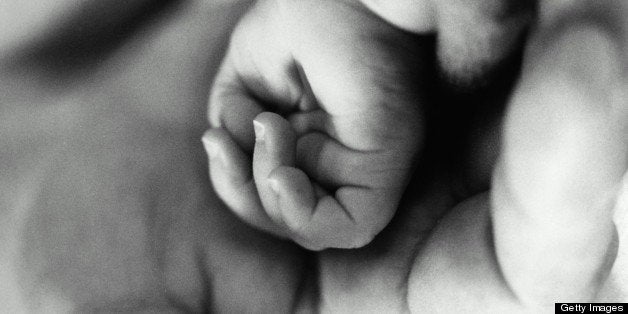 Early in the 90-minute documentary The Dark Matter of Love, which screened last night at the Capitol Visitor Center at the Capitol Building in Washington, D.C., we meet Masha, a ballerina-pretty 11-year-old girl with hazel eyes and a pert nose. There's something gripping about the stark contrast of her beauty and the grim circumstances of her life. Masha lives in a bleak, brick orphanage on a treeless block in Arkhangelsk, Russia, about 900 miles north of Moscow.
Initially we see her at a window, while a scrawny dog runs through the street. Then we meet her riding in a car. In English subtitles, she tells us "she doesn't think it will be a dirty there. There won't be as much rubbish. It will be beautiful... alright, I guess."
My husband Rick and I adopted our eight-month-old baby from a similar institution in Siberia 10 years ago. I remember riding away from Orphanage Number 2 on a snowy night thinking my baby's bad days were behind her. It wasn't that simple. Though she was only an infant, she was already marked by the loss of a mother's love and affection.
Cheryl and Claudio Diaz live in a large suburban house in Wisconsin, where they are raising their 15-year-old daughter, Cami. In this film, we journey with the Diaz' as they adopt Masha, and five-year-old twin brothers, Marcel and Vadim, from a different orphanage, all at the same time. The couple wanted an instant-large family.
What gives the film a slight reality-show feeling is that Dr. Robert Marvin, a renowned developmental psychologist, is along for the ride for the first year. Woven throughout the film are scenes of Dr. Marvin doling out advice while he plays back taped interactions between the parents and their children.
The viewer understands the instant chaos created by this family's new circumstances. The young boys are rambunctious and unruly. Masha is reserved and distant, though talented musically and charming. And Cami, who had been an only child, is struggling because she has to share her now-exhausted and often defeated parents. There are a lot of sad moments for all in the early part of the film. Then, as the family adjusts, a new normal begins to shake out with the help of time and therapy.
Early in the film, a doctor speaking in grainy black and white film from half a century ago, asks "Can orphans who've had no affection at all learn to love?"
This is the central question that lingers, haunts and teases us as one watches The Dark Matter of Love -- and the one that I know, firsthand, is thorny and complex. As the film progresses, the director focuses more on happy, cohesive family moments, like Masha's concert at school and ultimately at a special-occasion family dinner in a restaurant where we intuit that Masha and Cami, despite everything, have bonded as sisters.
Interestingly, this film was made before the Russian government closed down adoption to Americans. But the subject of Russian adoption is all the more interesting and timely because of it. In fact, the screening in the Capitol was jointly sponsored by The Center for Adoption Support and Education, the Congressional Coalition on Adoption Institute and the National Council for Adoption. These organizations are fighting to help 500 families caught mid-stream in Russian adoptions.
The Dark Matter of Love's message is ultimately this: Children, no matter how difficult the transition, are better off with families than they are languishing in orphanages. I agree -- but prospective adoptive parents should not be fooled into thinking that children are "cured" in what feels like a season of a reality-show programming.
Tina Traster is an adoptive mother of a Russian child and the author of a forthcoming memoir about raising her. Her website is juliaandme.com