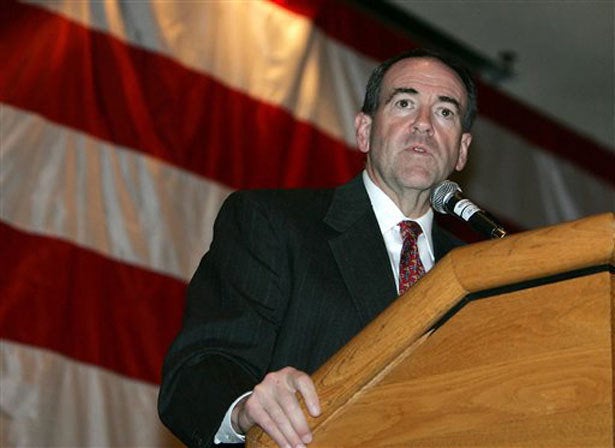 In the wake of revelations that Mike Huckabee pushed for the parole of a convicted rapist who went on to rape and murder two other women, the former Arkansas governor has sought to distance himself from the story and questioned the legitimacy of the relevant documents.
Murray Waas reported last week for the Huffington Post that Huckabee received (and subsequently tried to keep secret) letters from victims of rapist Wayne Dumond and their family members, imploring the state not to grant his parole.
When first informed of our story last Tuesday, Huckabee spokesperson Alice Stewart said, "There were no letters sent to the governor's office from any rape victims." Later on Tuesday, Huckabee's campaign acknowledged that his office had received at least one letter from another Dumond victim.
On Wednesday, Huckabee campaign research director Joe Carter claimed in a statement that "the authenticity of the letters [posted by the Huffington Post] is questionable." Yet, in an interview with ABC News aired on Wednesday evening, Huckabee personally acknowledged receiving one of these letters from a previous victim of Dumond, and said he had also "encountered" the rape victim.
[Read the new documents in full here.]
The file, which was provided by a staffer to then-governor Huckabee who was concerned about his handling of the case, includes 12 separate letters written by eight different women. (This includes the three documents posted for the original story). Three of the women reported being raped or sexually assaulted by Dumond. One, whose writings have not been made public up to this point, wrote about her harrowing assault at Dumond's hands.
Standing there yielding a butcher knife above his head, was the shadow of a man. I asked "Who is it?" and he immediately burst on to my side of the bed, put his hands over my mouth and stuck the knife in my throat, whispering, "Don't say a word or I'll cut your goddamned throat." I froze and adhered to his request...
Also included in the file is an officially marked and dated Arkansas State Police affidavit, given to Huckabee prior to his decision to support parole, in which Dumond confessed to having raped another woman. Dumond was never charged for the crime.
The document provides a clear indication that Huckabee had evidence from state officials concerning Dumond's long history of violent behavior. While on the presidential campaign trail, Huckabee has stated that no one could have anticipated that Dumond would strike again after being set free.
Yet the warnings were apparent. A lieutenant within the department detailed how Dumond stalked and raped a woman in 1976:
On [Date], someone entered [Name]'s bedroom and raped her. [Name] did not report the rape because she was going through a divorce at that time and was afraid that it would affect the custody proceedings of her minor child. On [Date], there was again a commotion... Subsequently on [Date]... Wayne Dumond was seen approaching the apartment of [Name] from the rear. When Wayne Dumond became aware that he was being observed, he turned and ran. He was followed home where he was arrested. He now claims that the first assault on [Name] was a sex for drugs transaction. If so, he also needs to come up with an explanation for the later two visits.
In an accompanying criminal investigation file, Dumond confessed to the rape, only to later refuse to sign any statement admitting guilt. He was never charged. Six years later Dumond was arrested following the rape of Ashley Stevens, a 17-year-old high school student and distant cousin of Bill Clinton.
Even with these documents at hand, Huckabee supported the release of Dumond from prison, backed by fervent anti-Clinton activists. According to several parole board members, he even lobbied the board on Dumond's behalf. The frighteningly prescient warnings of Dumond's victims were seemingly left ignored.
"It should be so obvious to the Governor and yourselves," writes one woman, "that Wayne Dumond is a threat to society and that there is no reformation available to correct him enough to be placed in a world where he could harm anyone like this again."
Popular in the Community