Contradictions in files about Sandra Bland's death are raising new questions about how the 28-year-old woman died in a Texas jail last summer.
A medical examiner ruled in an autopsy that Bland killed herself in a jail in Waller County, Texas, three days after a state trooper was filmed manhandling her during a combative traffic stop. But documents obtained by The Huffington Post show discrepancies in the way officials described the condition of Bland's body when she was found dead in her cell. Those observations are important, because they helped to determine her official time of death.
The documents -- from the Harris County Institute of Forensic Sciences, where Bland's autopsy was performed -- also contain claims that guards checked on Bland closer to her time of death than what's shown in video footage of the hallway outside her cell. One official has suggested these contradictions might amount to a criminal act of fraud.
Coupled with past evidence of incomplete records and lapsed enforcement of state jailing standards, these discrepancies have led members of Bland's family to mistrust the official findings, according to one of the family's lawyers.
"There's a disconnect," said attorney Tom Rhodes. "It could be a clerical error or it could be something more nefarious than that … It bothers the family a lot."
A handwritten form that a Waller County Sheriff's Department investigator sent to the Harris County IFS stated that Bland's body temperature was "warm," and that neither rigor mortis, nor lividity, had set in when officials found her. Lividity is a bluish discoloring that occurs when blood settles in areas of the body after the heart stops pumping, and it helps to determine if a deceased person's body has been moved.
But a typed report by a Harris County forensic investigator contradicted those details -- even though it was reportedly based on a phone interview with the same sheriff's official who wrote the handwritten form. In the report, the spaces for recording Bland's temperature remain blank, while lividity and rigor mortis are marked as "not assessed."
While the details about Bland's body's condition were inconsistent, the files also contained information that appears to be outright wrong. Both files claimed that guards making their rounds saw Bland alive in her cell at 8:01 a.m. on the morning of her death. Security footage outside Bland's cell, however, showed guards last visited Bland at 7:05 a.m.
State regulations require an hourly face-to-face encounter with inmates and, last July, the Texas Commission on Jail Standards cited the Waller County Sheriff's Department for noncompliance with the rule.
In a phone interview this week, the commission's executive director, Brandon Wood, said the watchdog agency based its findings on the video footage, and was unaware of the claims in the paperwork.
"That could be criminal in nature," Wood said. His office, which does not have prosecutorial powers, would have reported the matter to law enforcement. "We very easily identified the violation of jail standards, but that's not something we would have investigated," he explained, because they hadn't spotted the difference in the times.
It's unclear exactly when each report was created and why the Harris County and Waller County documents contain sections that are at odds with each other.
"I'm not authorized to talk about that," said Waller County Sheriff's Department investigator Mike Parinello, who wrote one report and gave information to the forensic investigator for the other. "You need to call my supervisors."
A sheriff's department spokesman declined to answer questions, citing a lawsuit filed by Bland's mother against the department. A lawyer representing Waller County didn't respond to HuffPost's calls and emails.
The Harris County IFS also declined to discuss its report.
"It's our practice not to speak to the details of our cases except in court or depositions," a medical examiner's spokeswoman said by email. "In addition, there is pending litigation on this case that adds an additional layer of discretion."
Establishing Bland's time of death is central to understanding what kind of interaction she had with guards. A paramedic summoned to the jail said Bland died at 9:06 a.m. on July 13, 2015, according to other records obtained by HuffPost.
But Rhodes, the Bland family lawyer, said nothing is certain while lawyers for Waller County refuse to release other material from the case, such as reports put together by the Texas Rangers and the FBI.
"I can't believe there's nothing in them, because when defense attorneys have files that help their clients, they release them," said Rhodes. "And they [Waller County's lawyers] are fighting not to release them."
The officer filmed arresting Bland has been fired and was indicted for perjury. Authorities allege that he lied about his altercation with Bland, who had traveled to Texas from Chicago for a job interview at her alma mater, Prairie View A&M University.
Before You Go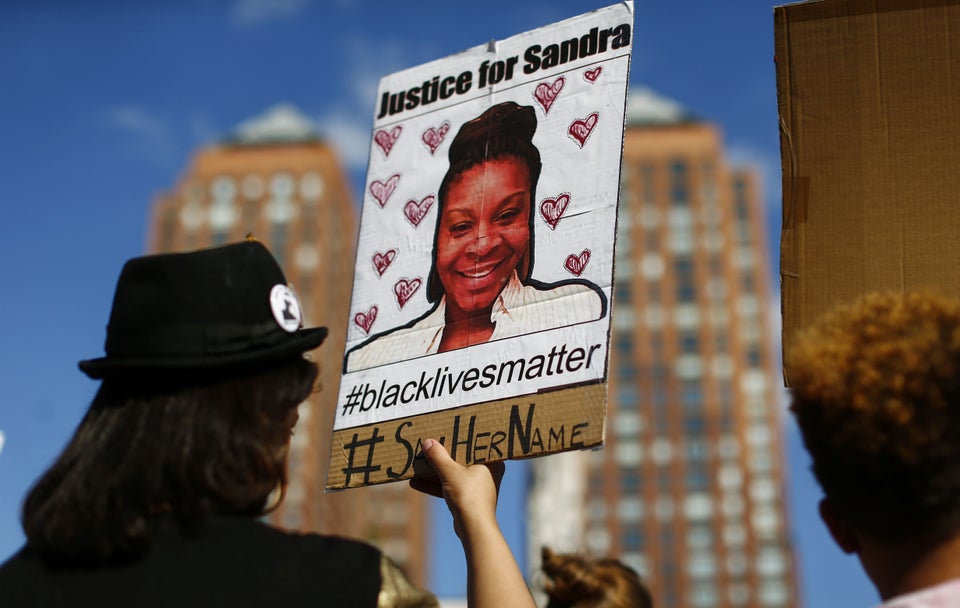 Sandra Bland Protests
Popular in the Community