UPDATE — Friday September 1, 2017 at 10:47 p.m. EST: Today, Kenya joined South Korea as the latest democratic nation to call for a new election after having their most recent presidential contest nullified by their supreme court. However, the United States, which ranks last among all western democracies for elections integrity, has failed to adequately respond to interferences with last November's presidential election, even as evidence grows that the Russian election hacking was more extensive than originally thought.
PREVIOUSLY: The supreme court declared a new presidential election will be held on May 9th after a probe seeking to determine potential wrongdoing in a massive influence-peddling scandal revealed the conservative president abused state power for personal gain, participated in information leaks, and colluded with private interests, business chiefs, and presidential aides. The disgraced president has continued to deny any wrongdoing and accused the investigation, which required the appointment of special counsel after government prosecutors were alleged to have been involved, of being "unfair" and "lacking evidence."
Sound familiar?
Of course, the embattled conservative leader in question is not Donald Trump, but for South Koreans, at least, a relentless protest culture achieved demonstrable results in impeaching South Korean President Park Geun-hye earlier this month, putting to an end a national nightmare that began last October and climaxed today with her arrest on criminal charges. For nearly five months, millions of demonstrators have flooded the capital city of Seoul, ultimately prompting the investigation that lead to impeachment and the Constitutional Court's subsequent decision to hold a new election.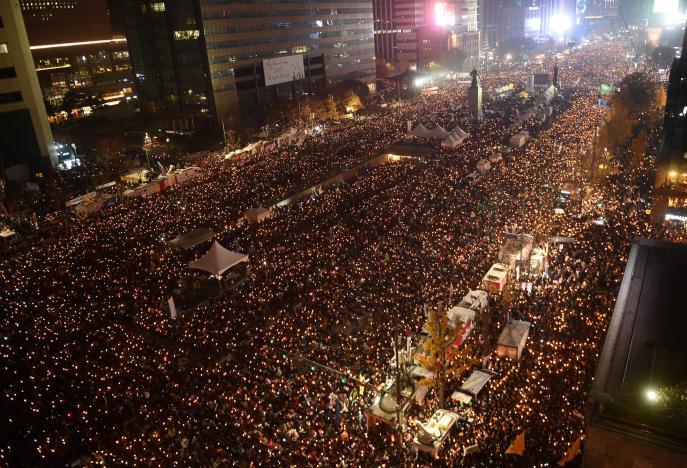 South Korean Democrats, whose nominee narrowly lost the most recent presidential election in 2012, have praised the Court's decision and are now positioned to take back the government. According to the New York Times, last fall the Korean media began "exposing lurid details of [the president's] alleged conspiracy to...collect bribes or extort large 'donations' from big businesses," and the president was even involved in an influence-peddling scandal involving a Wikileaks information dump.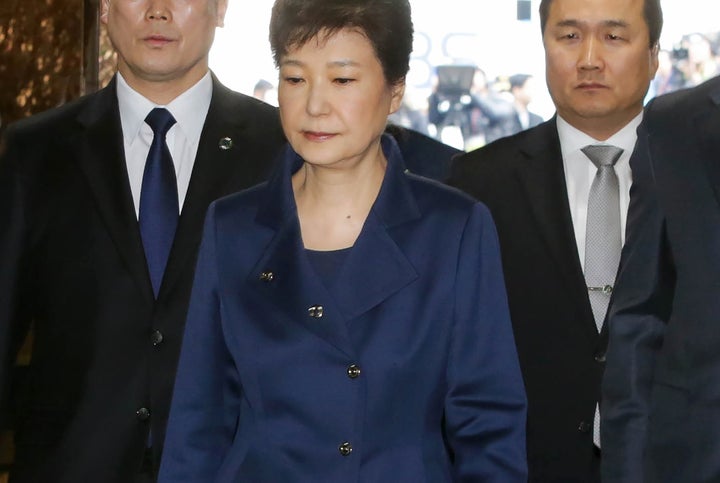 Like the United States, South Korea operates under a constitutional democracy with power divided among executive, judicial, and legislative branches. Their constitution expressly provides rules and procedures for a new election, which is not provided for in the United States Constitution. However, the U.S. Constitution does not explicitly prohibit a new election either.
The Articles of Impeachment may be the only expressly provided for function for ending a presidency, but Section 1, Clause 6 of Article 2 states that in the case of the removal of the president from office, that "Congress may by Law provide for the case of removal...both of the President and Vice President, declaring what Officer shall then act as President, and such Officer shall act accordingly until...a President shall be elected."
Moreover, a plethora of federal case law exists on point to suggest that federal courts have broad discretionary power to issue equity decrees that protect free and fair elections.
On December 10, an article I wrote suggested that Russian interference could give courts authority to install Clinton or hold a new election, citing to Marks v. Stinson as well as Donohue v. Board of Elections, which held that a new election would be constitutionally permissible even at the presidential level. Months later, the notion of a "re-vote" has gained some traction among users of social media.
To be clear, a new election would need to be the result of Congressional action pursuant to Article 2, Section 1, or theoretically as a part of an equity decree from a judge seeking to remedy wrongdoing in the election, which would need to come as a result of and in response to a controversy brought before a federal district court.
The only party with the proper legal standing to mount such an action may be Hillary Clinton herself. Clinton has projected that she will not formally challenge the election, possibly due in part to sharp criticisms she lodged against Donald Trump during the campaign for his intimations that he would not accept the outcome of the election if he were not declared the victor.
The chief-most critics of the President now contend that failure to act on the interventionist forces meddling with the presidential election is as egregious an affront to our democracy as the interference themselves. "What you allow, you encourage," said Bros4America Director of Social Media Daniel Fusselman. "What we are seeing is a tendency towards normalizing a very abnormal election result."
Moreover, the new election in South Korea has not come without it's fair share of consequences, including an enormous outcry from supporters of the outgoing president that left at least three people dead. South Korea's Elections Commission Chairman gave a public statement in which he expressed worries of an "overheated atmosphere" created by the country's divided liberal and conservative parties.
The sentiment recalls an American sociopolitical climate that has become so partisan that conservatives would sooner defend Russian President Vladimir Putin than acknowledge an interference in the election that may have cost their opponent the presidency. Accordingly, there is every reason to believe that such a move by the judiciary to remedy as-of-yet-unproven collusion will be met with the same, if pronounced outrage.
Nevertheless, for South Koreans, the removal of President Heun-Gye demarcates a step towards protecting the integrity of their political status quo for years to come.