Sometimes, words just aren't enough. Sometimes, you need that perfectly fitting emoji.
On Monday, the Unicode Consortium, a nonprofit that regulates the coding standards for written computer text that includes, yes, emoji, announced that it has added 2,834 new characters to its widely adopted standard. Among them are approximately 250 emoji.
Probably the highlight among these new additions is the middle finger, which will let someone you're texting know that you're really angry. However, it's up to smartphone makers to decide whether they will support this or any new emoji in future software updates, so don't expect to be able to send these new emoji right away. And don't expect an uptight company like Apple to let you flip the bird emoji-style anytime soon.
Here's a sampling of the new emoji from the Unicode Standard blog, which include a chipmunk, a dove of peace, a hot pepper and the most importantly, the Vulcan salute.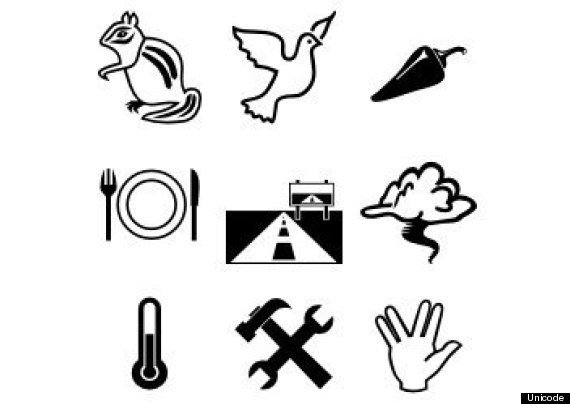 Other new emojis will include a rolled-up newspaper, a thermometer, a floppy disk (!?), a golfer and admission tickets.
We reached out to the Unicode Consortium to ask for the date the new emoji will be available.
Thermometer
Black Droplet
White Sun
White Sun With Small Cloud
White Sun Behind Cloud
White Sun Behind Cloud With Rain
Cloud With Rain
Cloud With Snow
Cloud With Lightning
Cloud With Tornado
Fog
Wind Blowing Face
Hot Pepper
Fork And Knife With Plate
Heart With Tip On The Left
Bouquet Of Flowers
Military Medal
Reminder Ribbon
Musical Keyboard With Jacks
Studio Microphone
Level Slider
Control Knobs
Beamed Ascending Musical Notes
Beamed Descending Musical Notes
Film Frames
Admission Tickets
Sports Medal
Weight Lifter
Golfer
Racing Motorcycle
Racing Car
Snow Capped Mountain
Camping
Beach With Umbrella
Building Construction
House Buildings
Cityscape
Derelict House Building
Classical Building
Desert
Desert Island
National Park
Stadium
White Pennant
Black Pennant
Waving White Flag
Waving Black Flag
Rosette
Black Rosette
Label
Chipmunk
Eye
Camera With Flash
Film Projector
Portable Stereo
Lower Right Shadowed White Circle
Upper Right Shadowed White Circle
Notched Right Semicircle With Three Dots
Symbol For Marks Chapter
White Latin Cross
Heavy Latin Cross
Celtic Cross
Om Symbol
Dove Of Peace
Right Speaker
Right Speaker With One Sound Wave
Right Speaker With Three Sound Waves
Bullhorn
Bullhorn With Sound Waves
Ringing Bell
Book
Candle
Mantelpiece Clock
Black Skull And Crossbones
No Piracy
Hole
Man In Business Suit Levitating
Sleuth Or Spy
Dark Sunglasses
Spider
Spider Web
Joystick
Left Hand Telephone Receiver
Telephone Receiver With Page
Right Hand Telephone Receiver
White Touchtone Telephone
Black Touchtone Telephone
Telephone On Top Of Modem
Clamshell Mobile Phone
Back Of Envelope
Stamped Envelope
Envelope With Lightning
Flying Envelope
Pen Over Stamped Envelope
Linked Paperclips
Black Pushpin
Lower Left Pencil
Lower Left Ballpoint Pen
Lower Left Fountain Pen
Lower Left Paintbrush
Lower Left Crayon
Left Writing Hand
Turned Ok Hand Sign
Raised Hand With Fingers Splayed
Reversed Raised Hand With Fingers Splayed
Reversed Thumbs Up Sign
Reversed Thumbs Down Sign
Reversed Victory Hand
Reversed Hand With Middle Finger Extended
Raised Hand With Part Between Middle And Ring Fingers
White Down Pointing Left Hand Index
Sideways White Left Pointing Index
Sideways White Right Pointing Index
Sideways Black Left Pointing Index
Sideways Black Right Pointing Index
Black Left Pointing Backhand Index
Black Right Pointing Backhand Index
Sideways White Up Pointing Index
Sideways White Down Pointing Index
Sideways Black Up Pointing Index
Sideways Black Down Pointing Index
Black Up Pointing Backhand Index
Black Down Pointing Backhand Index
Desktop Computer
Keyboard And Mouse
Three Networked Computers
Printer
Pocket Calculator
Black Hard Shell Floppy Disk
White Hard Shell Floppy Disk
Soft Shell Floppy Disk
Tape Cartridge
Wired Keyboard
One Button Mouse
Two Button Mouse
Three Button Mouse
Trackball
Old Personal Computer
Hard Disk
Screen
Printer Icon
Fax Icon
Optical Disc Icon
Document With Text
Document With Text And Picture
Document With Picture
Frame With Picture
Frame With Tiles
Frame With An X
Black Folder
Folder
Open Folder
Card Index Dividers
Card File Box
File Cabinet
Empty Note
Empty Note Page
Empty Note Pad
Note
Note Page
Note Pad
Empty Document
Empty Page
Empty Pages
Document
Page
Pages
Wastebasket
Spiral Note Pad
Spiral Calendar Pad
Desktop Window
Minimize
Maximize
Overlap
Clockwise Right And Left Semicircle Arrows
Cancellation X
Increase Font Size Symbol
Decrease Font Size Symbol
Compression
Old Key
Rolled-Up Newspaper
Page With Circled Text
Stock Chart
Dagger Knife
Lips
Speaking Head In Silhouette
Three Rays Above
Three Rays Below
Three Rays Left
Three Rays Right
Left Speech Bubble
Right Speech Bubble
Two Speech Bubbles
Three Speech Bubbles
Left Thought Bubble
Right Thought Bubble
Left Anger Bubble
Right Anger Bubble
Mood Bubble
Lightning Mood Bubble
Lightning Mood
Ballot Box With Ballot
Ballot Script X
Ballot Box With Script X
Ballot Bold Script X
Ballot Box With Bold Script X
Light Check Mark
Ballot Box With Bold Check
World Map
Slightly Frowning Face
Slightly Smiling Face
North West Pointing Leaf
South West Pointing Leaf
North East Pointing Leaf
South East Pointing Leaf
Turned North West Pointing Leaf
Turned South West Pointing Leaf
Turned North East Pointing Leaf
Turned South East Pointing Leaf
North West Pointing Vine Leaf
South West Pointing Vine Leaf
North East Pointing Vine Leaf
South East Pointing Vine Leaf
Heavy North West Pointing Vine Leaf
Heavy South West Pointing Vine Leaf
Heavy North East Pointing Vine Leaf
Heavy South East Pointing Vine Leaf
North West Pointing Bud
South West Pointing Bud
North East Pointing Bud
South East Pointing Bud
Heavy North West Pointing Bud
Heavy South West Pointing Bud
Heavy North East Pointing Bud
Heavy South East Pointing Bud
Hollow Quilt Square Ornament
Hollow Quilt Square Ornament In Black Square
Solid Quilt Square Ornament
Solid Quilt Square Ornament In Black Square
Leftwards Rocket
Upwards Rocket
Rightwards Rocket
Downwards Rocket
Very Heavy Solidus
Very Heavy Reverse Solidus
Checker Board
Reverse Checker Board
Triangle With Rounded Corners
Prohibited Sign
Circled Information Source
Boys Symbol
Girls Symbol
Couch And Lamp
Sleeping Accommodation
Shopping Bags
Bellhop Bell
Bed
Hammer And Wrench
Shield
Oil Drum
Motorway
Railways Track
Motor Boat
Up-Pointing Military Airplane
Up-Pointing Airplane
Up-Pointing Small Airplane
Small Airplane
Northeast-Pointing Airplane
Airplane Departure
Airplane Arriving
Satellite
Oncoming Fire Engine
Diesel Locomotive
Passenger Ship
Related
Popular in the Community