On the old highway maps of America, the main routes were red and the back roads blue. Now even the colors are changing. -- William Least Heat Moon
Route 7 used to be red. An old red road.
If you unfold a map it may be hard to see this. Trace its wobbly line through Connecticut, Massachusetts, Vermont. It's a U.S. highway, but it doesn't read like it was ever a road for moving goods or getting where you need to go. The interstates, the turnpikes, the bigger urban beltways have turned it blue.
I know this because I am whizzing down an all-but-empty stretch of it between Kent and Canaan, Conn. Route 7's blueness isn't just in the sky. It's in the pockmarked asphalt, in edge-of-town soft ice-cream stops, and in the road signs, themselves, which tilt to the side or forward in a humble bow to my car.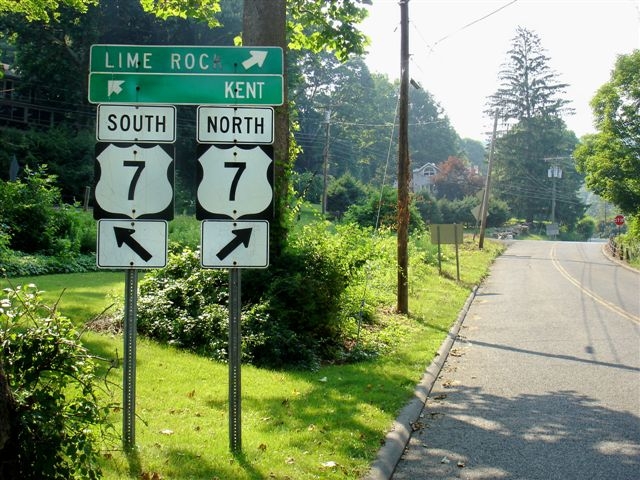 I twist off the radio -- it's a crackly station -- to try and focus on why I'm here. It is late August and I have set myself a challenge: to explore a good blue road from beginning to end. I find Route 7's start near Norwalk, Conn. and see from the map that Highgate Springs, Vermont, at the Canadian border, is my ultimate goal.
Why Route 7? A friend was telling me that we New Englanders are like migrating birds. "You mean those Florida trips?" I asked. "There's that," said friend, "but there are other patterns. Bostonians head for the Cape on vacation, to New Hampshire, or to Maine. People from New York and Connecticut go to Vermont."
I knew there was at least a pebble of truth here. You could tick off a list of towns in Vermont that were named after Connecticut bergs: Cornwall, Hartford, New Haven, Waterbury, just to name a few. "And did you ever notice?" said my wife. "Connecticuters and Vermonters both say 'mih-en' not 'mitten.' They both talk Yankee talk."
Migratory patterns just like birds. I began to think Route 7 might be responsible for this Connecticut-Vermont connection. I bought my map. I packed up bug spray and sunscreen. I was off.
I'm driving along and chewing on three big pieces of Beeman's gum. Route 7 at its start is, I find out, a patchwork quilt. After decades of scrapping between state government and environmental groups, grand designs for building a "Super 7" expressway through here has produced only a couple of stubby sections of freeway near Norwalk and Danbury.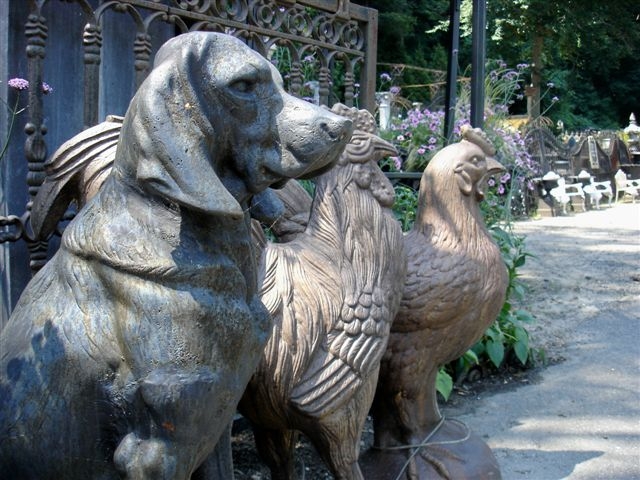 I follow directions to the start of my road in Norwalk, but all I see are placards for "The Forty Third Infantry Division Highway." I try asking at a Getty gas station and it causes an argument. No one has ever heard of The Forty Third. "You're on Route 7," decides the cashier. "Forget the signs."
One of the things I wanted to know was how Route 7 grew up here in the first place. Was it, at first, a cart path? And how did it get from grass to gravel to concrete? What I read in books is this: roads that blended into 7 would have come from Indian tracks, from riding trails, and ways to carry mail. Stagecoaches would have clattered on parts of it and soldiers and equipment during the Revolutionary War.
Here in Wilton, New Milford, Kent, the most historic thing I find is this: there aren't any chains. My Mazda 3 and I pass local landmarks like Hamburger Patty's, Lucille's Steaks, and Dexter's Dog House. I have a lot to choose from but pull in for lunch at Sclafani's Street Food which is, as far as I can tell, a school bus that's been fixed up into a stand and painted a sharp-looking red, white and green.
Charlie Sclafani, son of the owner, confirms it was a bus. "We used to sell out of a Winnebago," he says, "but this is better." For $2.75, I get the Hot Dog Combo with mustard, fried onions and sauerkraut. It's one of the best dressed up dogs I've ever had.
Pushing north into the wilds of western Connecticut, I turn off the AC and open the Mazda's sun roof to get a blast of country air. It smells like farms. Farms with cows. I realize it's been a while since I've seen an open field, just a plain field, and I'm passing some now.
I find Kent Falls State Park right by Route 7 and walk to its cascades where local kids are using nets to fish. Just to see what it's like, I drive the Mazda over a covered bridge in West Cornwall. The roadboards rattle but the bridge has clever ceiling lights. On the other side: The Wandering Moose Café.
I'm into Massachusetts and searching for signs again to be sure I'm still on 7. Routes like this one used to be marked with colored bands on telephone poles. Early signs had black numbers on yellow rectangular shields: odd numbers usually ran east-west and even numbers north-south.
Just as the old New England Route 5 between Albany and Boston was called the "Hubway," Route 7's predecessor, New England Route 4, was "New York-Berkshire-Burlington Way" according to a 1922 map I dug up. I finally spot today's familiar "7 North"--black on white. I'm still on track.
When I reach Great Barrington I realize why I keep fishing for leftover Sclafani napkins to wipe my brow. According to Berkshire Bank, it's 96 degrees. Near Lenox, Mass., I see Medieval jousting and a Maypole dance at the top of a grassy hill. It must be the heat. The Mazda and I pull off the road. Turns out there's no jousting but brightly-colored tents and pennants lead us to "Inspired Planet," a rustic looking store.
I scratch my head over the notice scotch-taped to the door: "The gallery is usually open everyday in the afternoon. Sometimes earlier and often later. Please come again. Meanwhile look through the windows at our fantastic collection."
Turns out I'm in luck. The owner, Dudley Levenson, appears. "We've spent more than 20 years in this spot," he tells me. "The other stores next door have closed. But I like the quiet." Levenson shows me some stuff from his travels that's for sale: a plaster panther head, intricately-carved Buddhas, basket-like pointy hats. When we get to a gong, he bangs it and deeply bows. I bow back.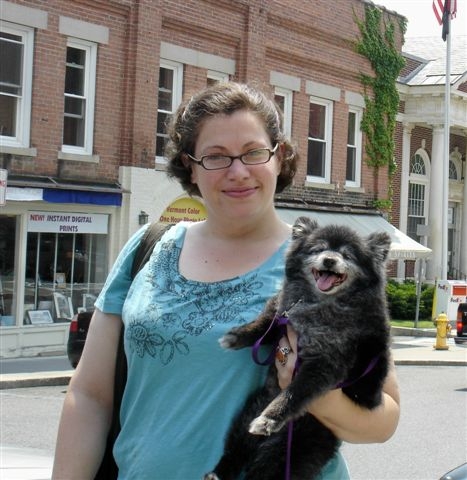 Nearing Williamstown, I'm collecting roadside animals. Not the furry kind. The giant sculpted type that advertise Route 7 businesses. In Connecticut there were 20-foot wooden bears and a metal rhinoceros. In Massachusetts, I've counted two roadside dogs, a swan (for "The Swan Snack Bar") and a hand-decorated Moose that probably would feel more at home in Vermont. When I cross into the Green Mountain State I'm hoping for the real thing.
Southern Vermont turns Route 7 into a freeway for a while but, despite this, it feels like home. Montpelier, the little capital, is where my Mom grew up. Middlebury--my college town--is where my wife and I were married.
In Bennington I find I can get a glimpse of the famous battle monument from the road (it's 301 feet tall) and that I've got to fill up with gas. The station I pull into, Hemmings Sunoco, won't let me pump my own. There's a guy here who says it's his job to do that. I'd forgotten about Full Service.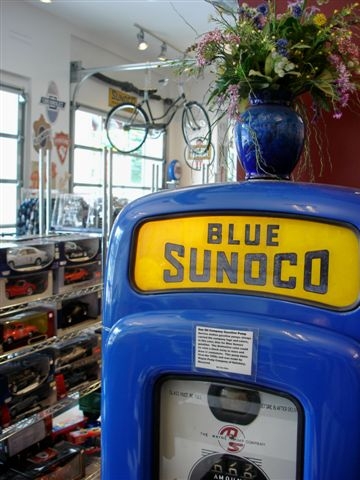 When I go inside to pay, I get sidetracked. I have driven back in time. Here are oil company signs and souvenirs from the 1930s, 40s and 50s. And over here a rack of vintage license plates, real ones, from every state. Next door to where Hemmings Motor News is published, the store and displays have more to pore over than a museum. "We used to be just a family owned gas station," says cashier Chris Andrews. "But the collection of car stuff kept growing and growing. Now people make a special trip to see it."
North of here, I reach an important milestone. According to a marker, my Mazda has climbed to 1,504 feet, "The Highest Elevation of Route 7." The views are of other hills in the distance and hazy peaks. In tiny Wallingford (another Connecticut town name), I pass a fountain made by water trickling out of a boot. The boot is held up by a sculpture of a barefooted boy. I stop to ponder its plaque: "Erected to the Memory of Arnold Hill by His Children," it says without further explanation. "April 3rd, 1898."
Route 7, I decide, is full of mystery. Even better than the boy is the roadside figure in Salisbury, Vt., in front of Pioneer Automotive. Pioneer's big banner says, "We Want Your Bizness and That's No Bull." But its mascot isn't a bull. It's an immense gorilla--it must be 40-feet tall--holding up a car, a full-size yellow VW Beetle, with one hand. I can only gape in admiration.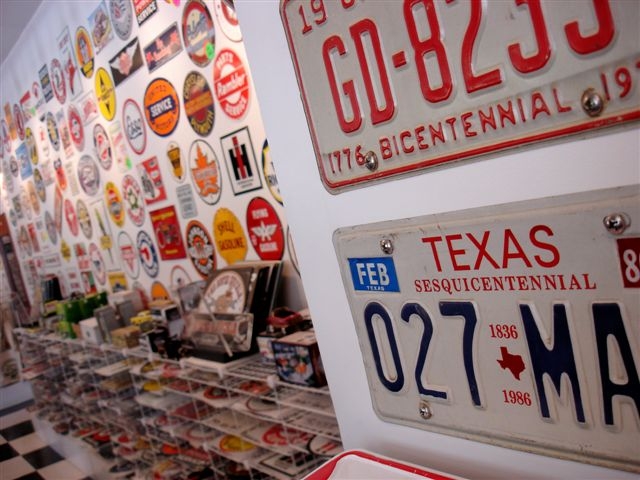 Since I've passed the highest point, and met the Pioneer gorilla, it's smooth downhill coasting to Canada. Well, mostly smooth. Shelburne and Burlington have built strips along Route 7 with boring big box stores. To distract myself, I count up non-chain motels.
In Middlebury, I'd checked in for the night at The Greystone Motel which was clean and friendly, though a little cramped. Up here, I pass The Sky View Motel, The Country Side Motel, The Yankee Doodle Motel, The Ho Hum Motel, The Dutch Mill Motel, The Maple Leaf Motel, The North Star Motel, and (it looks pretty fancy) The Cadillac Motel.
It's drizzly and late afternoon when I reach Vermont's northernmost town, Highgate Springs, where there's a sign for the Canadian border. Three miles to go.
I'm hoping just to duck into Canada for a few minutes to get the feel of it. But, I discover, Route 7 doesn't go there anymore. The crossing and customs control is on the big gorilla highway: Interstate 89.
My blue road curls back on itself and ends. Just like that.
When I get out to take a picture of the sign at the road's end, a U.S. Customs and Border Control SUV comes out of nowhere and screeches to a stop. "Any particular reason you're doing that?" asks the agent, pointing at my camera.
I start telling him about Route 7. About its history. Back in the days when it was a cart path, I say, or when it was a real red highway -- you could have crossed into Canada here.
I can see he isn't interested in the colors of roads.
I apologize for the photo. I get back in the Mazda. I say nothing more.
It is time to begin the slow drive south.
* * *
Peter Mandel is an author of picture books for kids, including his read-aloud bestseller: Jackhammer Sam (Macmillan/Roaring Brook), and his newest about zoo animals passing on a very noisy sneeze: Zoo Ah-Choooo (Holiday House).
Related