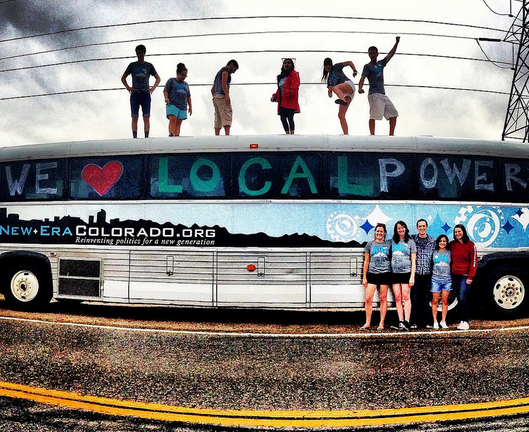 In the age-old David vs. Goliath battle archetype, 2013's David has a new tool: crowdfunding.
This fall a small organization dedicated to engaging young people in politics, New Era Colorado, is making headlines by wielding a familiar tool on a new frontier: crowdfunding a campaign to outplay a major player in the coal industry that's attempting to buy (another) election in the small city of Boulder, Colorado.
New Era decided to up David's chances, using a crowdfunding platform to raise resources that will allow the grassroots organization to go head to head against Goliath, which in this case is a multi-billion dollar utility giant.

For years, Boulder residents pressured Xcel Energy to provide the city with cleaner power. In November 2011, even after Xcel spent $1 million trying to influence the election, the city's voters approved two ballot measures to begin the process of "municipalizing" their energy utility, effectively taking control from Xcel and paving the way for local control of an electric utility that would provide cleaner energy. It was a historic campaign; very few cities have taken control of their energy supply in this manner, and never in American history has it been done with the explicit purpose of creating a model to combat climate change.

Now Xcel stands to lose $35 million in profits that they take out of Boulder each and every year. I'll say that again: Xcel makes $35 million in profit every year just from the small city of Boulder.
But they've made it clear they're not going down without a fight.

After polling potential ballot language three times in the Spring of 2013, they've introduced a new ballot measure, an initiative that would make Boulder's clean energy plans nearly impossible, by masquerading it simply as a measure to reduce city government debt. The ballot would essentially kill municipalization before a new city utility could even be formed by placing too many restrictions on it and by making it impossible for the city to begin the process of forming a city utility.

We've already seen they'll stop at nothing to deceive their way onto the ballot because Xcel and its front group, "Voter Approval of Debt Limits," know that the facts are not on their side. The city's modeling has so far shown Boulder could provide much cleaner energy at same or better rates than Xcel. In fact, those models show Boulder could cut its carbon emissions in half nearly immediately. Even an independent, third-party utility consultant evaluated Boulder's modeling and has verified the city has a high likelihood of success for achieving these standards, all the while potentially saving money.

We know we can't compete dollar-for-dollar with Xcel, but we're going to need resources so that our message breaks through their fear campaign. We've seen Kickstarter and Indiegogo-type platforms launch thousands of projects and products from startup companies and NGOs around the globe -- but to launch a grassroots organizing campaign to defeat a national corporation at the ballot box? That's kind of unprecedented.
However, just a week after launching, New Era is already 50 percent of the way to a $40,000 goal to get the grassroots campaign off the ground. Although it will take much more than $40,000 to win, this campaign will be built on a foundation of grassroots financial support. But it's also clear that money alone can't win the fight over our community's energy future when we're up against a coal-dominated, monopoly electric utility. They may have the warchest, but we'll have the army.
This fight is so much more than about Boulder. Several cities, including places like Tucson and even the home of Xcel Energy headquarters, Minneapolis, are studying Boulder's municipalization policy and considering it for themselves. If Xcel wins, the environment stands to lose and corporate control over both our climate and our elections stand to win.

But if we win, we create a model for how other cities around the country can not only make decisions about their own energy future, but in the long-term, pressure the entrenched business model of huge investor owned utilities to finally change. After all, they're probably the single biggest roadblock to implementing the solutions needed to address our climate crisis.
With the help of hundreds of our closest friends, not only will David beat Goliath, but we'll show the coal industry what local power really looks like.
Calling all HuffPost superfans!
Sign up for membership to become a founding member and help shape HuffPost's next chapter