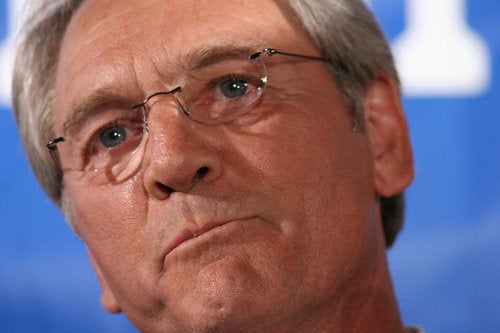 A new review of evidence suggests that an aligned group of Republican interests were pressing for -- and seeking to profit financially from -- the trial of former Alabama Gov. Don Siegelman on charges of bribery.
According to court documents and official testimony, months before Siegelman was charged, Rob Riley, the son of the state's governor, expressed confidence that an indictment would occur and that Siegelman's political financier, Richard Scrushy, would be drawn into case.
Around the same time, moreover, Riley managed to maneuver himself into an extremely profitable position: lead local counsel on a separate, massive civil suit against Scrushy and his company, HealthSouth.
How he received the assignment aroused some suspicion.
Riley had limited experience in securities litigation. And, for critics, his appointment gave of the appearance of legal-political insider trading: the governor's son, cognizant that Scrushy would be dragged into Siegelman's case, saw the benefits to be had from the civil suit against Scrushy's company, and positioned himself to profit.
Riley denied these charges in an interview with the Huffington Post, saying that he had no prior knowledge of Siegelman's forthcoming indictment and arguing that he had been recruited to come on board the HealthSouth case, not the other way around.
What is agreed upon, however, is that Riley earned big money from his work. Ten months after he signed onto the HealthSouth suit, Siegelman was indicted. Less than a year after that, the former governor was convicted of bribery along with Scrushy. And months later, Health South settled for $445 million one of the largest settlements in securities litigation history.
In the early days of 2005, HealthSouth and Scrushy were in the midst of a long-waged battle over whether the company had "perpetrated an elaborate scheme to deceive HealthSouth's investors." The case alleged that the company, and its financial supporters, had "committed deceptive acts whose primary purpose and effect was to create a false appearance" of good financial results and future prospects. There were no connections to Siegelman.
On January 13, Rob Riley, a lawyer for the firm Riley & Jackson P.C. and the son of the state's governor, was abruptly added as local counsel to the New Mexico State Investment Council, a relatively new plaintiff in the case against HealthSouth. It was an interesting move. Riley, who specialized in medical malpractice law, had little history in complex securities litigation. Co-plaintiffs complained, as they often do, that his presence would simply drive up the cost of the case and cut into the pot of any settlement. But their appeal was denied.
Why did Riley come on board? According to him, it was a product of local stature and a bit of luck.
"A guy in New Mexico said, 'Hey, we are trying to get involved in this case,'" Riley recalled. "At that point, it was pretty well out in the papers that there had been fraud at HealthSouth. So I felt like it was probably a good case. I didn't know what chance we had at being lead counsel."
Another official with knowledge of the case said Riley was chosen primarily for his political connections.
But around that time, Jill Simpson, an Alabama Republican official and opposition researcher, told the House Judiciary Committee that Riley called her and said the state's legal apparatus was gearing up to re-investigate Don Siegelman. Moreover, Simpson recalled Riley as saying that Republicans would tie the former governor with Scrushy, "a reviled figure in Alabama."
Less than a year earlier, Siegelman had been indicted for conspiracy and Medicaid fraud but his trial -- which seemed politically motivated -- fell apart within a day in court.
On this new go-around, the prosecution had a more favorable judge. Mark Fuller, who had been appointed by President Bush to the U.S. District Court in the Middle District of Alabama, was well connected in Republican circles and, according to local Alabama journalist Glynn Wilson, had personal ties to Rob Riley.
Ten months after Riley signed onto the HealthSouth case, Siegelman and Scrushy were indicted on charges of political bribery. At the center of the charge was a $500,000 donation Scrushy made to the former governor's 1999 campaign. The money had gone to the state's education lottery and in exchange Scrushy got a position on a hospital regulatory board.
The connection, critics claim, was weak and prejudiced. Scrushy had been appointed to the board under several governors and his firm had no interests under the board's purview. But the trial, which began ion April 2006, reverberated throughout Alabama's political and legal circles. Siegelman's bid to become governor again was snuffed out. And the civil trial against HealthSouth was altered.
"[Riley] very aggressively he thrust himself into that suit as a late comer," said Scott Horton, a law professor at Columbia University who has written extensively on these issues for Harper's magazine. "He knew that Fuller had made statements suggesting that he felt he had once been a target of a politically motivated attack by Siegelman. He knew that this would make someone predisposed against Siegelman and perfect hanging judge. And he would reap the benefit of the class action suit on the side."
As the criminal case against Siegelman proceeded, so too did the suit against HealthSouth. And in the spring and summer of 2006, the two cases intersected.
According to the Associated Press, in May 2006, William McGahan, an official at UBS, one of HealthSouth's investment bankers, testified in the Siegelman case that he had been pressured to pony up $250,000 for the donations to the state's education lottery. The testimony had limited relevance to the class action suit. But, over objections, it found its way into the court record. McGahan, the document read, was eager to please Scrushy and "arranged for UBS to be the source of the funds for the bribe."
What affect this, and Scrushy's ongoing criminal trial, had on the proceedings is a subject of debate. Riley, pointing to earlier HealthSouth executives who had pleaded guilty to fraud, said he saw no tangible cross-over between the two cases.
"I don't believe that had anything to do with the settlement," he said. "I don't think that it aided it at all."
Two other lawyers who served with other plaintiffs on the class action suit against HealthSouth, however, offered different opinions.
"It is not common that you have criminal trials of corporate executive at the same time that a class action suit is taking place involving the same individual," said Louis Mallone, an attorney for O'Donoghue & O'Donoghue LLP and liaison counsel on the case. "It certainly didn't hurt the prospects of the [class action case]."
A second official, who declined to speak on the record, said that while the HealthSouth case was a "slam dunk" even before the Scrushy-Siegelman trial began, having Scrushy as a convicted felon "obviously helped" the suit against HealthSouth.
In June 2006, both Siegelman and Scrushy were convicted on charges of bribery. Siegelman was sentenced to seven years and four months in federal prison. Scrushy was given six years and ten months.
Months later the HealthSouth case, after years of trial, was finally settled. The company announced that it would pay a whopping $445 million. It was, said Malone, "one of the top fifteen or twenty [settlements] of all time."
Riley declined to reveal what he made from the case, saying that the amount was "evolving." But he did acknowledge that it was substantial. "It was a very good settlement," he said. "But at the same time there was a lot of work that went into it.
For critics, however, the message was clear. Riley knew Scrushy going down in the criminal trial and saw a way to reap the benefits on the separate civil suit. In other words: Good work, if you can get it.
"Rob Riley approved of the strategy of the dragging Scrushy into the [criminal] case because it would have benefits for him in the class action suit," said Horton. "It was clear that he was intently following what was going on in Fuller's court and knew that the conviction of Scrushy in that case would have strong benefits in the class action suit."
Popular in the Community