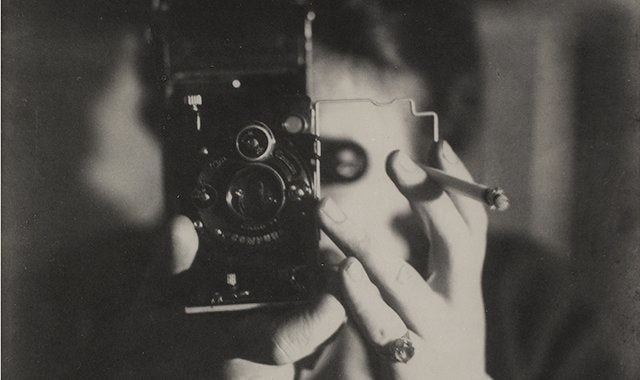 If the 1920s and 30s represent the true arrival of photography as an artist medium, they also represent a crucial stage in women's freedom. Which is what makes it refreshing to see such a wide range of female photographers included in the current Pompidou Center exhibit "Voici Paris: Modernités Photographiques 1920-1950," on display through January 14. Curated around the center's acquisition of the Christian Bouqueret photography collection last year, the exhibit includes large selections by well-known photographers from the period, such as Man Ray and André Kertész, and lesser-known ones, such as André Steiner and René Zuber. Also among the 300 works in the show are photographs by Germaine Krull, Dora Maar, Gertrude Fehr, Florence Henri, Nora Dumas, Germaine Dulac, Yvonne Chevalier, Claude Cahun, and Marianne Breslauer. It's pretty unusual to see so many women's names on museum walls in a historical exhibition, and worth taking a closer look.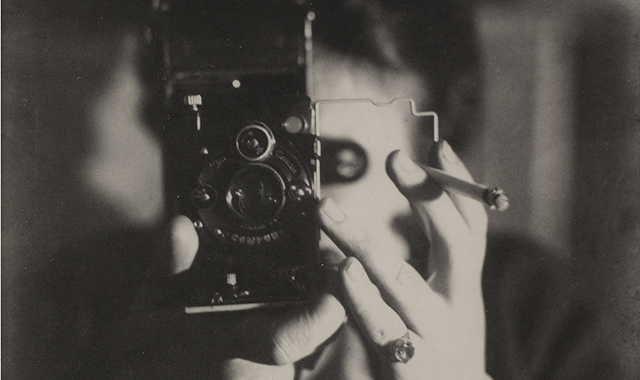 Germaine Krull, "Self-Portrait with Ikarette," 1925 (detail) / Courtesy of Centre Pompidou
Throughout the period depicted in the exhibit, Paris attracted immigrant workers and artists from all over Europe; one of these was Germaine Krull, who would become one of the greatest photographers of her time. Expelled from Germany in 1926 because of her commitment to revolutionary communism, she settled in Paris and began collaborating with the magazine Vu, founded by Lucien Vogel in 1928. She also began experimenting with new photograph techniques such as double exposures, and publishing travel writing at small publishing houses. In 1931, she trekked across France from Paris to Biarritz on the southwestern coast; photographing from the window of her moving car, she created fluid and fragmented images of a landscape in motion. A self-portrait at Pompidou, "Photograph with Ikarette," shows her hidden behind her camera with a cigarette in her hand; symbolic of her independence from societal constrictions, at a time when smoking was considered unladylike by conservative segments of society.
Also included in the exhibit are works by Dora Maar, made during an era when she was not yet overshadowed by her future lover Pablo Picasso. Her disturbing 1936 photo-montage "Monster on the Beach" shows the influence of Surrealism on her work, as well as the artist's political consciousness, through the threatening shadow of a fascist creature hovering over a limpid sea.
In "La Rotonde," Marianne Breslauer created an unusual image of the famous café and its surroundings by framing them from a high angle. Upon her arrival in Paris, the young German photographer studied with Man Ray; like many of her peers, she reveals the excitement of a modern city through her choice of angles and subjects.
French artist Laure Albin Guillot's work represents many of the ambiguities of her time, hesitating between a return to academicism, which was shared by other artists of the period responding to Surrealism, and a modern treatment of the image. The male nude "The Cantata of Narcissus" is the classical subject par excellence, but its framing is avant-garde. Relegated to the margin, the fragmentary body seems to be pushed away by the empty space that occupies the center of the shot.
Seeing the work of these photographers alongside that of Man Ray, Cartier-Bresson, and Erwin Blumenfeld makes it abundantly clear that women played an essential role in creating the modern photographic vision.
More of Today's News from BLOUIN ARTINFO:
Calling all HuffPost superfans!
Sign up for membership to become a founding member and help shape HuffPost's next chapter