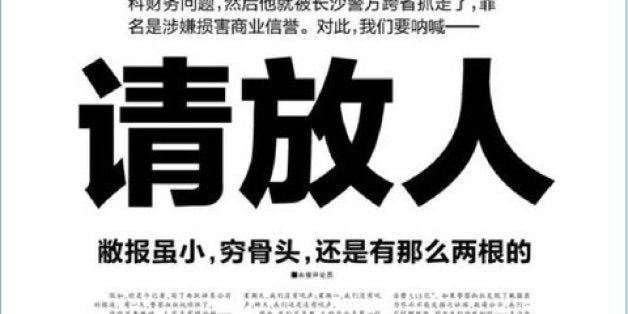 BEIJING, Oct 23 (Reuters) - A Chinese newspaper pleaded with police on Wednesday to release an investigative reporter accused of defamation in an unusual public rebuke amid a wider government crackdown on freedom of expression.
The state-run New Express tabloid printed a front-page commentary begging police in the south-central city of Changsha to set reporter Chen Yongzhou free under the headline: "Please release him."
Chen was detained after writing more than a dozen stories criticizing the finances of a major state-owned construction equipment maker.
Chen's arrest, which coincides with new curbs on journalists, lawyers and internet users in China, throws into question the role of whistleblowers as the country's leadership moves to eradicate graft.
"When the government is cracking down on freedom of expression and arresting journalists ... it seems to cast serious doubt on how serious this anti-corruption drive is," said Maya Wang of Human Rights Watch.
Chen reported that Changsha-based Zoomlion Heavy Industry Science and Technology Co. Ltd. engaged in sales fraud, exaggerated its profits and used public relations to defame its competitors, accusations strongly denied by the company.
The commentary went viral on Sina Weibo, China's Twitter-like microblog service, on Wednesday, and was republished by Chinese media with no obvious antagonism from censorship authorities.
Zoomlion said it had complained to the Changsha police about Chen following his stories.
"The reason we did it was to safeguard the legitimate rights of the company," Zoomlion vice president Sun Changjun told Reuters, declining further comment.
Media experts said the commentary was unusual but not highly controversial because the paper, published in the southern metropolis of Guangzhou, was criticising Changsha authorities as opposed to the central government.
Changsha police did not specifically name Zoomlion, but said Chen was detained on defamation charges.
"New Express journalist Chen is suspected of the crime of damaging business reputation, and so on October 19 was detained by police according to the law," the city's public security bureau said in a posting on its microblog.
In the acerbic commentary, New Express alluded to state-owned Zoomlion's influence in Changsha.
"Even though Zoomlion is very strong and pays a lot of taxes in Changsha, we are still of the same class," the commentary said. "Uncle police, big brother Zoomlion, we beg you, please let Chen Yongzhou go."
A Chinese cartoonist was detained last week for criticising the government of the flood-stricken city of Yuyao using Weibo.

New Express had become embroiled in an ongoing feud with Zoomlion over Chen's reporting, with a company employee publicly speculating that its hometown competitor Sany Group Co. Ltd. had planted Chen's stories. Sany has denied any wrongdoing.
"This is nothing but paid journalism, an alignment of interests - there is definitely a black hand at work behind the scenes," Gao Hui, an assistant to the chairman of Zoomlion, wrote on his microblog on July 16, leading the New Express to sue him for libel for repeatedly criticising Chen's reporting.
While state-run, the newspaper is one of many regional publications which generally have a more local focus than, for instance, the official Xinhua news agency that is more of a government mouthpiece with national reach.
In one article, published in May, Chen detailed what he called sales fraud by Zoomlion, based on information found in an anonymous USB drive delivered to the New Express. That caused the company's stock price to fall more than 5 percent, even though the company rejected the charge.
In a July statement on the Hong Kong stock exchange, Zoomlion said it had been under an "all-round malicious attack by its competitor" since the fourth quarter of 2012. It insisted there was nothing wrong with its books.
Analysts said the decision to detain a journalist, though not uncommon, is not made lightly.
"Zoomlion is a company that must have a strong and close relationship with authorities in Hunan," said Jin Zhong, publisher of Hong Kong-based Open Magazine.
The fierce competition between Sany and Zoomlion amid a slowdown in the construction equipment market has sometimes turned ugly, with each company saying the other engaged in corporate spying. Sany's chairman told a local reporter this year that Zoomlion was involved in kidnapping his son, a charge Zoomlion denied. (Additional reporting by Fang Yan and Beijing Newsroom; Editing by Nick Macfie)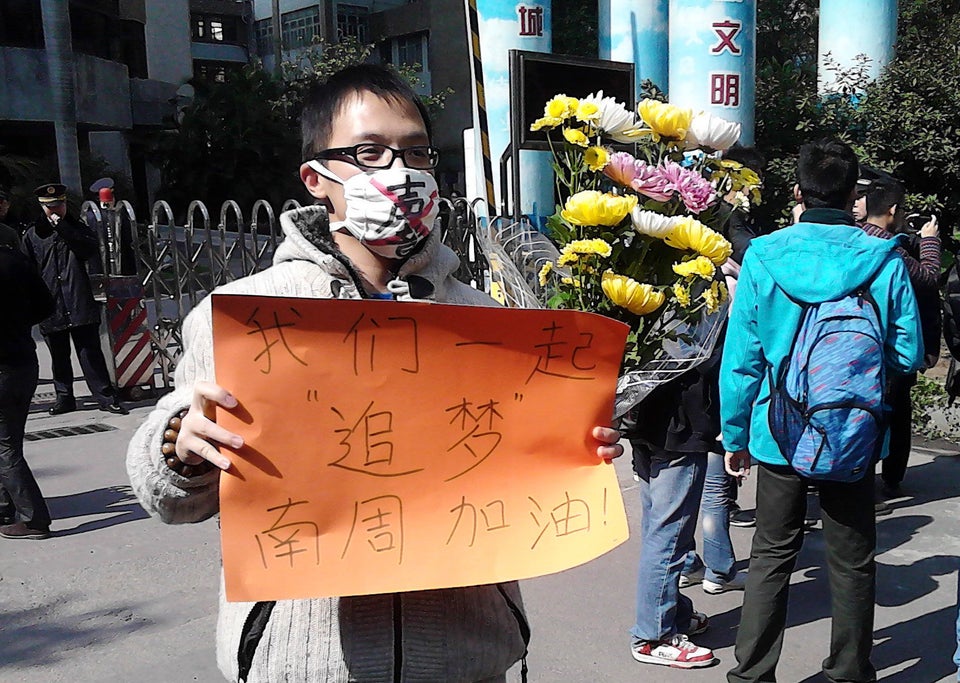 Chinese Newspapers
Popular in the Community