The video, uncensored though partially obscured and from a distance, shows 31-year-old Rudy Eugene in the last moments of his life: striking Ronald Poppo, 65, removing Poppo's pants, and brutalizing his face in broad daylight for nearly 18 minutes as traffic rolled past on the busy MacArthur Causeway.
Eugene was shot and killed by Miami Police officer Jose Rivera as he loomed over Poppo's bleeding body, but the video helps piece together the moments leading up to the gruesome attack and suggests the two men met by chance on the MacArthur's Biscayne Boulevard off-ramp, in the shadow of the Miami Metromover.
CBSMiami reports in a timeline of his last hours that Eugene, who spent Friday night with a girlfriend in Miami Gardens, drove to South Beach Saturday morning to check out Memorial Day weekend festivities and was unable to start his car to make a return trip. Abandoning his purple sedan, which was later towed, police say he at some point set off on foot across the causeway:
It was a hot day, with temperatures in the 90's, and a long walk. Either late that morning, or early that afternoon, police sources said, Eugene began his trek back to Miami. As he walked across the causeway, they said he started stripping, leaving his clothes on the walkway and in the road.

Cops found his drivers license and clothes strewn from the beach to the mainland.
Footage released by the Herald picks up a fully naked Eugene just before 2 p.m. as he walked down the exit ramp on the other side of the bridge. Pausing in a shady spot, he reels or spins slightly as a bicyclist whizzes by, then is mostly lost to sight as he bends over the homeless Poppo where he sat or lay on the ground.
About two minutes, later, however, Eugene rolls Poppo into the middle of the sidewalk. He appears to strip away some of the older man's clothing and then savage his face as Poppo futilely resists. Several minutes later, Eugene again drags Poppo farther down the sidewalk and continues to attack him before another cyclist rolls slowly by and a white car pauses on the off-ramp, just on the other side of a short wall separating the roadway from the bike path.
Gruesome photos circulating the web would later confirm most of Poppo's face, including his nose, eyes, and mouth, was ripped away, in what Miami's Fraternal Order of Police vice president Sgt. Javier Ortiz told the Associated Press was of the "goriest scenes I've ever been to." Poppo remains in critical condition.
The Herald reports at least five passersby called police:
According to Miami police, the first call of a disturbance came from a passing motorist who reported seeing Eugene stripping off his clothes and acting erratically. That call was routed to the Florida Highway Patrol — it's unclear why — and then transferred to the Miami police. Police have not disclosed the time of the first call.

A Road Ranger called to the scene also called 911 and used a loudspeaker to call for the naked attacker to cease. As the attack dragged on, two other motorists called police, as did another cyclist, Larry Vega, who later told reporters that Eugene "just stood, his head up like that, with pieces of flesh in his mouth. And he growled."
The surveillance video shows at least two more cyclists pass before Officer Rivera drives up the off-ramp, about 18 minutes into the attack. Rivera can be seen approaching the scene at a normal pace before pulling his gun and quickly stepping into a shooting stance. Vega later told news outlets that when Rivera yelled at Eugene to back away, the naked man merely raised his head "with pieces of flesh in his mouth," growled, and began chewing again.
Rivera reportedly then shot Eugene once, but Eugene still continued to attack Poppo's face, prompting the officer to shoot multiple times until he was dead.
Though police theorize Eugene was prompted to attack Poppo by drug-induced psychosis -- possibly caused by a new drug called "bath salts" -- the Herald reports no drugs or paraphernalia were found at the scene. Toxicology reports are expected to take several weeks.
Related
Before You Go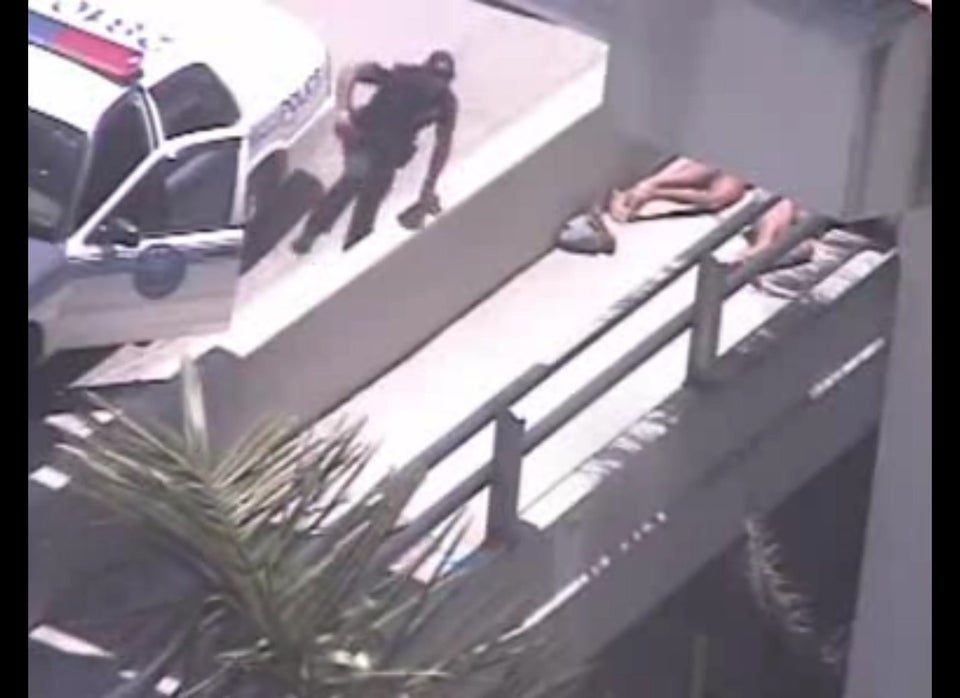 Miami Causeway Attack
Popular in the Community