See how users are reacting to the changes here.
In response to recent widespread criticism over changes made to its privacy policy in April, Facebook announced today that it has modified its user controls to make it easier to configure privacy settings and to retroactively control access to content that has already been posted. The company also said that it has "drastically reduced the amount of information that is available to everyone."
Facebook also promised to "carry over people's privacy choices for new products that facilitate sharing" and the company pledged to make fewer privacy changes in the future. "Facebook recognizes that the many privacy-related changes over the past year may have caused confusion, and the company will work within the framework announced today as it continues to innovate new features and products," it said in a release.
The company announced the changes at a 10:30 AM (PST) press conference at its Palo Alto, California headquarters and wrote about it on the company blog.
New Privacy Control Center
A new "one click" privacy control center will make it easier to limit access to information to friends, friends of friends or everyone with a single click. A single grid displays all settings which makes your personal privacy profile a lot easier to understand. The company will continue to offer granular advanced settings to people who want more control.
A new "main setting" makes it easy to share on Facebook with friends, friends of friends or everyone -- "all with just one click." The corresponding settings are immediately applied and displayed in a grid. At the same time, Facebook has maintained its more granular settings for those who want to customize their level of sharing. These settings now all appear on a single page for easier access.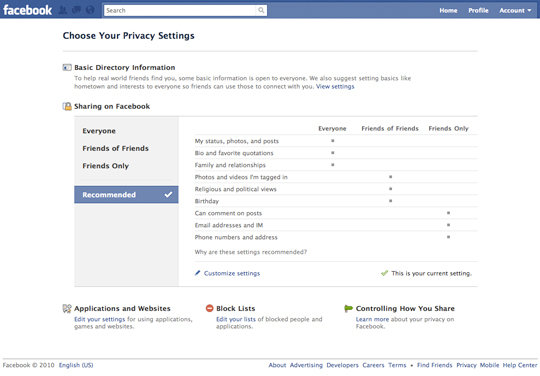 New privacy control page (credit: Facebook)
Less Mandatory Public Display of Information
Information that must be made publicly available is now limited to name, profile picture (if you choose to have one), gender (which you can hide on your own profile) and any networks a user chooses to join. There is now control of user connections to Pages, previously available to everyone. Users can prevent others from seeing their Pages connections on their profile and restrict their name from showing up on the Pages' "People who like this" boxes. Facebook said that third party "applications will also need to ask for explicit permission in order to access any of your Pages that are not visible to everyone."
Turn-off Apps and Opt-Out of Instant Personalization
Facebook is saying that there is now a "simple way for people to completely turn off Platform applications and websites", which means that your personal information, including information that you've made available to everyone, won't be shared with applications.
The company is also making it easier to opt-out of the Instant Personalization program that links your Facebook account with third parties including Yelp and Pandora. Opting out will prevent future applications from accessing user information.
.
Applications will now have to obtain specific approval before accessing any personal information that a user hasn't made available to "everyone.,"
Changes Vetted with Outsiders

Facebook said that it vetted its new policies with the office of Senator Charles Schumer (D-NY) and a number of online privacy and consumer advocacy groups including the Center for Democracy and Technology, Consumer Action, Future of Privacy Forum, Progress and Freedom Foundation, NetChoice, CATO Institute, TRUSTe, Technology Policy Institute, and Information Technology and Innovation Foundation.

Disclosure: I serve as co-director of ConnectSafely.org, a non-profit Internet safety organization that serves on Facebook's Safety Advisory Board and receives funding from the company. ConnectSafely wasn't one of the organizations listed in their announcement and we didn't specifically approve the changes but I was pre-briefed.
HUFFPOST Q&A: ASK THE EXPERTS ABOUT FACEBOOK AND PRIVACY
Three HuffPost bloggers knowledgeable about online privacy issues and social media will be answering your questions about Facebook's new privacy settings.

Wondering how to protect your privacy on Facebook? Want an expert's take on Facebook's trustworthiness? Hoping for an in-depth look at the future of privacy online?

Tech journalist Larry Magid, executive director of the Electronic Privacy Information Center Marc Rotenberg, and media technologist/author Deanna Zandt will be taking your queries.

Post your questions to the comments section below, then look for answers to them on HuffPost Tech!
Calling all HuffPost superfans!
Sign up for membership to become a founding member and help shape HuffPost's next chapter