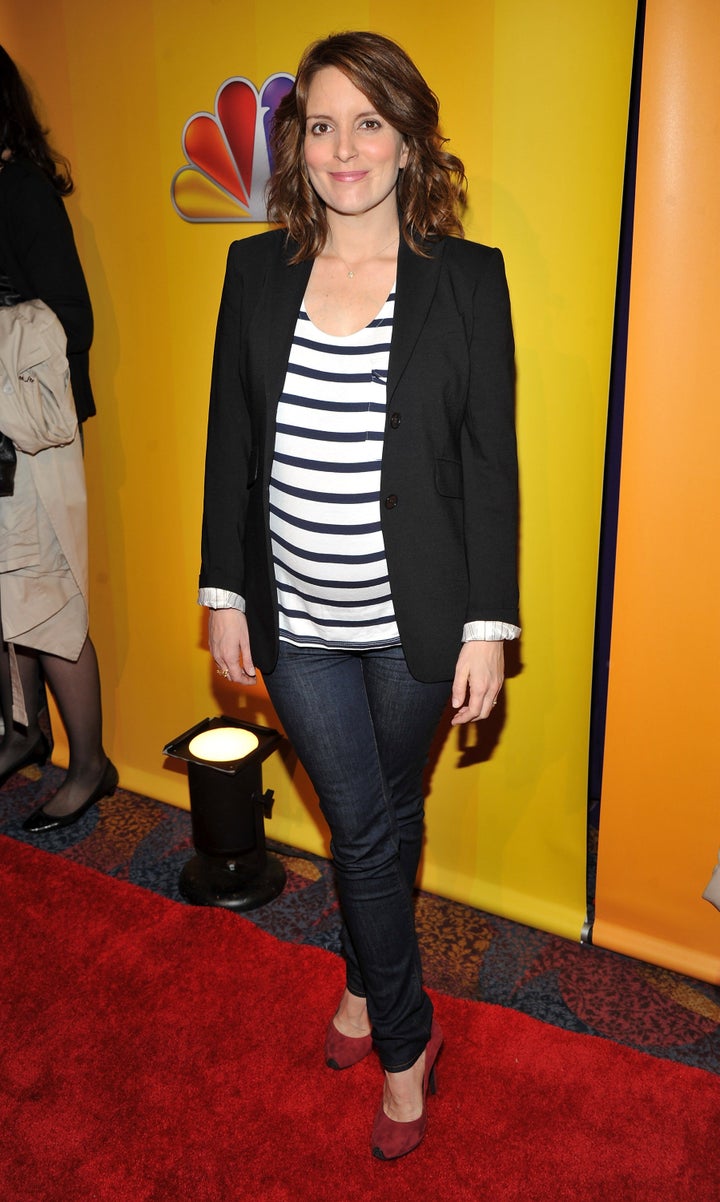 Women wouldn't be where we are today without the feminist icons who first fought for and inspired us. Elizabeth Cady Stanton. Sojourner Truth Betty Friedan, Virginia Woolf, Dorothy Parker, Shirley Chisholm and Gloria Steinem were our mothers' and grandmothers' feminist role models. They planted the seeds for what's become a blooming revolution that advances and changes with every move we make.
And, boy, how it's changed. Just as feminism has evolved from elite to radical, from first-wave to third-wave, so too has the concept of role models. The above women were instrumental in the feminist movement, but these days many young women look to public figures and entertainers for inspiration--in everything from how to style their hair (see: Jennifer Aniston) to what books they should read (see: Oprah). That's why we love seeing some great female stars using their powers for good. After all, tackling Anna Karenina because you heard that Reese Witherspoon loved it doesn't make your reading it any less valid. Incorporating environmental, free-trade consciousness into your diet and purchasing habits because you were inspired by an article you read on Alicia Silverstone doesn't weaken the impact of those decisions. Contributing to Planned Parenthood and reading up on gender justice because an abortion-themed episode of Friday Night Lights moved you doesn't make your activism less legitimate.
The potential feminist power of entertainment is that even women whose main source of exposure to the outside world is through their television sets or magazines can find feminist role models. TV shows with strong female leads--30 Rock and The Closer, Grey's Anatomy and How I Met Your Mother--are on every week, reaching millions more than a women's studies text or independent feminist website. And, of course, there's that lady who grew up idolizing Mary Richards on The Mary Tyler Moore Show and became one of the most influential women on the planet. That's right ladies, Oprah Winfrey wouldn't be the feminist pioneer she is today without her favorite TV show.
And it's in that spirit that I offer new ideas about today's Marys--the role models who can inspire an empowered spirit in a new generation of women. That doesn't mean famous women are better feminists than the hard-working grassroots community organizers, activists, scientists, scholars, moms, freedom fighters, volunteers, and other everyday heroines. But if a few celebrities can make feminism seem cool to young women who'd otherwise never consider it, I say that's damn sexy progress. The following women are leading the way, shaping and changing popular culture and feminism with every move they make.
Meet the new feminist icons.
Tina Fey - Feminism's Involuntary Heroine
Tina Fey may be the greatest feminist pioneer we've seen in a generation--despite the fact that she never set out to be.
In 1997, Fey became the first female head writer in Saturday Night Live's 22-year history--and her tenure was credited with saving the then-fledgling franchise. As her skits grew more topical, hilarious and pro-woman, ladies everywhere fell for her. So did men, but she titillated with her brain, rather than with her body. Fey's first scripted film, Mean Girls, became the new Clueless--empowering, quotable, and layered with positive messages for girls and women. The fact that it's also laugh-out-loud funny is testament to Fey's talent. Defending women--and bashing the stereotypes against them--is Fey's feminist calling card. Yes, it's true--feminists can be funny!
30 Rock, however, is the pièce de résistance on Fey's feminist resume: Her showbiz-based sitcom about a hard-working TV writer and her unlucky-in-love shenanigans gave women a role model more relatable--and thus more powerful--than Sex and the City's Carrie Bradshaw. If Carrie is a descendant of Holly Golightly, Liz is the spiritual daughter of Mary Richards. While both have their iconic and feminist merits, Liz Lemon is the woman most of us truly feel like in this harried, complicated new millennium. For better or worse, trying to balance a successful career, a history of bungled relationships, and an appetite for sub sandwiches or white wine is far more relatable to most of us than penning sex columns in between glamorous parties and $400-shoe-buying sprees.
Liz Lemon captures the quintessential lady problem of the modern age: the frustration--and futility--of trying to "have it all." The ridiculous nature by which she fails and flails is Fey's critique on the expectations placed on educated, ambitious career women everywhere. The show is a fictional fuck-you to the stereotype. The fact that Tina Fey, the woman--a wife and mother in real life--has managed to defy it only furthers her feminist cred.
Christina Aguilera - An Exercise in Feminist Evolution

Yes, there were ass-less chaps. I'll get to those in a minute.
The world met Christina Aguilera in that teen-pop-saturated year of 1999. The former All-New Mickey Mouse Club kid stood out among the flaxen-haired, dimple-cheeked masses because of her voice. It was bigger, stronger, and more dimensional than anything we'd heard since Mariah Carey. So we listened. And what we heard within the mix of sexualized coming-of-age fluff like "Genie in a Bottle" were girl anthems about empowerment, individualism, and standing up for yourself. "Fighter," "What a Girl Wants," and "Can't Hold Us Down" championed a woman's rights to call the shots and reject the double standards set forth by sexism and patriarchy. As she sang in "Can't Hold Us Down": "Am I not supposed to have an opinion?/Should I keep quiet just because I'm a woman?" Those are some lyrics we're happy to have stuck in our heads to a catchy tune--and even better, stuck in the heads of young girls around the world.
In Christina's world, women are never reduced to pining for a man or cowering from his abuse. They're loud-mouthed, opinionated bitches (a title she owns, Tina Fey-style) who get what they want when they want it. It's a ballsy message Madonna could get behind. She also has a softer side: Her song "Beautiful" is a powerful celebration of individuality and difference, with a video featuring young people of all genders, sexual orientations, and backgrounds, proclaiming their common beauty. No matter how you dress up the package, her message is one of the more feminist in popular music today.
Of course, the packaging of Christina Aguilera has always been part of the discussion surrounding her--oftentimes, the loudest part. Pop star as fetish object is nothing new, but most young performers are either too naïve to reject the image forced on them by an industry still run and ruled by men, or so eager to excel that they go too far (see: Britney Spears and Miley Cyrus). But as soon as Christina was old enough to understand her sexuality, she owned it. Sometimes that meant going a little too far, and these actions weren't without consequence; little girls everywhere wanted to wear the belly shirts and spandex she popularized during her early reign.
Aguilera has often talked about the Catch-22 of being a female performer who's pressured to showcase her physical attributes while being criticized for doing so. "How do I not be exploited whilst selling my sexuality? For me it's a matter of opinion about how far is too far. ... I am not an object. I am in control. I'm in the power position. I decide who I am and it's too bad if you don't get it--or want it," she told Cosmopolitan. The lesson: Giving into a short-shorts trend or stuffing our bra at some point in our lives doesn't mean we can't evolve into self-aware feminists. As humans, we experiment and explore the extremes of ourselves to see where we feel most at home within our bodies. Aguilera simply did it in the public eye.
So as Aguilera evolved, she may have made mistakes--and when we say mistakes, we mean those ass-less chaps from the "Dirrrty" video. But most young women have a pair of ass-less chaps in their past--metaphorically speaking. Learning from them is what matters.
Michelle Obama - A Modern-Day Super Hero

That old expression, "Behind every good man stands a strong woman," is a lesson in condescending sexism. But in the case of First Lady Michelle Obama, it finds a new, feminist meaning.
Before she even met Barack, Michelle was an icon in the making. Growing up on the South Side of Chicago, Michelle's family was short on cash, but rich on ambition. Michelle's father set high standards for his kids, both of whom attended Princeton as undergrads, and Michelle then went on to receive her JD from Harvard, where she made a name for herself on campus for organizing demonstrations to call for more minority students and professors.
A fast ascent to the top of corporate law firms, medical centers, and government institutions followed. Then she met Barack (she was his mentor), married, and had two daughters. She epitomized the "have it all" woman: high-powered career, an equal marriage, and motherhood. She also prioritized her personal values. She left her lucrative career in corporate America to go into public service, advocating on behalf of women, children and young adults. She put into action the lessons she taught her children--that public service makes you a better person, diversity makes us a better society, and every person deserves a chance to live a healthy life.
Every move she makes is fueled by that personal passion. She doesn't have to shout that she's a feminist to show us that she is one. Whenever the president speaks of Michelle, he talks of her strength, drive, and dedication to the welfare of all. This isn't just rhetoric, but a life's mission she's invested in--and one that helps influence policy that affects all of our lives. There's nothing more Sexy-Feminist than that.
Suze Orman: She makes financial freedom an achievable goal for women everywhere. Her books serve as wake-up calls for a generation of women who benefited from good educations and no-holds-barred ambitions, but found themselves in a consumerism trap and oftentimes victimized by financial institutions. There's no better way to empower women than giving them power over money.
Katie Couric and Diane Sawyer: Prominent TV anchor/reporter jobs have been hard to come by for women for most of the time television has existed. After Barbara Walters and Oprah Winfrey busted the doors open, they've stayed only slightly ajar, and the majority of those who've squeezed through have been accepted due more to their physical appearance than to their resumes--hello, Fox News and female sports correspondents of the '90s! But in an era when the media seems to have forgotten its journalistic roots, these talented, fearless, ethical professionals are helping to preserve the credibility of our nation--and kick through a few glass ceilings at the same time.
Additional shout-outs to Christiane Amanpour, Robin Roberts, Rachel Maddow, Lisa Ling, and Roxana Saberi, all rock-stars in their own right.
Gwen Stefani: She's eschewed the F-word, but we've got news for you Gwen: You're a feminist. Deal with it. She wrote the script for fierce, independent women coming of age in the 1990s. "Just a Girl" is still our feminist anthem. Fronting an all-male band and embarking on a successful solo career--not to mention wearing the bread-winning pants in her marriage to Bush frontman Gavin Rossdale--doesn't hurt, either.
Portia de Rossi & Ellen DeGeneres: These two gorgeous, talented ladies might be the most mainstream lesbian power couple ever, and as such, they send an important message. They're sexy, smart, funny, out, proud, and examples who can make gay marriage a more accessible concept for the masses. Portia looks like every man's fantasy--tall, blond, exotic features, amazing body--but she defends gay rights every chance she gets, and isn't afraid to expose the ugliness in her own life to help others. Her 2010 memoir, Unbearable Lightness: A Story of Loss and Gain, chronicled her near-life-long battle with eating disorders. It's only when she accepts who she is--despite how it may run contrary to the popular opinion of "normal"--does she find peace and happiness. It's a feminist message for the masses.
Ellen sacrificed her career for living her truth and became one of America's national treasures in the process. A gay woman holding the heart strings of Middle America is about as monumental as a black woman running her own TV network. And let's talk about iconic presence: If Ellen DeGeneres can have a Cover Girl contract, the public--and political--perception of beauty has a real chance at reform.
Read more about feminism, feminist icons and how your everyday decisions can be both sexy and feminist at sexyfeminist.com
Related
Popular in the Community