Those who come to the New Filipino Cinema festival at San Francisco's Yerba Buena Center for the Arts this week never having seen a Filipino movie are likely to be shocked and exhilarated -- though the debate over whether the industry has entered a new Golden Age, or continues to slide into an abyss, may baffle them.
There is no neat, succinct way to define what is going on in the industry, but one image in Brillante Mendoza's visually splendid Thy Womb, one of the 20-odd films on offer this year, sums it up better than words. In a searing performance, superstar actress Nora Aunor plays a spunky midwife in a poor community of seafaring gypsies in the southern Philippines, known as the Badjaus, whose skills include fishing, pearl diving, and weaving banig, dried grass mats of striking and highly intricate designs. When Aunor is not occupied with yanking babies out of birth canals, the camera lingers on her fingers as they thread deftly through jumbled masses of brightly dyed grasses, magically ordering them into improbably complex and stunning patterns.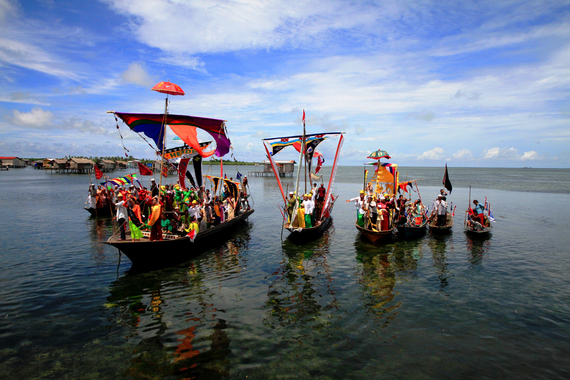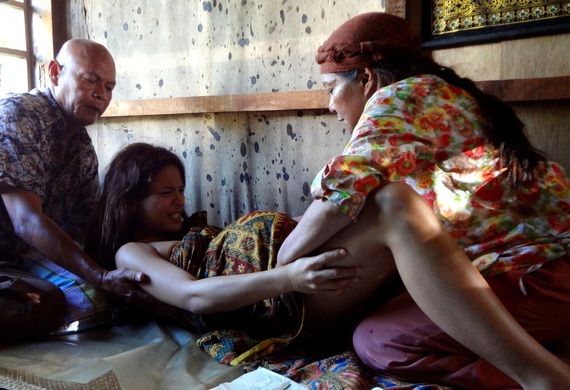 The cluster of films woven into this festival brilliantly reveals the motley strands of Filipino culture. Over five days, co-curators Joel Shepard and Philbert Ortiz Dy take us on a journey that sweeps across the entire archipelago, dazzling us with the tumult of languages that illustrates why the Philippines is fundamentally ungovernable. Actors slip in and out of Tagalog, Visayan, Sinama, Bikolano, Spanish, Arabic and English -- praying in one language, cursing in the next, betraying their social standing with one, cementing a power dynamic with another.
The actors in Hannah Espia's restrained and masterful Transit, set in Israel, also speak Hebrew for this tale of children forced to live in shadows, their Filipino migrant worker parents consumed by fear and distrust.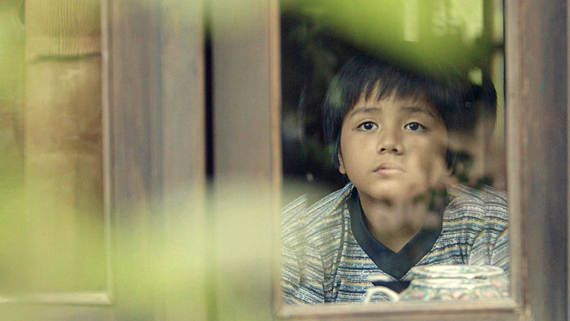 We travel back to the Japanese occupation of World War II, in Peque Gallaga's epic Oro, Plata, Mata (Gold, Silver, Death), when aristocratic mestizo families had to abandon their haciendas and flee to the jungle, where they faced the hostilities of the underclasses. The society matrons endure robbery, rape and dismemberment but cling to their mahjongg games.
Not all is grim in Filipino cinema. Romance and satire abound. Jerrold Tarog expertly avoids the syrupy clichés of mainstream rom-com in his absorbing, bittersweet Sana Dati (If Only). Alvin Yapan's supernaturally seductive Debosyon (Devotion) explores the ardor between a man and a forest spirit at the kooky crossroads of Catholicism and pre-colonial pagan faiths. Jeffrey Jeturian's witty The Bit Player (Ekstra) pokes fun at the exploitative telenovela industry, with the renowned Vilma Santos in top form as a desperate extra on a soap opera set.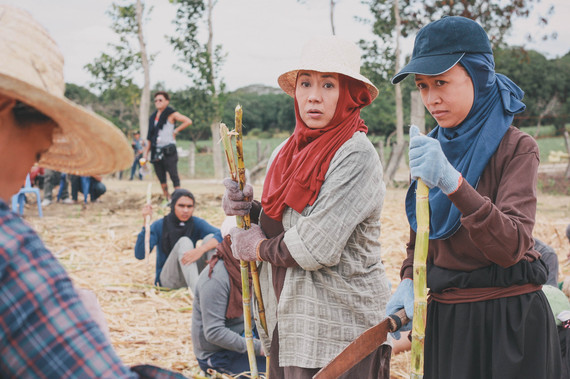 Tour de force acting comes not only from the legendary Aunor and Santos and other established luminaries like Cherie Gil, Fides Cuyugan-Asencio, Irma Adlawan and Ping Medina, but also from complete unknowns like the mischievous gang of young boys in a small provincial town in Keith Deligero's Iskalawags, who idolize action movie stars and adopt their swashbuckling ways to escape the dreariness and the struggles of their own existence. Far more than a charming coming-of-age tale, Iskalawags slyly deprecates Filipino notions of manhood and alludes to the oppressiveness of Tagalog culture as endured by the restless majority who live outside 'Imperial Manila.'
It wouldn't be a proper Filipino film festival without sex and horror. The seamy, no-holds-barred extramarital coupling and the unraveling of a sordid tale of vengeance in Erik Matti's erotic thriller Rigodon rises above typical mainstream treatment of the popular subject of infidelity. In contrast, Sigrid Andrea P. Bernardo's Anita's Last Cha-Cha (Ang Huling Cha-Cha ni Anita) exhibits a light touch in her witty and sensitive portrayal of a young teenage girl's rebellion against the small-mindedness of her rural town, and her hopeless infatuation with an older, glamorous woman.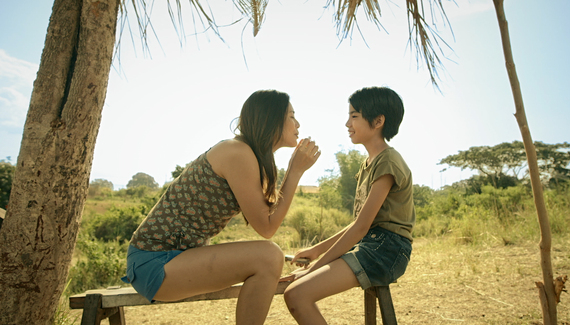 Opening the festival on Wednesday night, Dy and Shepard serve up Raya Martin's eerie How to Disappear Completely about a young girl whose attempts to evade her religion-obsessed mother and drunkard father take a supernatural turn. (Shepard: "I hope [it] finds the cult audience it richly deserves.") Fear and dread are ramped up by the narcotic electronic soundtrack by 23-year-old witch-house sensation Eyedress (Idris Vicuña). Martin claims to have grown up watching a lot of horror flicks, but notes:
"There's a different sense of terror in the Philippines, I think. It's very interesting that we seem to be desensitized by everyday murders, but half-bodied flying witches are very much alive in our consciousness. It's this overlapping of the superstitions with seemingly urban consciousness that makes us unique."
Critics are quick to point out the political allusions to a citizenry in thrall to religious extremism and macho violence.
The lone documentary in the festival, Cielito E. Tabay's No End in Sight (Walay Tumoy na Punterya), exposes in laconic fashion the cottage industry of illegal gun manufacture in one southern town.
Just a few days ago, Filipino author F. Sionil Jose fired off a damning piece of social commentary about Filipino apathy and cynicism toward endemic corruption, citing the "fatal virus" of our culture of collaboration -- with colonial authorities, with the Japanese in World War II, and with our own entrenched aristocracy -- and a failure to prosecute and punish tyrants and collaborators (in contrast to other nations' aggressive pursuit of Nazi collaborators after World War II.) Thus violence is endlessly recycled through the generations as injustices and resentments fester.
The point is driven home in the final, special engagement screening of Lav Diaz' riff on Dostoyevsky's Crime and Punishment -- Norte, The End of History -- an angry and majestic work of art.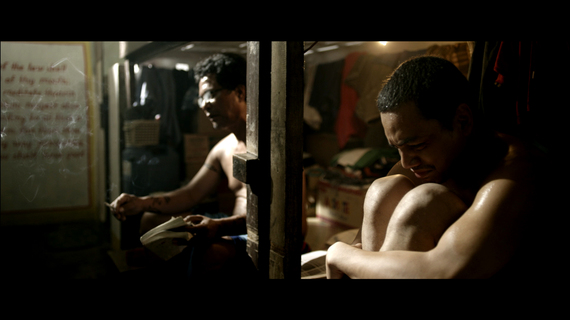 "In this decadent atmosphere, it is difficult to recover virtue," laments Jose.
Collectively, the films on offer in this short festival vividly capture this decadence in its various guises and, through the healing balm of the imagination, allow us glimpses of underlying virtue.
Ironically, many of these films have yet to find broad audiences at home, even as they garner acclaim in festivals around the world. Funding for Filipino films is fairly robust in the production stage but not for marketing and distribution, and Hollywood blockbusters still dominate Philippine cineplexes. But in the Bay Area, with its high concentration of Filipino Americans, Dy and Shepard expect to sell out the house. Get your tickets now.
1. Keith Deligero's Iskalawags, photo courtesy Cinema One Originals
2. Brillante Mendoza's Thy Womb, photo courtesy Center Stage Productions
3. Brillante Mendoza's Thy Womb, photo courtesy Center Stage Productions
4. Hannah Espia's Transit, photo courtesy Electric Entertainment
5. Jeffrey Jeturian's The Bit Player (Ekstra), photo courtesy Star Cinema
6. Sigrid Andrea P. Bernardo's Anita's Last Cha-Cha (Ang Huling Cha-Cha ni Anita), photo courtesy Cine Filipino
7. Lav Diaz' Norte, The End of History, photo courtesy The Cinema Guild
Related
Popular in the Community