The New York Times and others have reported in recent months that hate crimes against minorities are on the rise. According to numbers from the FBI adjusted for underreporting by the Matthew Shepard Foundation, there are more than 9,000 hate crimes committed in the United States on an annual basis. These include everything from vandalism to murder motivated by bias based on race, religion, being LGB or T, among others. Although we may find this alarming, unless it is happening to us directly, it can be difficult to continue to be emotionally touched by such events, much less appreciate their impact on affected individuals and communities. Fortunately, there is an antidote in a movie that has been recently released.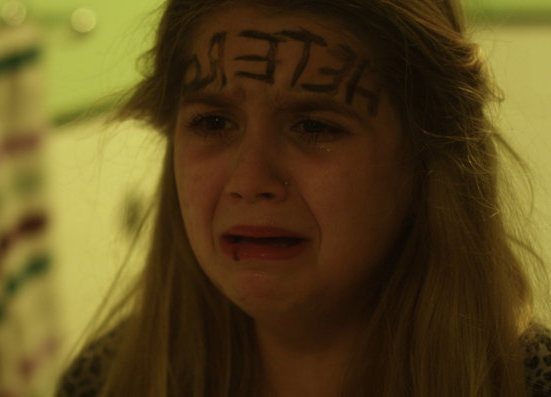 Love is All You Need? is an independent film based on the multi-award winning short of the same name that has an alternate reality backdrop of a world inverted: heterosexuals are the deviants in a world dominated by gays and lesbians. A poignant scene early in the film shows a woman with her young daughter, Emily (Kyla Kenedy), both wearing crosses, welcoming a new neighbor with muffins and asking if they have children. When the neighbor, a woman, says no but they plan to, the mother innocently asks, "Who is going to carry?" meaning whom between her and her assumed female spouse is going to get pregnant. When the male spouse appears, the shocked woman can't get her and her daughter out of the house fast enough. As recognizable and painful as this scene is to anyone who has experienced it in reverse, it is only a warm-up for the trauma to be inflicted on the main characters.
The primary plot of this inverted world is of the star quarterback of an all-female college football team, Jude (Briana Evigan), falling in love with Ryan (Tyler Blackburn), a male reporter for the college paper. Jude's jilted girlfriend (Emily Osment), the homecoming queen, outs Jude by posting candid photos of her and her secret boyfriend all over the dormitory, precipitating all hell breaking loose in both expected and unexpected ways. That storyline is interspersed with the heart-wrenching storyline of Emily being bullied at school for presumably being a "ro" (heterosexual). Not unlike the suspense film "Seven Pounds", the viewer must put the puzzle of the narrative together slowly from disparate and increasingly disturbing pieces until the sequence of events and connections between the characters become clear. Like any great suspense thriller, we cannot be sure whom the ultimate victim(s) is/are until the final, great reveal.
Although the level of violence actually shown on screen is, according to the filmmakers "less than PG-13" levels, in a pre-viewing by a primarily LGBT audience, I witnessed several people averting their eyes and even leaving the room at various points, so disturbing were the scenes depicted. But in true Hitchcock-style, less is made to be much, much more through expert editing of camerawork and sound. The final credits had us all sitting in stunned silence as we absorbed the impact of this incredible work of film art.
The screenplay was written by David Tillman and Kim Rocco Shields, who also directed the film. Says Shields, "I originally considered using inversion approaches founded on race, religion and appearance. I decided the lens of sexuality works best in speaking to intolerance for this story, because love is universally important."
Although the social message is clear, this film is a far cry from any after school special or even your typical activist indy-film; the cast (including such big names as Jeremy Sisto, Ana Ortiz, Elisabeth Rohm, Katherine LaNasa, and Leisha Hailey from L-Word fame), writing, directing, editing, and soundtrack rival any major Hollywood production. Love is All You Need? Is currently available on iTunes, Amazon Video, and Google Play.
REAL LIFE. REAL NEWS. REAL VOICES.
Help us tell more of the stories that matter from voices that too often remain unheard.