In an award-winning career as a National Geographic photographer, Cary Wolinsky traveled the world. His wife Barbara, a designer, and their son Yari, even from a young age, often tagged along and were pressed into service.
But half a dozen years ago, it was an ambitious project of their neighbors that proved an irresistible draw for the latest family collaboration.
In Raise the Roof, the Wolinskys teamed up to chronicle the improbable story of a decade-long odyssey led by Rick and Laura Brown, their neighbors in a town south of Boston, who set out to bring back to life the nearly lost history of Poland's historic 18th century wooden synagogues.
At one time, there were some 200 of these wooden synagogues built during a period referred to as the golden age of Polish Jewry. Of those that made it into the 20th century, none survived destruction during the German Nazi occupation of Poland. Along with the buildings, the knowledge of these unique architectural gems was nearly lost as well.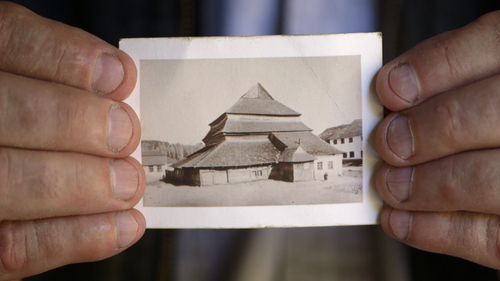 Rick Brown holds the photo of Gwozdziec Synagogue that inspired them to reconstruct it. Copyright 2014 Trillium Studios.
The film has its U.S. debut in mid-February at the Atlanta Jewish Film Festival. Now available through the National Center for Jewish Film, its worldwide distributor, Raise the Roof will screen in Philadelphia and in Boston, at the NCJF festival in May, and elsewhere, according Lisa Rivo, codirector of the Center at Brandeis University.
In the engaging, lively 85-minute documentary, viewers follow the Browns and their international team of artisans and hundreds of students to Poland, where in summer workshops beginning in 2011, they recreated the nearly full-scale timber frame roof and painted ceiling of the Gwozdziec Synagogue, originally located in what is now the Ukraine.
The stunning recreated structure - built by hand, using methods and materials that would have been used at the time - is now the centerpiece exhibit of the new Polin Museum of the History of Polish Jews in Warsaw that opened last fall with great fanfare and ceremony.
The exhibit also includes a full size hand-carved and painted bimah, the prayer podium that stood in the center of the prayer hall. [See earlier Huffington Post story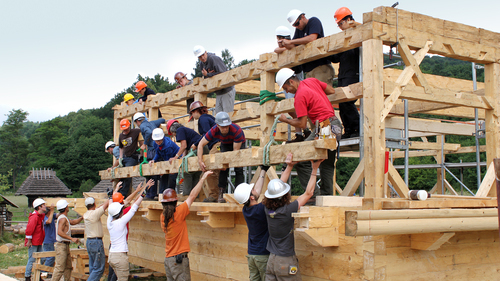 In Sanok, Poland, students worked side by side with skilled woodworkers from the International Timber Framers Guild to construct part of the synagogue roof structure. Photo courtesy Copyright 2014 Trillium Studios
"The recovery of this lost object is an epic story," according to Barbara Kirshenblatt-Gimblett, program director of the core exhibition of the Polin Museum. Kirshenblatt-Gimblett, one of the scholars interviewed in the film, described the painted ceiling as a "celestial canopy," reflecting a rich period of Polish Jewish history that contrasts sharply with the stereotypical images of impoverished Polish Jewish shtetel life.
The Browns, who are neither Polish nor Jewish, are highly acclaimed artists and visionary educators who are long time faculty members at the Massachusetts College of Art in Boston. Through their educational non-profit Handshouse Studio, the Browns bring together students, artisans and other scholars to recreate centuries-old large objects that left little trace of their origins.
Beginning in 2003, when they first learned about these synagogues, the Browns and their students, immersed themselves in the little-known history of the synagogues, creating large scale models that informed the final museum structure.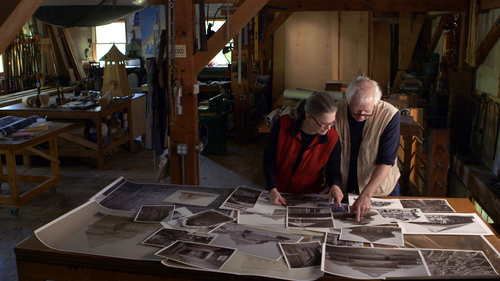 Rick and Laura Brown review details on photographs of the Polish synagogues that no longer exist. Copyright 2014 Trillium Studios.
A critical partner was Thomas Hubka, whose book, Resplendent Synagogue, became a foundation text. They were carrying on the work begun by Polish architects and students who documented many wooden synagogues dating back to the late 19th century and especially during the interwar years, including revered Polish architect Maria Piechotka, who documented the wooden synagogues with her late husband, Kazimierz.
"The big dream was that one day we were gonna build one of these synagogues, as accurately as possible, in Poland," Rick Brown said in the film.
That improbable dream came to life in 2011, with a partnership with the museum, launching the enormous undertaking to build the recreated synagogue roof painted ceiling.
"How often do you get a chance to reach deep back into history and bring it back?" he asked.
But the film reveals that this history is relevant today, a time when there is a resurgence of interest in Polish-Jewish history, including among younger generations of Poles.
"One of the most rewarding aspects of the project was nurturing the hundreds of students who participated," Rick and Laura Brown said in an interview."Creating this project brought together people of all ages, faiths, backgrounds and nationalities," they added.
The Browns' magnetism, most notably of students, pulls everyone in, like a black hole of gravity, Yari said. "They are so good at getting people excited."
Yari was a teen when his family and the Browns first met and began some early professional collaborations.
In 2006, Yari, a graduate of Bard College, made a short film of the Handshouse workshop where the Browns and their students recreated the Gwozdziec Synagogue's intricately hand-carved bimah, the prayer podium.
When the partnership with the museum was sealed, in 2011, Yari sensed this was a moment to capture a once-in-a-lifetime event that was unfolding on a world stage.
What started out with a small kickstarter campaign of $56,000 to fund a short film has now become Raise the Roof, executive produced by John Rubin. Voices of a wide array of people from all over the world and Klezmer and original music adds color.
For Cary, making this film, in Poland became more than collaborating with his family and the Browns.
"This was a roots journey I never meant to take," he said, referring to his own Polish Jewish ancestry. While he had traveled before to Poland, to photograph at Auschwitz-Birkenau memorial for National Geographic Magazine, like many others, he equated Poland with the Holocaust.
But, "the rebuilding of the Gwozdziec Synagogue unearthed a vibrant and creative Jewish culture," he said.
"We were witnessing ... a symbol of a cautious optimism in a new generation and a growing dialogue between Jews and Poles about the past and future," he said.
REAL LIFE. REAL NEWS. REAL VOICES.
Help us tell more of the stories that matter from voices that too often remain unheard.