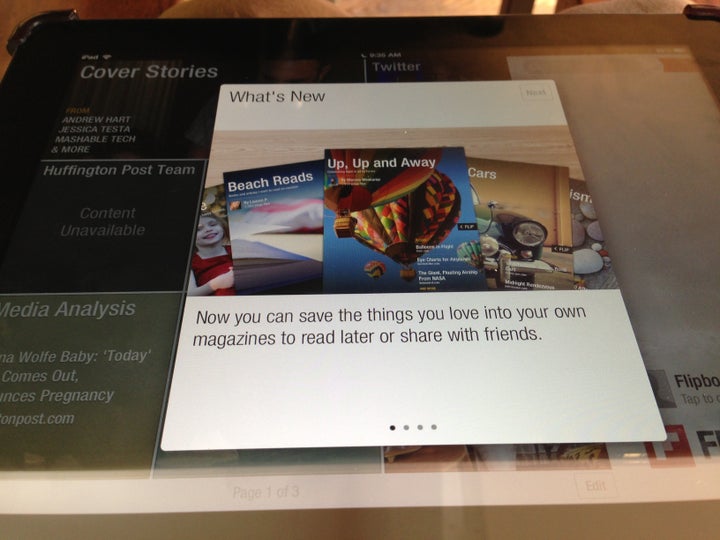 Flipboard unveiled a major upgrade to its iOS app on Wednesday, including the ability to create your own magazine.
The popular personalized news app has long allowed users to visualize RSS feeds, Twitter streams and Facebook streams, but now you can create your own streams by adding articles, photos and videos of your choosing. It's a natural progression for the app that now goes from a consumption platform to a creation one as well.
It's simple to curate a magazine in the new Flipboard. You look for content in the app and hit the "+" button to include it. Or you can use a bookmarklet tool to look for virtually any content you wish on the Web to put in your magazine. You can also create a table of contents for your creation.
In addition to Facebook and Twitter and articles around the Web, you can pull in content from Instagram, SoundCloud, LinkedIn and Tumblr.
Flipboard notes in a blog post that you can either make your magazine private or public. If public, others can find it and you can share it with the world. There are many use cases for the new functionality, and one suggestion from Flipboard is to create a "Read Later" magazine for yourself.
Walt Mossberg wrote for AllThingsD about the app update, "there are some limitations to the new capabilities, but they make your mobile device more personal and more of a creative tool, rather than just a means of consumption."
While this new update is for iOS apps, an Android version is expected to come later.
REAL LIFE. REAL NEWS. REAL VOICES.
Help us tell more of the stories that matter from voices that too often remain unheard.