It seems more than coincidental that two powerful French films opening Friday deal with anti-Semitism, albeit in radically different ways. 24 Days dramatizes the 2006 kidnapping of a young Jewish man in Paris; Because I Was a Painter is a documentary about art created by inmates of Nazi camps. In addressing both the recent past and that of World War II, these films attest to the ongoing tensions of Jewish identity in Europe, especially France.
Because I Was a Painter, a co-production of France and Germany, explores the representation of concentration camp life through images. Director Christophe Cognet juxtaposes interviews of artist-survivors with drawings that are striking and haunting.
Some of the sketches have been considered as evidence, especially vis-a-vis Sobibor, as no photographs exist from this camp. But to what extent is a drawing an interpretation rather than a historical document? Or must we distinguish between a sketch made in front of the object, versus an image recalled from memory? For example, Yehuda Bacon says," He was like a camera," about Joseph Richter, a member of the Polish Resistance who drew and wrote captions to explain the content of his drawings.

Bacon was a privileged eyewitness in Auschwitz-Birkenau, one of the adolescents chosen to haul objects and corpses in carts throughout the camp. Given his mobility, he captured images that were later used in trials. The most gripping drawing is entitled "I Witness My Father's Death": the camera rises from chimney smoke to reveal a man's grave face.

One of the questions the film raises is whether beauty can coexist with images of horror. After the artist Jose Fosty--a survivor of Buchenwald--calls a sketch of corpses "a symphony of grays," an Israeli survivor insists that there is no beauty to be found in the camps. But later, a survivor-painter says in French that he was inspired by Goya's combination of "tragedy and beauty."

Because I Was a Painter includes shots of Treblinka today, verdant and peaceful as opposed to the bloody landscape of wartime. And a slow circular pan of a camp ends at the entrance of Auschwitz, with the freedom of a mobile gaze in contrast to the individual sketches made there in the past.

Another question the film poses is to whom these drawings belong. To the artists or their descendants? About Dina Gottliebova's portraits of Gypsies commissioned by the Nazi physican Josef Mengele--which now hang in the Auschwitz Museum--its Director says they belong to the historical archive about Mengele.

As Seen Through These Eyes, Hilary Helstein's fine documentary of 2008, already introduced some of the artists, as its focus was the work created by child inmates of the Nazi camps. Gottliebova, a Czech Jew, says Mengele forced her to paint Gypsies because he thought photographs didn't capture the right visual tone. And Yehuda Bacon, who was a 13-year-old inmate of Terezin, recalls how art offered a shelter to young inmates.

As in Alain Resnais' groundbreaking Night and Fog, the focus of Because I Was a Painter is not on Jewish experience (some of the artists were victims of anti-Semitism, others were targeted by Nazis for different reasons), but representation of the camps.

24 Days, on the other hand, is a wrenching drama based on the true story of Ilan Halimi--kidnapped and tortured for three weeks simply because he was Jewish--and the noble but botched efforts of the French police to save him. With a focus on his mother Ruth (played by Zabou Breitman), director Alexandre Arcady creates a tension that mounts in every scene.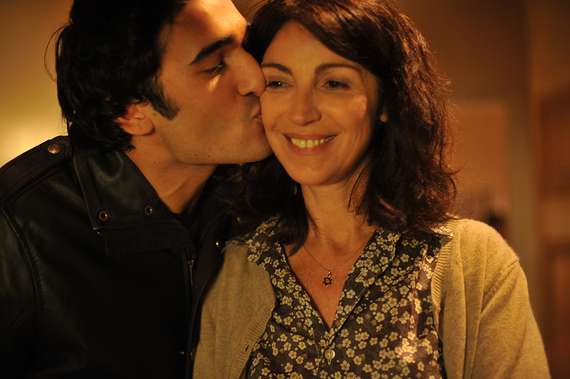 Photo Copyright 2015 Menemsha Films: Ilan Halimi (Syrus Shahidi) kisses his mother (Zabou Breitman) in 24 Days.
The members of the multi-racial "Gang of Barbarians" who abducted Ilan--led by a thug from the Ivory Coast--are ill prepared for ransom negotiations: the police secretly coach Ilan's father during the more than 650 abusive phone calls he receives, which demand conflicting sums and means of delivery. When three days drag into three weeks, the young abductors begin to crack: their sole motive for taking the 23-year-old mobile phone vendor had been a vague assumption that all Jews were wealthy--hardly the case for the Halimi family.

Lisa Nesselson's laudatory review in Screen Daily makes a strong case: "What was done to this one young man--at that time the first French Jew since WWII to have been deprived of his dignity and human rights simply for being Jewish--is unspeakable."

When 24 Days opened in France almost a year ago, it engendered public discourse, and the French Ministry of Education had the film shown in schools. Nevertheless, by early 2015, the fatal attack on a Kosher supermarket in Paris suggested that living safely might still be a challenge for Jews in France.
_____________________
Columbia University Film Professor Annette Insdorf is the author of books including Indelible Shadows: Film and the Holocaust.
REAL LIFE. REAL NEWS. REAL VOICES.
Help us tell more of the stories that matter from voices that too often remain unheard.