For 40 million international visitors passing through Miami International Airport each year and 11 million local commuters, "national parks" will soon become a household world. The brand new sign spanning the airport's Central Boulevard portraying a beautiful view of the Everglades bathed in sunset is sure to pique the curiosity of many.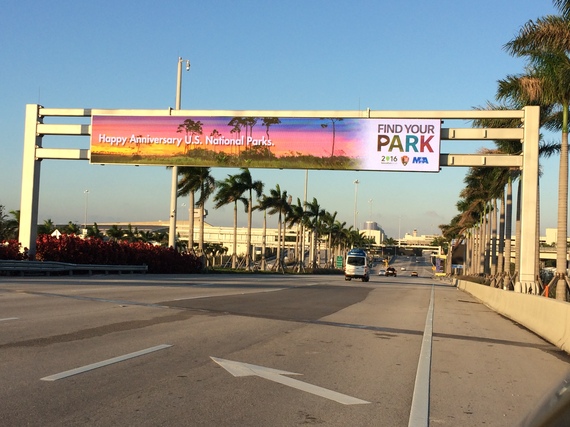 - Miami-Dade Aviation Department photo.

Until now the signs extolling desirable destinations in exotic South Florida have mostly focused on the beaches, luxury hotels and cruises. The national parks' entry into that brand makes clear that our natural treasures are equal contenders for the world's adulation.
Inside the International Greeters Lobby at the airport Nov. 23, a ceremony launching the Park Service's Centennial Celebrations was attended by a happy mix of park officials and rangers; representatives from the Miami Dade Aviation Department and the Greater Miami Convention & Visitors Bureau; officials from the City of Miami and Homestead; representatives of the Miami-Dade County Commission, the South Florida National Parks Trust, the National Parks Conservation Association and the South Florida Community Partners group that has been working for over 15 years to increase Black and Hispanic communities' involvement with the parks.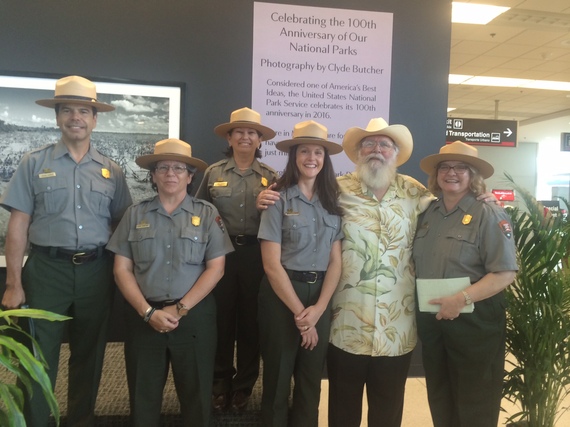 Iconic photographer Clyde Butcher is surrounded by grateful and admiring park rangers and Everglades/Dry Tortugas Superintendent Pedro Ramos at left .
Chief among the guests was the world famous Everglades landscape photographer Clyde Butcher and his wife Nikki. Mr. Butcher's inviting landscape photographs adorn the walls of the lobby, drawing visitors deep within the watery cypress worlds of Everglades and Big Cypress National Preserve. Posters highlighting our four national park units including the Dry Tortugas and Biscayne National Parks and brochures welcoming visitors to explore the parks complete the exhibit.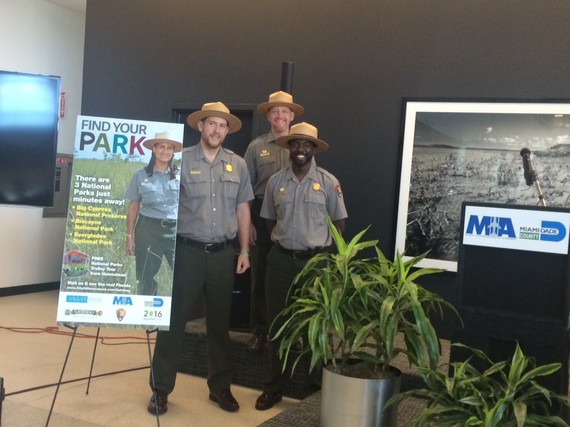 Ranger Sabrina Diaz-Harrington, poster child for Florida's national parks, and a former member of the Community Partners Program is now serving in Yosemite and reunites virtually with her former Everglades colleagues.

As a longtime player, I'm overjoyed by the development of relationships that lead to such explosive and seemingly sudden results. It's a worthy template for other cities and parks to follow.
The relationships behind this development illustrates the kind of collaboration, openness and diversity that's needed to take our National Park System to the next level in the Park Service's second century managing these treasures. Beginning in 1997, park advocates inside and outside our local units, sensitive to the fact that many residents just outside the parks' boundaries had no relationship to them, formed the Community Partners group. They first built trust amongst each other and then worked outward to bring community members to a receptive atmosphere within the parks. Partners in the National Parks Conservation Association worked to develop relationships with political leaders representing the gateway cities of Homestead and Florida City as well as state and local representatives.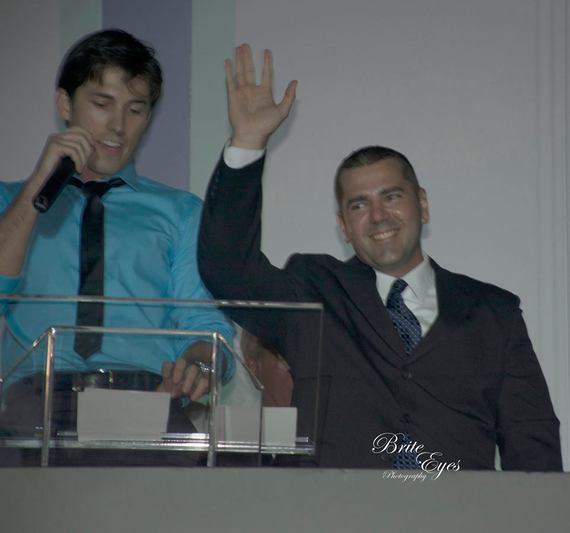 Homestead Vice Mayor Stephen Shelley's youthful enthusiasm and visionary thinking has done wonders to publicize our national parks.

Those relationships have blossomed in unexpected ways - for example, park superintendent Pedro Ramos credited Homestead Vice Mayor Stephen Shelley with the idea of getting the parks promoted at the airport.
"As soon as he mentioned it to me, I saw how big it could be for our parks and our communities "said Supt. Ramos. "And the Aviation Authority immediately saw the potential too."
In the few scant months since spring, the idea morphed from concept to a full blown reality.
How well the public and private sectors and the community work together when we share a similar vision!
In the midst of celebrating today I am forced to raise the fact that last Thursday, November 19, a report titled "States at Risk" ranked the 50 states according to their level of preparation for the flooding that will result from rising seas caused by climate change. Ominously, Florida got an "F." California got an "A."
So while we have a breakthrough moment at the airport, we are simultaneously and perhaps unknowingly laying the groundwork for disaster in another 15 years or so, when large sections of the Everglades could be flooded as a result of sea level rise on the Atlantic and Gulf Coasts. More and more of the islands in Biscayne will disappear under water, making the land adjoining Homestead more vulnerable to storm surge.
Can we work together to avert this dire fate? I'm sharing the report with everyone in my sphere of influence including my state, local and congressional representatives. I'm also sharing the Climate Equity Tools released by the Union of Concerned Scientists last week which spells out exactly what needs to be done to avert this cruel fate.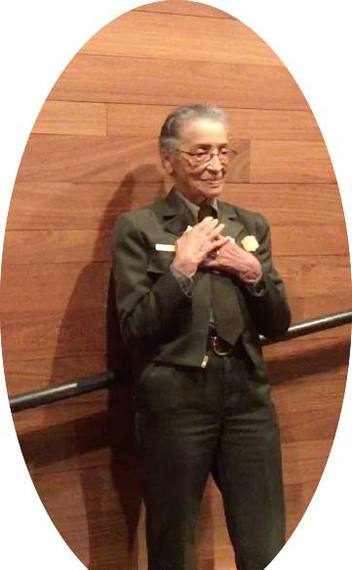 Still girlish at 94, Ranger Betty Reid Soskin clutches a handful of notes written to her by students attending one of her talks this month.
On a happier note, I just learned that our beloved oldest working park ranger, Betty Reid Soskin, will have the honor of introducing President Obama at the White House 2015 National Tree Lighting Ceremony Thursday, December 3! If you haven't had a chance to meet Ranger Soskin and hear the wisdom gleaned from a storied life including working at Rosie the Riveter before it was made a National Historical Park, you'll want to speedily rectify that.
Our national parks are our past, our present and our future. May this invitation to South Florida's National Parks mark the opening of a new frontier in the enjoyment and protection of our natural, cultural and historic assets around our country.
Calling all HuffPost superfans!
Sign up for membership to become a founding member and help shape HuffPost's next chapter