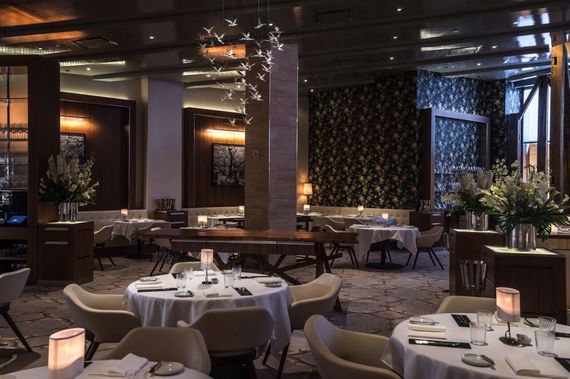 As I surveyed the large, bustling dining room at the beautiful new restaurant Gabriel Kreuther across from Bryant Park, I was yet again reminded that fine dining at the highest level has never been more vibrant in Manhattan. Just as the tables are full tonight at Le Bernardin, Aureole, Daniel, Jean-Georges, The Modern, La Grenouille, Per Se, Le Cirque, Picholine, Lincoln Ristorante, Marea, Eleven Madison Park, and The Four Seasons, so, too, are the 100 seats at this stunning new restaurant named for Chef Gabriel Kreuther, congenially occupied six nights a week by well-dressed people who expect a civilized evening to unfold without blasting music, bare tables, and t-shirted waiters who never seem to know who gets what.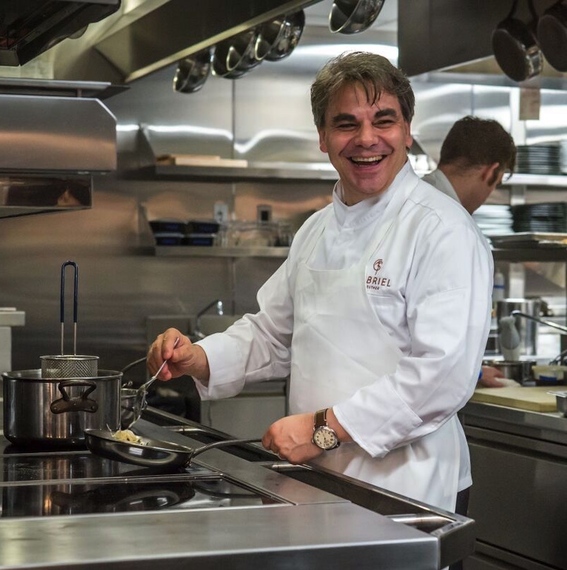 True, finding a location, designing the space, hiring the best staff, and stocking a great wine list make the idea of opening such a restaurant in a city of rents beyond exorbitant quite an iffy proposition. But the owners and investors are willing to bet on Kreuther's reputation, a buoyant midtown economy, and a clientele in search of the very best.
Kreuther earned his ranking among NYC's great French masters while at The Modern for ten years, and his return to the stoves has been eagerly awaited by his fans and the food media. So the opening of his restaurant (I'll call it "GK") is easily the big restaurant news item of 2015. All the more remarkable, the fixed-price menu at GK for four courses, plus amuses, three bread services, pre-dessert, cookies, chocolates, and a coffee cake to take home, is only $98 (tasting menu $185)--quite a bit below Le Bernardin's $140 (four courses), Daniel's $145 (four) and Jean-Georges' $128 (three).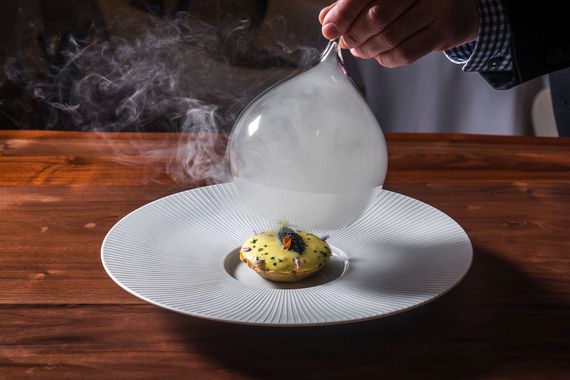 GK's angled, flowing dining spaces, including a chef's table near the kitchen, are inspired by the town squares in Alsace, where Kreuther comes from, with light fixtures in the bar that evoke street lamps, wooden beams, green tiles, an etched-glass wall adorned with stork imagery, and a stainless-steel bar top resembling pewter. Kreuther must feel right at home.
The retro-style chairs are extremely comfortable, the tables are set with thick white linens and napkins, with a charming table lamp that gives a further glow to the room. The elongated forks, knives and spoons seem to me more apt for a fondue set, and I was surprised the rimmed wine glasses are not of the quality of all else on the table.
GK's service staff has now gotten to the point of seeming effortless in their moves, and the wine list is presented on an iPad that allows you to zero in on region, grape, and price, with the help of ever-ebullient beverage director Emilie Perrier and the very helpful Brady Gorsuch.

I am going to try very hard not to pile on superlatives about the cuisine, but it will be difficult. Kreuther's vision of food is based on the principle that, by using the finest ingredients, very little has to be done to any of them beyond pairing them up, so that their flavors remain pure and distinct, while wholly complementary.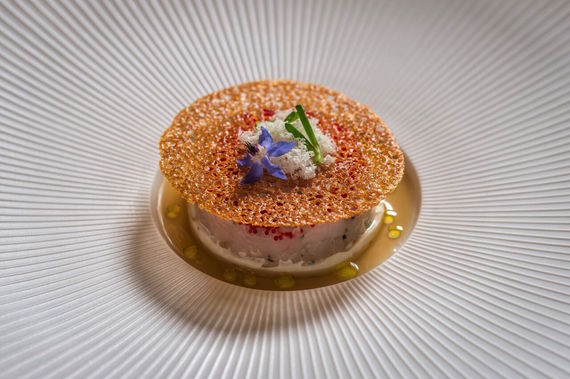 He is also well aware of the importance of an acidic spark--a touch of lemon juice, a lime leaf, and tangy seasoning--always to brighten and bring out all the flavors. This is immediately evident in a starter like 10 days cured beef tenderloin tartare with a briny razor clam vinaigrette and the bite of horseradish. A raw marinated scallop gets a mild kick from a jalapeño coulis, with soothing black radish and the tingle of Meyer lemon confit. Kreuther's use of foie gras in a terrine has always been a paragon of the form, here served with woodsy porcini preserve, duck prosciutto and sweet cantaloupe. A langoustine tartare comes with flying fish roe, cauliflower, and a lush macadamia puree.
Also showing Alsatian roots is Kreuther's second course of sturgeon and sauerkraut tart with a creamy American caviar mousseline, which arrives under a glass cloche (below) that adds just a hint of applewood smoke is a masterpiece.
His sweetbread and black truffle dumplings with a puree of corn and red currants is a beautiful amalgam of Northern Italian and American flavors, as is his Munster cheese and egg raviolo with spinach, the light crunch of pistachio and black truffle sauce.
The third course is either seafood or meat, and I split the difference with my party of five. Buckwheat breaded Montauk fluke in a light barley-mushroom broth with nettle foam wholly respected the taste and texture of the fish, while a lusty dish of skirt steak with crispy black trumpet mushrooms, green leek purée and green peppercorn jus proved the versatility of this lowly cut of beef.
I don't know what Kreuther does with the rest of the pig, but his spice- rubbed Mangalitsa pork collar (a bit chewy that evening) and cheek with morcilla blood sausage, apricot, and fennel--pork's perfect foil--was drizzled with the kind of careful, syrupy reduction only a veteran Frenchman like Kreuther can pass on to his brigade.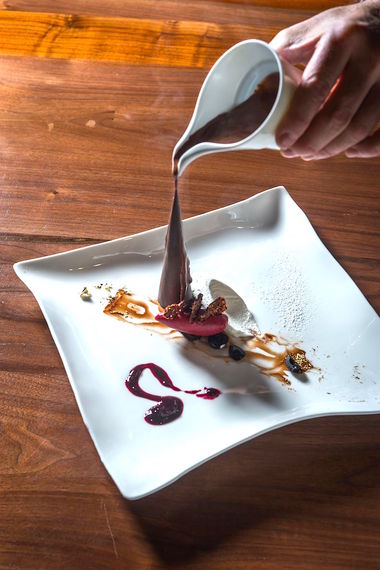 It was all I could do to wave away a splendid cheese cart, so that I would have ample room for dessert. Patîssier Marc Aumont has crafted the kind of refined desserts you really find only at this level of cuisine, like his "Fantasy" of chocolate Kirsch Amarena with Guanaja Chantilly cream, an olive-oil flavored chocolate sponge cake and Kirsch sorbet (above); his aptly named "Ethereal" pineapple and green apple sphere with herbs sorbet; a lovely and simple form of peach Melba as bright as August, with vanilla mousse sphere and almond cake center, raspberry sauce and caramelized almonds, raspberry gelée and peach sorbet; and his "Comfort" dessert of apricot pistachio passion fruit with roasted apricot, pistachio mousseline and ten flavor sorbet.
The promise of GK was that Kreuther's cuisine would be at least as good as when he was at The Modern. But, by bringing to bear his Alsatian background and rigorous training, he has added an amiable touch of his shy personality in all he does in dishes unlike what anyone else is now doing in NYC's highly competitive food scene.
And to enjoy it all in such an enchanting atmosphere--at such an exemplary price--is a reminder of that rare quality of the sublime within reach of anyone receptive enough truly to appreciate all that goes into it.

Gabriel Kreuther is open Mon.-Fri. for lunch, and Mon.-Sat. for dinner.

GABRIEL KREUTHER
41 West 42nd Street (near Avenue of the Americas)
212-257-5826
www.gknyc.com