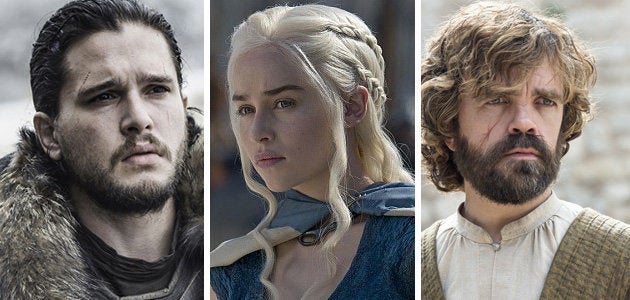 The internet has been flying higher than Khaleesi's dragons after recent leaks confirmed Jon Snow and Daenerys Targaryen would finally meet. Now even more leaks hint at a pivotal moment fans have speculated about for years.
We also see an appearance by Dany's dragons.
Magnificent, aren't they?
Although special effects, of course, haven't been added, those images definitely show Jon Snow and Khaleesi hanging out with our favorite characters: the dragons. Watchers on the Wall speculates that Jon is petting Rhaegal, the dragon named after his father, Rhaegar Targaryen. With that, there are hints that we may see one of the most popular "Game of Thrones" theories come to life.
In George R. R. Martin's A Song of Ice and Fire book series, the inspiration for "Game of Thrones," Dany learns about a prophecy that says "the dragon has three heads." It's theorized that the "three heads" are three Targaryen dragon riders that will fly on Dany's dragons and eventually defeat the White Walkers. These three heads could very likely be Dany, Jon and Tyrion.
We know Dany is a Targaryen, and we learned Jon Snow is from the same family in Season 6, but there are theories that Tyrion is a Targaryen, too. His looks in the book, his obsession with dragons (that also made it onto the show), and the fact the Mad King Aerys Targaryen is said to have taken "liberties" with Tyrion's mother (Tywin's wife), Joanna Lannister, all point to the possibility. 
More importantly, Dany's, Jon Snow's and Tyrion's moms all died during childbirth. (Yeah, that's cray.) There's no way Martin wrote that by accident.
Now we have pictures of the three characters on the beach, and Jon Snow is playing with the dragon named after his dad, which is the one he's believed to eventually ride. Could we see them all take flight in Season 7?
You can't rule out the possibility that this is HBO messing with us since the production team is aware of the leaks. But with only so many days to film, are they really going to waste valuable time just to troll us? 
Plus, you're probably not allowed to hang out with Khaleesi this much unless you're in her inner circle or you ride dragons: 
We'll have to wait for Season 7 to find out, but to paraphrase the great Carly Rae Jepsen, you can Khal this maybe.
Calling all HuffPost superfans!
Sign up for membership to become a founding member and help shape HuffPost's next chapter
BEFORE YOU GO
PHOTO GALLERY
'Game of Thrones' Season 6