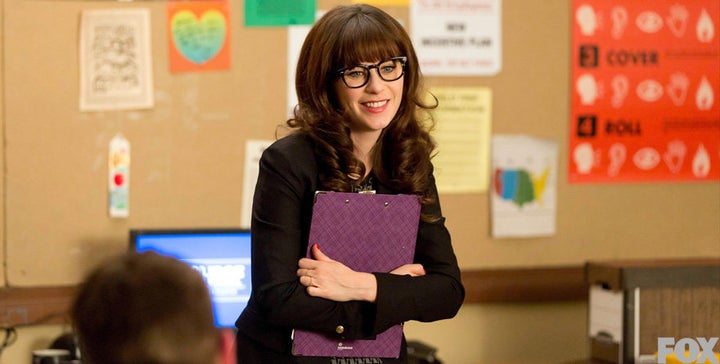 A federal judge has stated there is not enough evidence to suggest Fox's popular comedy "New Girl" was plagiarized from screenwriters Stephanie Counts and Shari Gold. 
Since the Fox series debuted in 2011, the relatively unknown writers have pursued legal action against it, arguing that the show bore an obvious resemblance to a script they'd written together. Called "Square One," the duo's script followed the life of a quirky woman who moves in with male roommates after a relationship disaster. In their 92-page complaint, Counts and Gold detailed how they'd shopped the script to the William Morris Endeavor Entertainment (WME) agency and even suggested Zooey Deschanel as the lead. The two asked for credit, compensation and for Fox to cease all future "New Girl" production and distribution. 
Any differences between their script and that of "New Girl," they wrote, "are more akin to eraser marks or ink blots on Stephanie and Shari's creation and cannot be treated as original expression."
But in his Dec. 30 summary judgment, U.S. District Judge Stephen V. Wilson wrote in favor of the defendants -- which included the agency WME, 21st Century Fox, producer Peter Chernin along with creator and showrunner Elizabeth Meriwether -- and argued that the case was too thin to go to trial.
According to the document, obtained by The Hollywood Reporter, the duo's evidence was "insufficient" to show that WME agents had a "reasonable opportunity" to read the "Square One" script, even though Chernin and Meriwether were both clients of the agency.
Counts and Gold alleged WME agents passed their script along to Meriwether, who used it to create a series called "Chicks and Dicks," which was picked up by Fox and later renamed "New Girl."
Seeing news of Meriwether's series set to debut in 2011, Counts and Gold immediately sent a cease and desist notice to the network. "New Girl" landed anyway in September of that year. In January 2012, Fox made the women a $10,000 settlement offer, which they declined.
Counts and Gold say they began crafting "Square One" in 2006, after Counts "discovered her husband was having an affair, leading her to move into a three-man bachelor pad," their suit read. Other similarities included the name of the protagonist's ex-partner ("Spencer"), a male roommate who worked as a bartender, and an insecure roommate acting out in hyper-masculine ways.
Wilson, however, wrote that any similarities between their characters, plot and dialogue were based on ideas too general for copyright protection.
"New Girl" returns to Fox Tuesday at 8 p.m. EST.
PHOTO GALLERY
2015's Most Charitable Celebrities
REAL LIFE. REAL NEWS. REAL VOICES.
Help us tell more of the stories that matter from voices that too often remain unheard.