WASHINGTON -- There has never been a more perilous time for freedom of expression.
The beheading by the self-proclaimed Islamic State of yet another journalist, this time a Japanese correspondent named Kenji Goto, is part of the continuing horror. It began with the 2012 capture and beheading this past summer of our colleague James Foley, also at the hands of the Islamic State. And then there were the recent attacks in Paris on the satirical weekly Charlie Hebdo by al Qaeda in the Arab Peninsula (AQAP) which killed 12 people. Each of these gruesome chapters tell different stories within the three-year period in which journalists are facing an unprecedented level of violence.
In too many corners of the the world, journalists face intimidation, detention and threats -- from the Saudi blogger who was flogged and sentenced to 10 years for criticizing the House of Saud to the Al Jazeera journalists jailed on trumped-up charges in Egypt amid the military junta's crackdown on the free press. (The Australian journalist Peter Greste, who was working with Al Jazeera in Cairo, was finally freed Sunday night after being held for over a year in an Egyptian jail. But his two colleagues remain in prison.)
China tightened its grip on the Internet last week and the U.S. government's own expeditions across the line of security into the area of privacy are consistently setting the stage for a broad worldwide threat to media freedom.
This sobering reality has been the focus of much discussion in news organizations around the globe, but it was the purpose of a gathering convened by the U.S. State Department on Jan. 20.
More than 30 editors, reporters and journalism advocates, including myself, were brought together to confront an attack on journalism and more broadly on freedom of expression. As the State Department frames it, the attack on what we as journalists do poses a threat to the security of America, and to all countries who understand that a free press is a cornerstone to democracy.
Secretary of State John Kerry spoke to the gathering and shaped the discussion around the rising peril that journalists are facing in the field, particularly local reporters and freelancers.
"We all know that journalism can be dangerous. There's no way to eliminate the risk completely, except by keeping silent, and that's what we call surrender. So that's not in the cards," said Kerry.
In a pointed and powerful speech, Kerry added:
Silence gives power to dictators, to the abusers, to tyrants. It allows tyranny to flourish, not freedom. And so what is happening in high-threat locations such as Syria, Iraq, Somalia, or Central African Republic, Libya, Pakistan - all of these are places where they don't want people to tell the story or they distort it. We need people who are going to shed light also on subtler forms of coercion that rot a society from within - corruption, crime. Exposing them can be dangerous, difficult, but equally critical to the capacity to have accountability and to respect the rights of people.
Kerry listed the names of a dozen journalists killed in many corners of the globe and said, "Each name is a call to action. Each is a reminder that freedom of the press is not free but it is, in fact, very costly."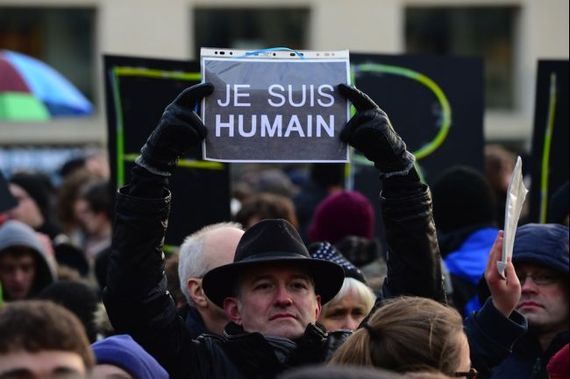 The Committee to Protect Journalists provided disturbing data to illustrate the trend of rising peril, the worst threat level since CPJ began keeping data on attacks on journalists in 1992.
There were 61 journalists killed in 2014 and 73 in 2013, a record number. Ninety percent of those killed every year are local journalists, whose stories too often go untold in their own countries and unnoticed by the Western media. This has given rise to a culture of impunity for this rising level of intimidation and murder among many governments. In fact, according to CPJ, in all murder cases since 1992 involving journalists killed while doing their job, the killers have gone free 88 percent of the time.
It can be very hard to know where to begin to confront this multifaceted attack on journalism. A core group of journalists and editors, including myself, have drafted a set of standards and practices around safety for journalists -- particularly international freelancers and local correspondents -- and the news organizations who employ them.
These standards, which we plan to release at the Columbia University Graduate School of Journalism on Feb. 12, have received the support of large news organizations, including the Associated Press and Reuters, and smaller news organizations such as The GroundTruth Project. The document is currently being reviewed by more than 20 news organizations who we hope will sign on.
They have also been endorsed by advocacy organizations such as the Frontline Freelance Registry, which connects some 500 freelance journalists around the world.
We hope this effort will encourage a new culture of safety for journalists in the field. That includes a shared recognition that news organizations need to do more to provide resources and training to ensure journalists can do their work as safely as possible in dangerous places where important stories need to be told.
There was a certain level of discomfort for many of us journalists to be attending a conference convened by the State Department, an institution we are responsible for holding to task.
But I think most of those in attendance were appreciative of the genuine effort made by Secretary Kerry and his staff, feeling the convening was a productive session that helped us address a rising global threat to free speech.
But there are still many more fronts to pursue. Many journalism advocates and human rights groups believe Washington and specifically the State Department should step up efforts to eliminate the culture of impunity for those who get away scot-free with threatening, intimidating and sometimes murdering journalists.
Last week, President Obama and Secretary Kerry were in Saudi Arabia to meet the new King Salman, and human rights violations by the kingdom were apparently not on the table. Obama avoided a question by CNN's Fareed Zakaria about the outrageous sentence of 1,000 lashes and 10 years in prison for Raif Badawi, the Saudi blogger and political activist.
President Obama told Zakaria, who was traveling with the president, "Sometimes we have to balance our need to speak to them about human rights issues with immediate concerns that we have in terms of countering terrorism or dealing with regional stability."
The consensus emerging among those who advocate for journalists is that it's time to push for Washington to make protecting journalists and protecting free speech a more immediate concern.
Frank Smyth, the founder of Global Journalist Security, a hostile environment training firm working with journalists around the world, said, "We have to recognize that the administration and the State Department have to juggle other important concerns. But we also have to be persistent in our advocacy. We have to be sure that these human rights violations are always on the table."
Smyth, who attended the meeting at State, continued, "Raising the issue with the Saudis doesn't mean winning the argument, but it means we as a country see it as important and it helps make sure that it won't be forgotten."
Joel Simon, executive director of CPJ, spoke at the gathering. He said in an interview this week that while he appreciated the State Department's efforts, the problem with the Obama administration is that it has not made the safety of journalists and the wider issue of freedom of expression a priority in foreign policy.
"They are not doing enough. There is a lot more that they could do on many fronts, including making sure impunity has a consequence in terms of the relationship to the US government," said Simon, who is also the author of The New Censorship: Inside the Global Battle for Media Freedom.
"Of course, there are competing interests and other issues that they need to balance. But freedom of expression is one of the fundamental battles of this moment in history," added Simon.
Douglas Frantz, the assistant secretary of state for public affairs, who played a central role in organizing the gathering, worked for many years in hotspots covering wars and insurgencies, leading teams as an editor at the New York Times and the Washington Post.
As Frantz put it in his State Department blog about the event, "Where threats against journalists are so severe, we need to be more robust and unequivocal in defending freedom of expression around the world. I know we can do more."
Charles M. Sennott is the Co-founder of GlobalPost and the Executive Director of The GroundTruth Project, a new non-profit organization that trains and mentors the next generation of foreign correspondents.
Popular in the Community