Previously in this column, I have explored many ways in which the CFO's role in the enterprise is evolving and expanding. From closer collaboration with other C-Suite members, to taking on new responsibilities when it comes to cutting-edge technology like machine learning and being vigilant to cybersecurity threats, CFO's must be a jack-of-all-trades in a world of digital business. A new global survey of 1,500 finance executives, conducted by Oxford Economics and SAP, confirms what I and other finance veterans have suspected: CFO responsibilities are no longer limited to finance, but increasingly are expanding into strategic leadership – in fact, 88 percent of respondents report that the CFOs in their organizations are becoming more involved in strategic decision-making outside of finance.
So, what factors are influencing and supporting this evolution of the finance function? The survey confirms three areas as increasing critical for CFOs: collaboration across the enterprise, automation to drive efficiency and increased attention to cybersecurity.
Finance can no longer exist in silos
Nearly all respondents noted close collaboration between finance and internal audit, risk management and compliance operations – areas where finance overlap is expected. However, often this collaboration can fail to extend to other areas of the business – and according to the survey, this can be a huge handicap when it comes to driving success in an increasingly competitive environment.
In fact, in looking at survey respondents with zero or negative revenue and profit growth, 46 percent say an isolated finance function keeps them from achieving their business goals. Furthermore, an isolated finance function is an even greater issue at larger enterprises, where 33 percent of respondents agreed a disconnected finance function hurts business, compared to 16 percent at small businesses.
In today's digital world, finance departments need to be integrated and connected across departments to drive business success. By bringing valuable analysis outside of the finance function, CFOs can demonstrate the impact to overall business strategy and foster a culture of collaboration across the enterprise.
Automation is critical for driving efficiency
Efficiency is top of mind for CFOs today – in fact 52 percent of survey respondents cited improving efficiency as a top business goal. However, many finance teams still find themselves trapped by archaic manual processes that can consume unnecessary time for employees, and often create redundant work scenarios and system errors.
There is a huge opportunity for finance to streamline and automate many of its core, transaction-focused tasks that happen on a monthly, quarterly and annual basis. In fact, nearly three-quarters (73 percent) of survey respondents agree that automation is improving the finance function's efficiency within their organization, and gives executives more time for value-added tasks that require human judgement like fraud detection, compliance, data analytics and/or driving business strategy.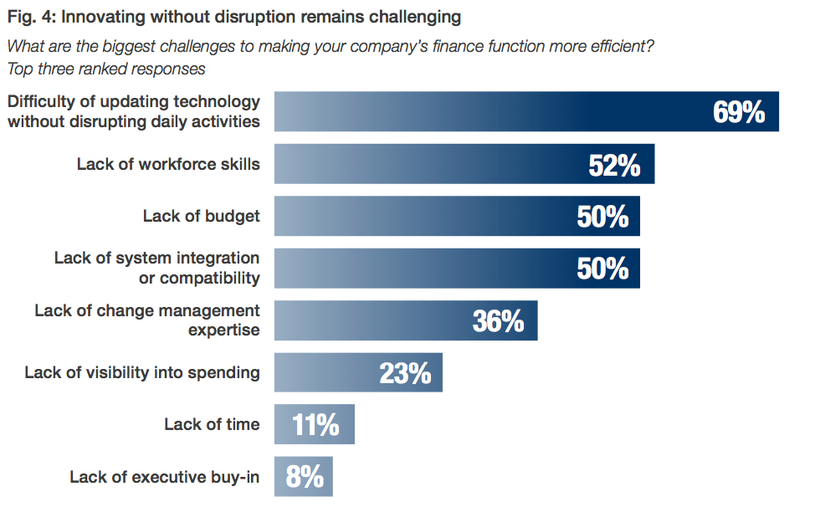 To streamline finance tasks, organizations must adopt new technology – this was a claim strongly echoed in the survey by 91 percent of respondents. And while much fear about job loss has circled the industry when it comes to conversations about automation, the survey found this is not the case in the real world. While leading CFOs are committed to improving efficiency, they are not reducing staff – finance headcounts have remained consistent in the past two years with 85 percent of respondents noting finance headcount has remained steady. Just  three percent say it has fallen, and only four percent feel that automation is causing finance jobs to disappear in their organization.
Cybersecurity may be a blind spot
While the digital transformation continues to stretch the role of the CFO today, one responsibility that remains central to the finance function is optimizing risk management and compliance, with 97 percent of respondents citing strong decision-making authority over risk monitoring and assessment, and 93 percent saying the same about ensuring compliance.
As companies entrust transactional operations to emerging technologies that increase the number of endpoint connections, from IoT devices to new technology tools, one of the growing challenges facing government, risk and compliance (GRC) and finance teams today are cyber threats. Sixty-eight percent of finance leaders in the survey name cyber crime as a top business risk, and this statistic jumps to 76 percent for the banking industry – a highly targeted market. However, in the broader landscape, cybersecurity might be a blind spot for many GRC and finance teams. Only 46 percent of the risk and compliance chiefs in the survey cited cybersecurity as a top threat.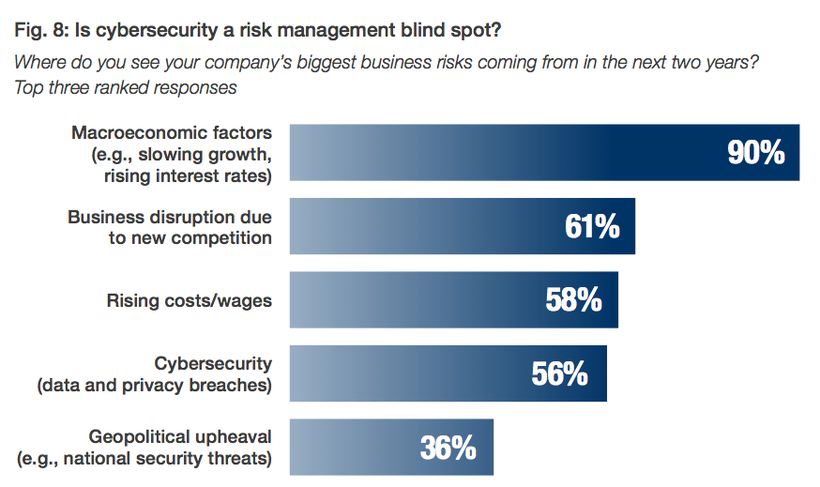 What this data suggests is that both finance and GRC teams may need to put more resources into strategy and planning around cybersecurity, as this is a huge threat to organizations today, effecting both performance and value. By aligning finance and GRC teams, organizations can take the necessary precautions to safeguard against cyber threats.
As the digital economy continues to evolve, the pressure on CFOs and finance teams will continue to become paramount as they look to drive ROI and success for their organizations. By pushing collaboration outside of the finance function, improving efficiencies in transactional processes and dedicating new resources to support risk management in the cyber age, finance teams can boost performance and establish leadership within their organization.
Learn more and read the full findings from the report, "How Finance Leadership Pays Off," here.
Calling all HuffPost superfans!
Sign up for membership to become a founding member and help shape HuffPost's next chapter
This post was published on the now-closed HuffPost Contributor platform. Contributors control their own work and posted freely to our site. If you need to flag this entry as abusive,
send us an email
.