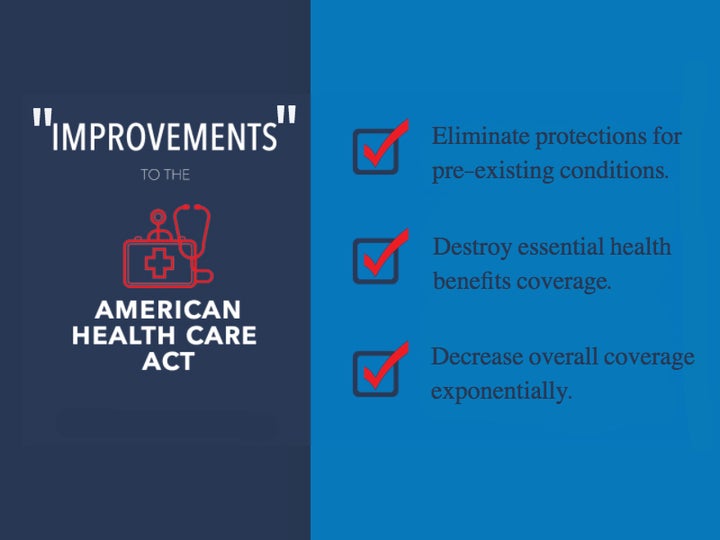 The GOP really wanted to squeak in a big win before President Trump's 100 day mark. They were primed to ride zombie Trumpcare to triumph—at least in the house, the Senate is a monster of a different ilk. Their first attempt, the ill-fated American Health Care Act vol.1, never even made it to a vote. It was clear that despite having 237 Republican members of the house, the GOP would not reach the 216 threshold it needed to pass the bill. It was too moderate for the Freedom Caucus and too extreme for the centrists.
It does seem that Paul Ryan and co. got a bit closer to hitting their mark this time around though, and all it took was some brazenly harsh concessions to the Freedom Caucus from an unlikely source. Rep. Tom MacArthur (R-NJ) is responsible for the eponymous amendment to the AHCA that brought more far right-wingers on board. MacArthur is a member of the center-right coalition known as the Tuesday Group. So when he got involved in the negotiations, many thought the bills' sharp edges would be rounded out a bit, and that the end result would lean more towards the center. This, to the surprise of Tuesday Group member Rep. Charlie Dent (R-PA) and others, was not the case.
The most significant changes to the new bill will make healthcare exponentially more expensive for the people who need it most. The bill throws away the very popular pre-existing condition protection in lieu of high-risk pools, which, as research by the Kaiser Foundation shows, nearly always generate premiums that are much higher than standard market rates. Under the AHCA with the MacArthur Amendment, states would be able to opt out of the pre-existing condition protections. This means if you have a chronic ailment, and you live in a state that decides to drop the protections, your premiums will likely ascend through the stratosphere. Moreover, the bill also gets rid of the essential health benefits provision which made it mandatory for every health insurance plan to cover the following services:
Ambulatory patient services (outpatient care you get without being admitted to a hospital)
Emergency services
Hospitalization (like surgery and overnight stays)
Pregnancy, maternity, and newborn care (both before and after birth)
Mental health and substance use disorder services, including behavioral health treatment (this includes counseling and psychotherapy)
Prescription drugs
Rehabilitative and habilitative services and devices (services and devices to help people with injuries, disabilities, or chronic conditions gain or recover mental and physical skills)
Laboratory services
Preventive and wellness services and chronic disease management
Pediatric services, including oral and vision care (but adult dental and vision coverage aren't essential health benefits)
Under the AHCA, coverage for any combination of these can be excluded from lower cost plans, which means that if you're pregnant, or have cancer, or are dealing with depression, finding a plan that covers the care you need will be much more difficult than it is now.
Take a look at this data from HealthPocket which shows the rates of coverage for the essential health benefits before the Affordable Care Act was implemented: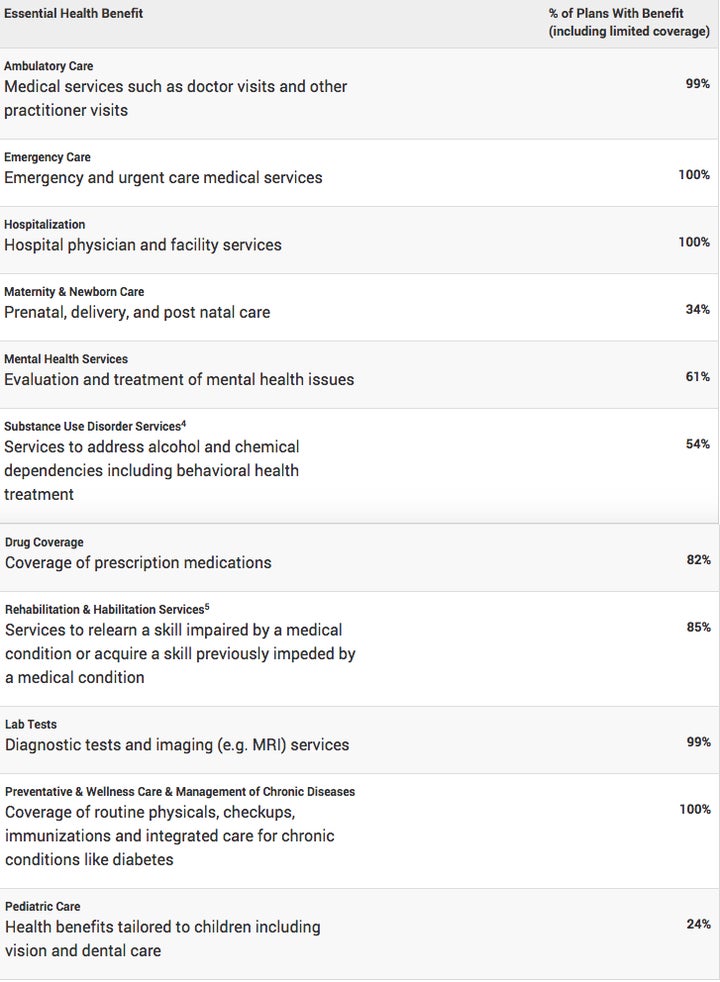 Only 34% of plans covered maternity care, only 61% of plans covered mental health care, only 54% of plans covered substance abuse and only 24% of plans covered pediatric care. If the essential health benefits are scrapped, be prepared for this abusive, hodge-podge system to return quickly.
The new amendment to the AHCA also opens up healthcare sales across state lines, something Trump and several other republicans have mentioned implementing for years. Let's be clear here, this will do little-to-nothing for folks who can't afford coverage after the proposed changes are enacted. It's not like someone who has seen their premiums rise 300% in their state will be able to simply call up an insurance company in New York (a state which will surely keep the pre-existing condition protections) and lock down a cheap plan. Not only is that model unsustainable, it's not going to be nearly that easy.
There are no federal laws prohibiting sales across state lines right now. In fact, Rhode Island, Georgia, Maine, Kentucky, and Wyoming all passed legislation allowing insurance companies from other states to sell there. To date, not a single insurer has taken advantage.
In terms of the regulatory measures and logistics, selling insurance across state lines is a massive undertaking. Insurance companies have to make agreements with hospitals and providers within their region, and these agreements are based on numerous factors including services provided, payment history, demographics etc. These relationships are extremely complicated, and thus, forging these partnerships with health systems in other states will require a massive investment in time and capital. And the incentive just isn't there.
The new American Health Care Act is somehow even worse than the original. And that one was polling at 17%. While this version got Freedom Caucus members on board, it did little to sway moderates—and they need moderates to pass the bill.
The reality is the American Health Care Act will increase costs and decrease coverage without increasing competition and without saving much money.
It, like it's father before it, is just bad legislation.
If the first iteration was Roose Bolton, this new one is Ramsey.
Popular in the Community