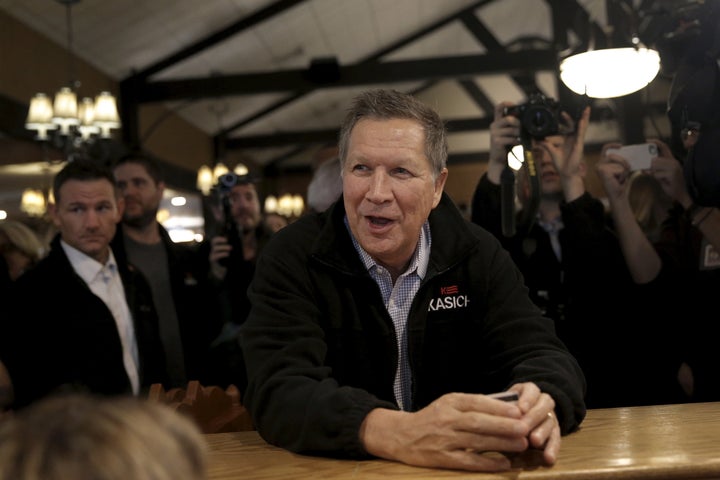 RAYMOND, N.H. -- Among a few dozen people who had already gathered inside a middle school classroom to await Ohio Gov. John Kasich's appearance on Saturday, an unassuming man in a black polo shirt and casual slacks pulled up a chair. 
He leaned over and whispered into the ear of the woman seated next to him. "I hear the guy's really boring," the anonymous-looking cynic said, folding his arms at his chest.
With his average build, unremarkable features and sartorial embrace of the weekend, the man looked like someone who had just finished hitting a few golf balls at the range and had swung by the town hall meeting on his way to pick up a bag of mulch at Home Depot.
But after the crowd recited the Pledge of Allegiance and an introductory speaker ticked off a list of Kasich's accomplishments, the same man who had denigrated the candidate privately rose from his seat and began to address those in the room.
As it turned out, it was Kasich himself. With the floor now his, the second-term Republican governor gleefully recounted to a larger audience the private shtick he had just performed in his chair, turning back to the no doubt befuddled woman who had just gotten an unexpected taste of the candidate's oddball personality. 
"Did you know it was me?" Kasich asked, the audience rewarding his improvised performance with collective laughter. "Yeah, so much fun."
A couple of hours later, an almost equally unobtrusive candidate in a checkered top and faded jeans greeted a steady flow of well-wishers -- many of them dressed in bright-red "Team Carly" shirts -- at the Seacoast Republican Women's Chili Cookoff in Stratham, a 20-minute drive east on Route 101.
Mostly she just said "thank you," as the praise and offers to assist her campaign came in at a rapid-fire pace. 
"We're going to come down and help you," promised one woman from Maine, who was accompanied by her 99-year-old friend.
Former Hewlett-Packard CEO Carly Fiorina had just completed the latest iteration of her combative stump speech, which -- though far more scripted-sounding than Kasich's stream-of-consciousness political jam session -- was at least as effective at winning over her audience, leaving one captivated woman's mouth agape and another declaring on the spot, "She got me."
"Cancel everything and put her in the White House today," added an equally impressed man.
In recent weeks, Kasich and Fiorina have emerged as serious contenders in the critical and highly fluid 2016 battleground of New Hampshire -- the nation's first primary state and a contest in which onetime frontrunner Jeb Bush may not be able to afford to lose.
Donald Trump currently leads the field here, as he does everywhere else, and Ben Carson appears to be taking a firm hold on second place.
But it is Kasich and Fiorina who, like Bush, are placing their big bets squarely on New Hampshire. Each are spending more time here than anywhere else, and competing for the same pool of mainline Republican voters that Bush needs to win.
And so far, they're doing a damned good job at it.
At a time when deeply jaded voters are screaming for something -- anything at all -- that's different, Bush continues struggling to demonstrate how the son and brother of former presidents might offer a dramatic departure from the political status quo.
And while Trump and Carson may draw bigger crowds at their sporadic rallies, Kasich and Fiorina are doing it the old-fashioned way, scheduling multiple smaller events into their jam-packed public itineraries and connecting with voters on the ground in a visceral manner that Bush has at times fallen short of matching.  
By superficial measures, Kasich is an unlikely contender to carry the flame of the fed-up masses who have turned the Republican presidential race into a throw-out-the-rulebook free-for-all. A white guy from Ohio who won his first campaign in 1978, he has a tendency to come off as a sermonizing suburban dad, threatening to dispense a new life lesson at every moment.
When a college-aged woman in Raymond asked him a well-conceived question about his views on clean energy, Kasich responded as if she were a wayward daughter who had stayed out past her curfew.
"The problem is, young lady, you can't just make things happen," Kasich said, stopping just short of ordering the woman to her room.
These kinds of cringe-inducing fatherly flourishes aside (he also chastised people in the audience for not exercising enough), you won't find a politician who's more comfortable in his own skin than John Kasich.
He speaks fluidly and convincingly about how he's "an inside-outside" guy when it comes to reforming the government and offers a simple, compelling reason why he's running for president: because he knows "how to land the plane."
Republican state Rep. Carolyn Matthews, who attended the event in Raymond, summed up Kasich's appeal to moderate Republicans and independents who typically hold sway in the New Hampshire primary.
"I feel that he will draw disaffected Democrats," Matthews said. "There are so many of us out there who have watched the far-right extreme conservatives and supported some things they said, but they are divisive."
Earlier in the day, Kasich addressed a group of college Republicans in Manchester, where he at times sounded more like a spiritual adviser than a presidential candidate, waxing poetic on everything from his own Christian faith to the commendable values of secular humanism to the universal search for meaning in life as reasons why people decide to join ISIS. 
"I would maintain that you don't find happiness searching for happiness," Kasich told the group. "You find happiness and satisfaction when you live a life bigger than yourself." 
It was not the kind of thing you usually hear from a presidential candidate on the stump, and that's precisely what made it interesting.
By the time he finally got around to touting the accomplishments on which he is ostensibly building his candidacy -- including his central role in balancing the federal budget as House budget chairman in 1997 -- the resume bullet points were almost like an afterthought.
It was another example of an unorthodox style that is proving to be Kasich's strength: his ability to project himself as a serious person, but one for whom this whole "running for president" thing isn't such a big deal.
Though his energy level is high, Kasich thrives on appearing not to be trying too hard. It's a rare quality in politics and one that appears to be paying dividends in New Hampshire -- a state where voters are used to seeing politicians who strain and bend at every turn to get themselves on a path toward their self-assigned destinies.
"You'll have a great time if you help us -- I promise you that," Kasich said in wrapping up his soft pitch to the college Republicans. "And guess what else? I kind of think I'm going to become president."
Fiorina, by contrast, doesn't "kind of think" anything. Instead, she carries with her a chin-jutting, no-nonsense bearing that harkens an only slightly milder version of Trump's in-your-face approach.
And unlike Kasich -- who speaks frequently about his bipartisan achievements and rejects the premise of the "burn it down" crowd in noting that Washington has faced far tougher times in the past -- Fiorina's comfort zone rests squarely in tearing down the opposition.
Though she made sure to get in a Trump-directed dig about how true leadership is "not about how big your helicopter is," Fiorina over the weekend was most eager to attack Democratic frontrunner Hillary Clinton with her rhetorical weapons of choice: buzzwords like "Benghazi" "emails" and "lies" that are tailor-made to raise politically attuned Republicans' blood pressure.
"Wherever I am on your list -- whether you're already totally sold, or I'm in your top two or three -- go ahead and admit it that in your heart of hearts, every one of you wants to see me debate Hillary Clinton," Fiorina said to big applause, her steely gaze refusing to break.
And with Trump, Fiorina's personal wealth has not proven an obstacle to connecting with voters of far more modest economic means. She may not wear a catchphrase-branded baseball cap, but she knows how to dress the part.
"She wears cowboy boots!" one woman glowed to her friend after getting her photo taken with Fiorina. "I like her even more."
"I like what she has to say, I like what she believes in, and I like where she came from," Donna Marie Everett, a Fiorina supporter who came to watch her speak at the Strafford County Barbecue and Beer Bash in Dover, told HuffPost.
Kasich has overtaken Bush by a slight margin in recent New Hampshire polls, and Fiorina is running neck and neck with the former Florida governor here.
But Bush himself is quick to point out that his campaign just recently started running TV ads in New Hampshire, and his financial advantage over the rest of the GOP field may in the end provide just the edge he needs to overcome his multi-front challenge in the state.
Like Kasich and Fiorina, Bush is running a traditional, retail-heavy campaign in New Hampshire. And in keeping with scores of presidential candidates who have come here before him, he is not above engaging in lighthearted flattery.
At the start of his own recent town hall meeting in Salem, a couple hours before the reigning Super Bowl champion New England Patriots were set to kick off the NFL season a few miles to the south in Foxborough, Bush assured the crowd that he would wrap up his remarks with plenty of time for everyone to get home before the game. 
And then he added some additional observations that might make his fellow Miami Dolphins fans wonder about the strength of his football allegiance.
"Once again, we'll get crushed by the Patriots -- that's our tradition, and we'll stick to it, I'm sure," he said. "I actually went to high school with [Patriots head coach] Bill Belichick, and he was an incredibly smart kid. He's the best coach in the NFL. And you've got the best quarterback."
Bush wants New Hampshire to like him. The question is whether he can keep pace on the stump, in such an unusual political environment, with a couple of GOP rivals who don't seem to be trying so hard to impress.
REAL LIFE. REAL NEWS. REAL VOICES.
Help us tell more of the stories that matter from voices that too often remain unheard.