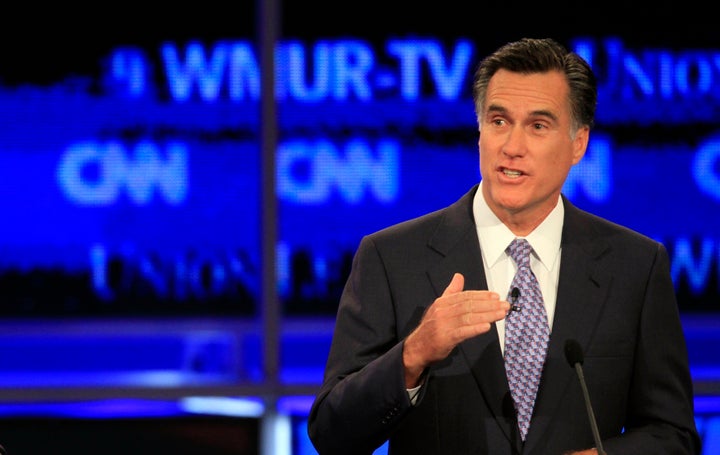 MANCHESTER, N.H. –- Mitt Romney waltzed off the stage after his first presidential primary debate here Monday night with the huge red and white target on his back completely untouched.
The former Massachusetts governor entered the seven-person debate having extended his lead in the polls over the last week, and he did nothing during the two-hour quiz show to impede that trend. The fact that the six other candidates didn't lay a paw on him helped.
The defining moment came 25 minutes in, when former Minnesota Gov. Tim Pawlenty was asked about his criticism just 24 hours earlier of Romney's health care law in Massachusetts. Pawlenty had called it ObamneyCare on "Fox News Sunday," but when asked to expand on that criticism, he scrambled for cover.
During his response, Pawlenty criticized President Obama, who he said modeled the federal health care overhaul on Romney's state program. CNN's John King, the moderator, stepped in to remind him of the question.
"Why would you choose those words in the comfort of a Sunday show studio? Your rival is standing right there," King asked.
Pawlenty still declined to engage Romney, who stood one person over to his right. "President Obama is the person I quoted," he said. "Using the term Obamneycare was a reflection of the president's comments."
That set the tone for the night, and Romney knew it. He immediately shifted focus to his prime objective: attacking Obama. He said the president will "eat those words" comparing the federal law to the Massachusetts law.
"I can't wait to debate him," Romney said with relish.
Pawlenty campaign manager Nick Ayers blamed CNN's King for making the moment a difficult one.
"The answer that he gave was not what John King wanted," Ayers told reporters afterwards. "Opening up the ObamneyCare, I know that's what CNN wanted. It would have made for great political and cable news, but the American voters want solutions and that's what our candidate spent the last three weeks promoting and it's resonating here in New Hampshire."
Romney's campaign has so far focused on giving his opponents little to aim at. He waited until June 2 to make his candidacy official, he has spoken publicly on only a few topics, and he has done few public appearances and little retail politics, devoting most of his time instead to raising money.
But when he stepped onto the stage at St. Anselms University Monday, there was no avoiding the salvos fired by the other 2012 hopefuls. Only they never came.
Rep. Michele Bachmann of Minnesota, the other candidate who some thought might try to score points by slamming Romney, used the platform to announce that she had filed papers with the Federal Elections Commission earlier in the day to run for president.
Monday night's debate was the second of this Republican presidential primary, yet it was a far more dramatic and interesting affair than the first, which took place in South Carolina last month and did not include Romney, former House Speaker Newt Gingrich of Georgia or Bachmann. In South Carolina, the main storyline was how Pawlenty would handle himself on a stage otherwise occupied by second-tier candidates.
This time, the field's biggest players were present, the stakes were higher and the tension was thick.
Romney's fragile position as an institutionally and financially powerful front-runner with huge vulnerabilities on the issues presented his challengers with a big incentive to try to eat one of their own, violating former President Ronald Reagan's so-called 11th Commandment, which dictates that Republicans should abstain from attacking one another.
But Pawlenty showed signs of backing away from his attack on Romney earlier in the day.
"The object isn't to stir some kind of internal rift in the Republican party. The focus here is to get Barack Obama out of the White House," Pawlenty told reporters after a morning campaign stop, when asked about his comments a day earlier.
Romney remained crisp with his answers and carried himself with confidence from the moment he walked onto the stage.
The former Massachusetts governor began debate day trying to set his own direction, indicating his focus would be on attacking President Obama. His campaign released a 100-second video early in the morning hammering Obama for characterizing current jobless levels as a "bump in the road." The spot featured several Hispanic faces, a single mother with two kids and a handful of college students. The Romney campaign went after Obama again Monday afternoon, blasting White House press secretary Jay Carney.
In so doing, Romney cast himself as the frontrunner and presumptive nominee, gearing up for a general election fight with the incumbent Democrat. He tried to stick to that game plan during the debate as much as possible.
His fiercest fusillade against Obama came about halfway through, when asked about whether he favors raising the federal government's debt limit this summer.
"We will not raise the debt ceiling unless the president finally, finally is willing to be a leader," he said. "We want to see a president finally lay out plans for reining in the excess of government."
Romney pointed to entitlements as the biggest driver of the nation's runaway debt, and praised Rep. Paul Ryan (R-Wis.) for proposing a budget that would overhaul Medicare.
"Where are the president's ideas?" Romney said. "Why isn't the president leading? He isn't leading on balancing our budget, and he's not leading on jobs. He's failed the American people both in job creation and in the scale of government, and that's why he's not going to be reelected."
Eric Fehrnstrom, Romney's communications chief, was obviously pleased with the way the night went, as were the others in Romney's coterie of advisers.
"Four years ago, I think the candidates were mixing it up more frequently because they didn't have someone from the other party to focus their attacks on," Fehrnstrom said. "I think President Obama and his failed leadership … became the focus of attacks from all the candidates, as opposed to any individual up on stage becoming the focus of those attacks."
The White House, which allies say is alarmed enough at Obama's growing vulnerability because of the flagging economy, dispatched former White House press secretary Robert Gibbs to the debate site to hit back at Romney and Pawlenty.
Romney's record on job creation, Gibbs said, "ranks among the least impressive," citing a report that said Massachusetts ranked 47th out of 50 states on the issue under Romney's governorship.
"These guys are not going to be able to run away from their records," Gibbs said in an interview with CNN outside the media filing center on the St. Anselm campus.
The Democratic National Committee devoted most of its attention Monday to Romney, attacking his record as a CEO of a private equity firm in Boston during the 80s and 90s and his job creation record as Massachusetts governor.
Romney has been successful so far with his reductionist approach. The latest Gallup poll released Monday showed him with 24 percent support, well ahead of former Alaska Gov. Sarah Palin's 16 percent. He was ahead of Obama in a recent head to head matchup poll.
Romney's laser-like focus on the economy and jobs has gained him admirers because of a flurry of bad signs regarding economic growth lately. Job creation has slowed, the unemployment rate has edged back above nine percent, the bond market is jittery about U.S. government debt, businesses remain skittish about expansion and debt contagion in Europe continues to simmer.
In that context, Romney "stepped out from the blur" last week, declared Wall Street Journal columnist Peggy Noonan. Politico dubbed him the 2012 primary's "marathon man," given his ability to outraise the rest of the field by spades.
Even a former private equity colleague of Romney from Bain Capital, who has criticized the candidate in the past, now says the economy has turned Romney into a more compelling choice for president. In 2007, Marc Wolpow was an Obama supporter who called Romney a cutthroat businessman with little concern for workers who lost jobs when Bain Capital took over their company.
But in a phone interview Monday, Wolpow said that "given the challenges the country is facing today, Mitt presents a very compelling GOP candidate."
"He understands and can explain the economic challenges and probably will propose a set of solutions that should be taken seriously," said Wolpow. He called himself an undecided voter who wants to hear plans for increasing U.S. economic competitiveness and job creation from both Obama and the Republican candidates.
But it is unclear how Romney's strategy -– which at times seems designed to tweak the conservative wing of his party –- will play out in the primary. He has defended his 2006 health care mandate in the Bay State, instead of saying it was a mistake as many thought he should. He recently said he believes global warming is real. And he has developed what the conservative Club for Growth called "an unshakeable reputation as a flip-flopper" on issues such as cap and trade and abortion.
Tea Party groups have said they will actively work to prevent Romney from winning the nomination, based in large part on his health care plan.
Much depends on how the field shapes out. One survey showed a whopping 87 percent of likely New Hampshire Republican primary voters in May who said that they had no idea who they will support.
If Texas Gov. Rick Perry or New Jersey Gov. Chris Christie enters the race and catches fire, that could be a big problem for Romney. If the field remains as it is, and Republican voters remain unenthused by Pawlenty and the other Romney alternatives, then Romney may be well positioned to win the primary and go into the general election with a head full of steam.
With the debate over, Romney can go another month or two without having to endure such direct confrontation from fellow Republicans. The next confirmed debate is Aug. 11 in Iowa, though there is another on July 10 that he has not yet committed to.
Until then, he can return to where he feels most comfortable: running against Obama.
This post was updated to reflect additional reporting.
Popular in the Community