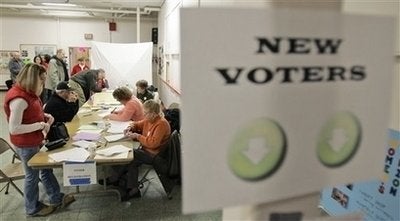 UPDATE: Marc Ambinder reports on New Hampshire exit polls:
GOP: 3 in 10 GOP voters are independents ...many late deciders... McCain more electable than Romney...33% say economy is biggest issue followed by Iraq (22%) .... Democrats: 46% made up minds without last week.. 4 in 10 are independents.... HRC's favorability: 73%; Obama's: 84%; ... 36% say economy is top issue....
By mid-afternoon on election day, turnout at the polls here was already approaching historic levels. The combination of two hotly-contested primaries, inspiring election season themes of hope and change, and weather best suited for early spring had brought New Hampshire voters out in droves.
One person described it as "Mardi Gras without the beads."
Even before the first ballots were cast, election observers were predicting a massive turnout for this first-primary-in-the-nation state. Just five days earlier in Iowa, record numbers of people turned out to caucus, including an estimated 239,000 Democrats.
Asked how these trends would translate in New Hampshire, Secretary of State William Gardner projected that 500,000 voters would hit the polls, a boost of more than 100,000 over the previous record.
And indeed, by the time some voting stations opened across the state, people were already lined up and waiting to cast their ballots. At the Beech Street School in Manchester, 30 early risers waited for election officials at the door. By 3:30 pm, the voting station had seen more than 1,200 people pass through the doors, surpassing the total from the entire day of municipal voting that took place in October.
Even the campaigns were struck by the turnout. Two officials -- one Republican and one Democrat -- told the Huffington Post that what was happening in New Hampshire was not only unexpected but unprecedented. "This is the most crowded, most intense election I've ever seen," said Bob Lago, a 50-year-old native of Manchester. "There are lots of people, media, foreign press, French and Japanese. They are all trying to find the last undecided voters. My son was followed around for 30 minutes today on TV."
New Hampshire Deputy Secretary of State Dave Scanlan told ABC News that turnout among primary voters today is "absolutely huge" -- and there are concerns about running out of ballots in towns like Portsmouth, Keene, Hudson and Pelham.

"Turnout is absolutely huge and towns are starting to get concerned that they may not have enough ballots," Scanlan said. "We are working on those issues. Everything else seems to be going smoothly."

Scanlan said that the Secretary of State's office is sending additional ballots to Portsmouth and Keene (traditionally Democratic strongholds), Hudson (Republican leaning with significant numbers of independents) and Pelham (large number of independents).
Much of the surge in turnout is coming from people who have never voted before. New Hampshire is one of a handful of states that allow people to register at their voting site on election day, and Jeff Michelsen, who is overseeing the Beech Street Station, said there had been an "ongoing onslaught of people coming in to do" just that.
The number of new turnouts was so large that a poll worker had to be taken aside to take an oath to become a deputy registrar -- the official who can legally register first-time voters. "People were tired of waiting in line," said Michelsen.
The influx of eager voters was also aided by weather that hovered for much of the day in the 50 degree range. Granite Staters already accustomed to the cold had few excuses for not getting to the nearest station.
Conventional wisdom held that these conditions would prove beneficial to the campaigns of Barack Obama and John McCain. Die hard voters, observers noted, were always going to show. The undecided, centrists, and young people were more unpredictable. "The hype and good weather will turn out even the soft independents," said Craig Shirley, executive director of Shirley Banister Public Relations.
Check out HuffPost's comprehensive on-the-ground New Hampshire coverage here.
Calling all HuffPost superfans!
Sign up for membership to become a founding member and help shape HuffPost's next chapter