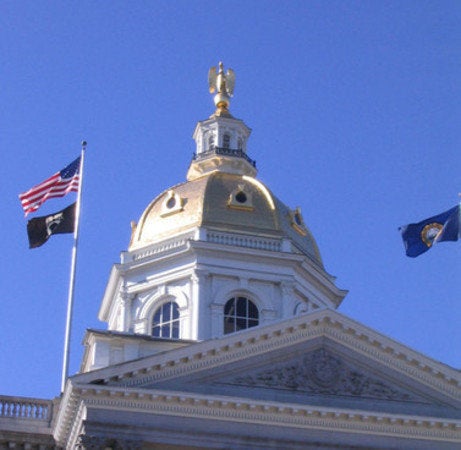 The Tea Party-controlled New Hampshire House of Representatives passed a bill on Wednesday to prohibit undocumented immigrants from receiving in-state tuition rates at the state's universities and colleges.
The House voted 217-82 in favor of the legislation, which would require all students seeking in-state tuition rates to sign an affidavit attesting that they are legal residents of the United States. The bill passed the Republican-controlled state Senate 18-5 earlier on Wednesday. The bill will next be considered by Gov. John Lynch, a Democrat.
"HB 1383 is an attack on the university system of New Hampshire," said Rep. Mary Gile (D-Concord), referring to the bill by its number.
During the course of the session, Gile spoke to her colleagues primarily about what she said were a series of attacks on the university system, which she said threatened New Hampshire's economic future. During discussions of the House and Senate education committees, no testimony had surfaced shoing that undocumented immigrants had been seeking the in-state tuition rate in New Hampshire's public university system, she said.
Gile, who House Speaker William O'Brien (R-Mont Vernon) tried to cut off after a few minutes, said she believes the testimony shows that there is no interest among undocumented immigrants in seeking the in-state tuition rate. The Tea Party majority that has controlled the state legislature since 2011 is trying to end public higher education in the state, she claimed.
"Enough is enough," Gile said of the tuition bill. "This is a shameful bill."
Opponents of the legislation also noted that the bill would require university admissions officers to review the affidavits and enforce federal immigration laws. Admissions officers are not trained to enforce immigration laws; this is the responsibility of the federal government not university personnel, bill opponents added.
"This bill requires admissions officers to enforce federal immigration law for which they don't have the training or funding," said Rep. Cindy Rosenwald (D-Nashua).
The proposal could expose admissions officers to litigation if a mistake were made since they lack training in immigration enforcement, Gile said.
Rep. Jeffrey St. Cyr (R-Alton) was the only Republican to publicly oppose the bill. St. Cyr, who had been elected to the House while a student at the University of New Hampshire, agreed that immigration enforcement was the federal government's responsibility; students might not know that they are undocumented immigrants when applying to college if they came to the United States at a young age, he said. These students have excelled at their education in New Hampshire's public schools and should not be penalized, St. Cyr said.

"They are prepared to spend thousands of dollars," he added.
Supporters of the bill said that proposal that passed on Wednesday is an amended version of the original draft, which required the development of a policy to stop undocumented individuals from receiving in-state tuition rates. The new version requires an affidavit instead.
Four states -- Arizona, Colorado, Georgia and Indiana -- have adopted laws preventing the granting of in-state tuition rates to undocumented residents, according to the National Conference of State Legislatures. In Alabama and South Carolina, laws prevent undocumented residents from being admitted into state universities.
Last year, Kansas lawmakers voted down an in-state tuition ban proposed for undocumented residents that had been recommended by Secretary of State Kris Kobach, a Republican and the architect of Arizona's controversial immigration law.
Popular in the Community