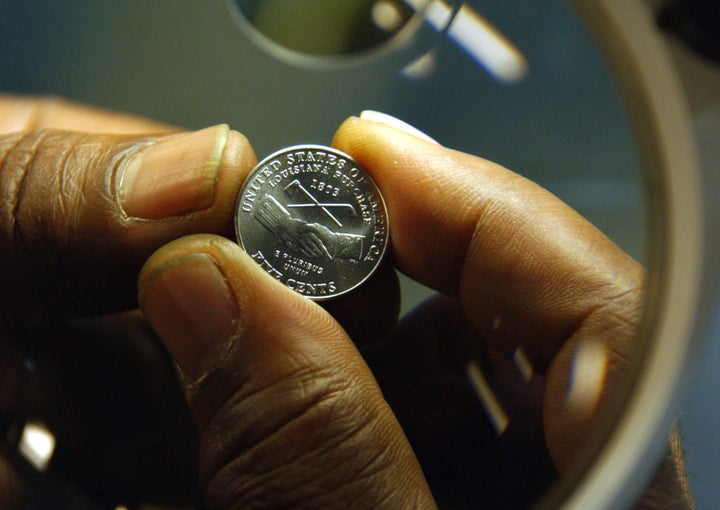 New Hampshire legislators voted to override a veto by Democratic Gov. John Lynch on Wednesday, paving the way for a new law to restrict the state's minimum wage.
The bill, sponsored by Republican Rep. Carol McGuire and strongly backed by GOP leadership, automatically ties the state minimum wage to the federal minimum wage, assuring that New Hampshire's rate is as low as it can legally be.
With its minimum wage currently set at the federal rate of $7.25 per hour, New Hampshire is ensuring that it will continue to have the lowest minimum wage in all of New England. Maine, Vermont, Massachusetts, Rhode Island and Connecticut all have state minimum wages between $7.40 and $8.25 an hour.
The fight over McGuire's bill led to some unusual stances for New Hampshire politicians. McGuire has been honored by the libertarian-leaning New Hampshire Liberty Alliance and enjoyed Tea Party support, yet she essentially argued that the state should defer to the feds when it comes to the minimum wage.
Meanwhile, the Democratic governor made a states' rights argument for killing McGuire's bill. Lynch said New Hampshire shouldn't relinquish its right to set its own wage rate.
The governor's spokesman, Colin Manning, told HuffPost that as a result of the law New Hampshire now "cedes state control and authority" to the federal government.
"New Hampshire has had a minimum wage law since 1949, and neither our citizens nor our businesses have called for its repeal," Manning wrote in an email. "There is no need to undermine our state's economic strategy or cede our state authority to the federal government, which is why the governor vetoed the bill."
Calls to McGuire and Republican House Speaker William O'Brien seeking comment were not returned.
But in a statement after Lynch's veto, O'Brien accused the governor of acting on "an anti-business philosophy" and "removing the 'open for business' sign" from New Hampshire by trying to maintain the current minimum wage flexibility.
"There is no reason for New Hampshire to set ourselves higher than the national average and make ourselves less competitive for these workers who need to gain experience," he said.
Opponents of McGuire's bill point out that the previous law did not set the New Hampshire minimum wage any higher than the federal rate -- it only gave the state the option to do so if it pleased. Also, New Hampshire does not appear to have suffered from a competitive disadvantage, given that the minimum wages in neighboring states were already set higher.
Several states have raised their minimum wage in recent years, but GOP leaders and business interests have assaulted some of those bumps as job killers. Missouri Republicans tried and failed to cap their state's minimum wage earlier this year. Then in May, a Florida federal judge ruled that a state agency had been illegally suppressing its minimum wage. And business groups in Maine have lobbied for the creation of a "training wage" that would let companies pay teenagers less than the state minimum.
The current federal minimum wage of $7.25 per hour translates into a $15,000 salary for a full-time worker. Many economists now say that higher minimum wages can provide a boost to the sluggish economic recovery.
"Given the fact that minimum wage workers spend every penny they earn in their local businesses, a strong wage floor is also vital to stimulating the consumer spending necessary for real and lasting economic recovery," said Christine Owens, executive director of the National Employment Law Project, in a statement decrying legislators' override of Lynch's veto.
Earlier this year, Democratic Rep. Terie Norelli called McGuire's bill "just the beginning of what I think is a real assault on New Hampshire workers and wages and irresponsible legislation."
Last month, Lynch vetoed a bill brought forth by Republicans that would have converted New Hampshire into a so-called right-to-work state. The bill would prohibit collective bargaining contracts that require workers to pay union dues if they are not union members. It would make New Hampshire the first right-to-work state in New England.
O'Brien has said Republicans will try to override Lynch's veto of that bill in the fall.

Popular in the Community