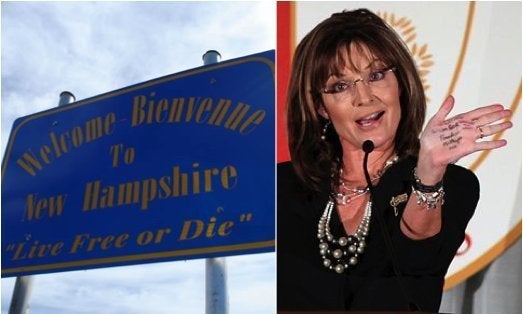 Joseph W. McQuaid, publisher of the New Hampshire Union Leader, is going to follow his state's motto and "live free or die," even if it means telling former Alaska Gov. Sarah Palin to stay out of Granite State politics.
In the op-ed, McQuaid portrayed Palin's interest in the race as both unsurprising and ineffective, saying "[t]he race will be won by the candidate who impresses New Hampshire voters, and New Hampshire voters are rarely impressed by what outsiders have to say."
Palin's motives for the endorsement, McQuaid continued, had nothing to do with the former vice presidential candidate's knowledge of the state or its politics: "She spent a few hours here on one day during the 2008 Presidential election," wrote McQuaid. "That's still more time than she spent getting to know Ayotte, but it takes quite a bit longer to know New Hampshire."
McQuaid ended with a piece of advice to Ayotte's challengers: "Don't fret over what a 'Mama Grizzly'' from Alaska does."
Ayotte faces a multitude of Republican challengers in the Sept. 14 primary, including businessmen Bill Binnie and Jim Bender, as well as former gubernatorial candidate Ovide Lamontagne.