 WASHINGTON -- After finishing in a near-tie with former U.S. Sen. Rick Santorum in the Iowa Caucuses on Tuesday, former Massachusetts Gov. Mitt Romney's polling numbers edged slightly higher, nudging just over 40 percent on four tracking polls of New Hampshire released on Friday.
Although Santorum's support has risen rapidly, he remains in third place, still running well behind U.S. Rep. Ron Paul, with Romney running ahead of Paul by margins of 20 points or more on the four most recent surveys.
While more than a third of New Hampshire's voters say they have not yet settled on a candidate, Romney's position in the state remains as strong as ever.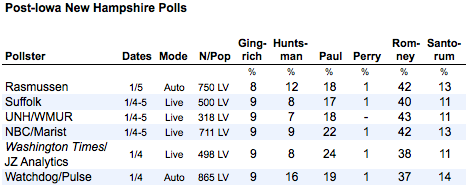 All six surveys also show Santorum, of Pennsylvania, rising into double digits for the first time, receiving support ranging from 11 percent to 14 percent, but still running well behind Ron Paul, whose support varied from 17 percent to 24 percent.
The chart below, featuring the HuffPost Pollster trend lines based on all public polls in New Hampshire, shows that four-fold rise in Santorum's support, from just under 3 percent in mid-December to 11.9 percent now, is the most dramatic change since the Iowa caucuses.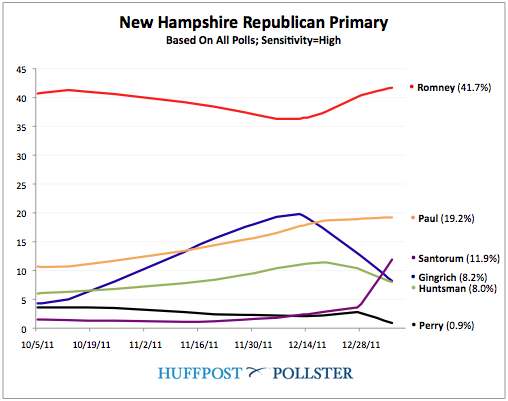 Nonetheless, support for Romney -- the most important number to watch over the next few days -- remains stable and perhaps slightly higher at 41.7 percent. Ron Paul, of Texas, has also shown steady progress over the last three months, rising steadily from 11 percent to 19.2 percent since October. Paul's support varied considerably on the six new polls, but showed no signs of fading.
Meanwhile, support for former House Speaker Newt Gingrich has clicked down roughly four percentage points, from 12.5 percent to 8.2 percent on the Pollster chart since Iowa. A continuing Gingrich decline could aid Santorum, but it is hard to see him rising much beyond 20 percent if support for Romney and Paul remains stable.
That said, the WMUR/University of New Hampshire poll includes a bit of a warning: More than a third of the likely Republican primary voters (37 percent) say they are "still trying to decide" who to vote for, while 26 percent report they are leaning to a candidate and only 37 percent say they have definitely decided.
While the still-trying-to-decide number has fallen significantly, from 59 percent in November, it stands as a reminder: This is the New Hampshire primary, where the last weekend of campaigning can matter a great deal. Mitt Romney has reason to be confident, but with two major televised debates scheduled for Saturday and Sunday, surprises may remain.

Popular in the Community