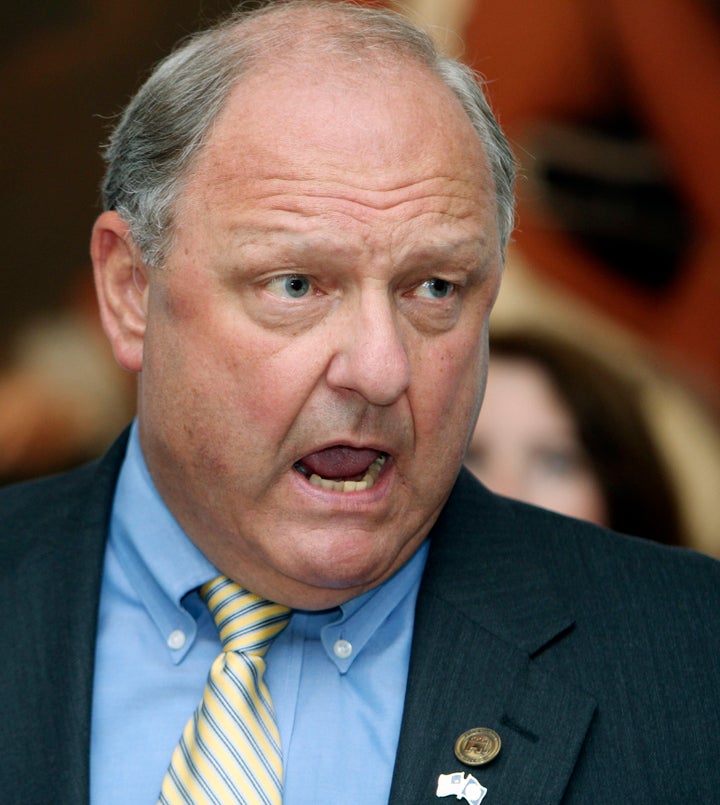 WASHINGTON -- The lone Republican senator from New Hampshire and the state's two Republican members of Congress on Thursday put their names behind a vote on the removal of the state party's chairman, even as the Tea Party-affiliated leader continued to defend himself.
The vote to remove Jack Kimball as New Hampshire GOP chairman won't happen until Sept. 1, but the state party's bylaws require notice of such a vote five business days in advance. The Huffington Post first reported Wednesday that Kimball would be given notice of an upcoming vote.
The letter to Kimball bore 22 names from the 36-member state executive committee in support of a vote on his removal, including the handwritten signatures of the top seven Republican officials in the state: Sen. Kelly Ayotte, Rep. Frank Guinta, Rep. Charlie Bass, state Senate President Peter Bragdon, state House Speaker Bill O'Brien, national committeewoman Phyllis Woods and national committeeman Steve Duprey. Only 19 votes are needed to oust Kimball as state party chairman.
In a separate statement, the five elected leaders called the controversy around Kimball's tenure as chairman a "serious distraction" and said he should resign.
"We respect Jack Kimball, and appreciate all the personal time and effort he has made on behalf of the New Hampshire Republican Party. But to ensure that all of the party's energy and resources are solely focused on electing Republicans, we believe it is time to move beyond this serious distraction," the statement said.

"Therefore, we call upon Jack to put the best interests of New Hampshire Republicans first and step aside as chairman of the party."
Bill Foley, an executive committee member, told HuffPost in an email that he had been "trying to find a reasoned way out of this situation and had had extensive conversation with the Chairman over the last week."
But, Foley said, "the Chairman continues to refuse to reach out except to a very narrow group of what I consider to be radical fringe element of the Party who have overestimated their value and importance in the last election, and currently he continues to blame his predecessors and find coup[s] and conspiracies wherever he looks."
One other executive committee member not named in the letter told HuffPost he will vote to remove Kimball, and another Republican source not on the committee said he knew of three additional committee members who have committed to vote for Kimball's removal, bringing the total number of votes to at least 25 and possibly 26.
"He's gone. There's no doubt about it. None of those people are going to change their vote," said the committee member.
Kimball has so far refused to resign, and on Thursday he strode defiantly into a mid-morning press conference in Manchester to defend himself. He said what some of his supporters have been threatening for a few days now: His ouster would cause a permanent rift between Tea Party activists in the state and the Republican establishment and would "damage the party."
Kimball, a 64-year-old small business owner from Dover who founded a Tea Party group in 2009, said he is "the first Tea Partier to be elected chairman of the Republican Party in the nation."
"The struggle between the 'Tea Party' and the 'Establishment' must be resolved positively so our party will be stronger," he said. "I have pledged to unify and be the bridge between the longtime Republicans and the newer, liberty-minded Republicans."
"As we have watched the country head into the wrong direction and dive into economic decline, the liberty movement will only grow stronger and increase in size," Kimball continued. "Those who seek to remove me from my duly elected position must recognize that I represent a movement -- a political moment -- much larger than myself. I plead with them not to pick this fight. It will only damage the party and cause unnecessary division."
He also defended his fundraising efforts as chairman, which have been a major source of complaints, and said that the loss of two special elections for state legislature seats earlier this year were "to be expected."
"We have such super-majorities in both chambers that all the incentives to win are aligned against us," he said.
As for his signing of a petition to allow the Libertarian party on the ballot -- a move Republicans said would cost them votes in 2012 and was also a violation of party bylaws -- Kimball said it was "a momentary mistake that I corrected immediately."
REAL LIFE. REAL NEWS. REAL VOICES.
Help us tell more of the stories that matter from voices that too often remain unheard.