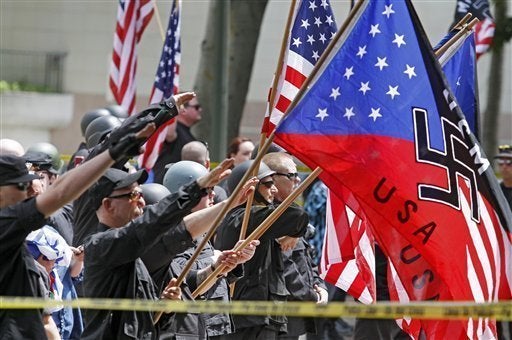 A New Hampshire man who has sparked controversy for spewing racist, white supremacist views has decided to use his divisive platform to campaign for a New Hampshire State House seat.
Ryan J. Murdough, a 30 year-old who works with special needs children at a local youth center, is the "state chairman" of an organization called American Third Position, or A3P, a group that defines its mission as "represent[ing] the political interests of White Americans, because no one else will." (The site currently advertises a "moneybomb" for Murdough, with a fundraising goal of $2,500.)
In a caustic letter titled "We must preserve our racial identity" published by the Concord Monitor at the beginning of the month, Murdough offers his beliefs on white supremacy and racial segregation:
For far too long white Americans have been told that diversity is something beneficial to their existence. Statistics prove that the opposite is true. New Hampshire residents must seek to preserve their racial identity if we want future generations to have to possibility to live in such a great state. Affirmative action, illegal and legal non-white immigration, anti-white public school systems, and an anti-white media have done much damage to the United States of America and especially New Hampshire. It is time for white people in New Hampshire and across the country to take a stand. We are only 8 percent of the world's population and we need our own homeland, just like any other non-white group of people deserve their own homeland.
"In celebration of Black History month, I am going to recognize what they do best,commit crime,get AIDS/STD's,blame whitey,cry racism." (sic), Murdough once wrote on his Twitter page, which has since been deleted (don't worry though, because according to Murdough: "I am a moderator at www.whitenews.com where I can write more lengthy posts if I choose).
After New Hampshire GOP chairman John H. Sununu effectively excommunicated Murdough from the party, state GOP spokesman Ryan Williams followed up, calling Murdough "a despicable racist" and saying that "(h)is racist views are abhorrent, and he is not welcome in the New Hampshire Republican Party."
Murdough doesn't seem to care.
"I don't really need any Republican help. I wasn't looking for it in the first place," Murdough said. "As a whole, I think they've sold white people out."
Erin Booth contributed to this post.
Popular in the Community