When political observers characterize New Hampshire, host state of the first-in-the-nation primary on Feb. 9, one aspect that they typically focus on is the state's famed independent-mindedness. That's a quality that helps make sense of the fact that the two insurgent candidates, Democrat Bernie Sanders and Republican Donald Trump, boast big leads in the polls. But there's another unique thing about Granite State voters that's worth noting: They always break late. And therein lies the hopes of every candidate with a different surname.
Now these two features of the state's citizens are on a collision course with one another. And if history is any guide, we might wake up next Wednesday with another twist in the tale of this campaign season. Back in 2008, then-Sen. Barack Obama came into New Hampshire with a head of steam from an Iowa caucus victory and a deemed-to-be-insurmountable lead in the polls. And then, whoops: He lost to Hillary Clinton.
While the media was frantically piecing together the remnants of their broken narrative, I went back to school -- St. Anselm's College, to be exact -- to find out what actually happened:
As the last polls came in the Sunday before the primary, one important number failed to register: 47 percent. That's the percentage of the Democratic electorate in New Hampshire that hadn't made up its mind on who to vote for. Jennifer Donahue of the New Hampshire Institute of Politics at Saint Anselm's College, told The Huffington Post, "I always look for that number first because historically, New Hampshire voters make up their minds at the last minute." On Sunday night, that was the number that stood out in the CNN/WMUR poll. That large number of Democratic undecideds so close to the vote was unprecedented. And it was no outlier: the pollster at CNN/WMUR said that number was consistent throughout all the polls being taken.

"That, right there, is cautionary," Donahue says, adding that the news should have been, "Half the Democratic electorate still undecided...and that would be the headline until that number hits 30 percent."
There will probably be a fresh CNN/WMUR poll out this weekend, but here's where those numbers stood as of Jan. 31, first on the Republican side:

And here's the Democratic side of the ledger:

As you can see, there's still a great deal of fluidity, especially on the Republican side, where as of last week over 60 percent of voters were not yet firm in their choices. Back in 2008, Donahue suggested that media coverage should confront high undecided numbers like this by leading their coverage of the polls to note the high number of undecideds in "bold, red letters." This will have to suffice: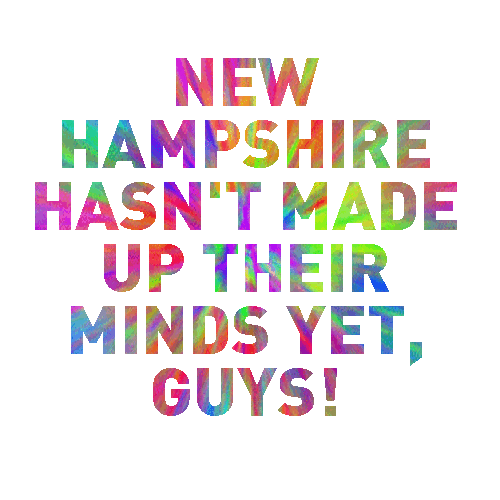 I'd still say that if New Hampshire surprises, you shouldn't be surprised.
Jason Linkins edits "Eat The Press" for The Huffington Post and co-hosts the HuffPost politics podcast, "So, That Happened." Subscribe here. Listen to the latest episode below.
Calling all HuffPost superfans!
Sign up for membership to become a founding member and help shape HuffPost's next chapter