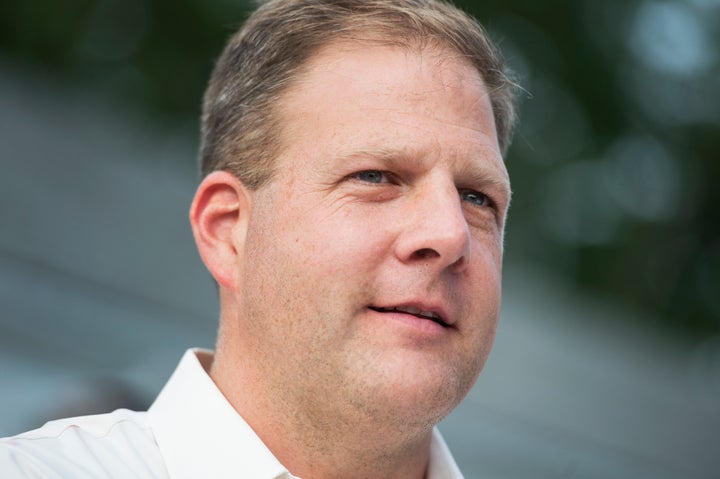 New Hampshire Gov. Chris Sununu (R) signed a measure into law on Friday tweaking the definition of who can vote in the state, a move that voting rights groups strongly oppose.
Under New Hampshire law, voters in the state only need to be "domiciled" there, meaning they have a continuous physical presence in New Hampshire and intend to maintain it there. A resident, by law, intends to remain in New Hampshire "for the indefinite future."
The measure Sununu signed Friday tweaks the definition of resident to remove the phrase "for the indefinite future." That means that being domiciled and being a resident of the state, for legal purposes, will be considered the same thing.
Voting rights groups said that change would disenfranchise certain voters because New Hampshire residents are required to do certain things, like get a driver's license in the state and register their vehicles there. The fees associated with those tasks, the groups said, amount to a de-facto "poll tax" that would discourage college students, medical residents and other people living in the state from voting there. Anyone who doesn't abide by the requirements for residents could face a misdemeanor charge.
The measure will take effect on July 1, 2019.
New Hampshire Republicans said the current definitions were inconsistent, and the changes would bring New Hampshire in line with other states. The New Hampshire Supreme Court said 3-2 in an advisory opinion on Thursday that the law was constitutional.
"Currently, an individual who is domiciled in this state, but who does not have any real intention of making New Hampshire their home, may vote in our elections while avoiding the obligations that all other residents must meet," Sununu wrote in an op-ed in the Concord Monitor on Friday. "HB 1264 will put every voter on an equal footing by making all those who vote in New Hampshire subject to the same legal requirements."
The three-justice majority on the state Supreme Court dismissed the suggestion that requiring voters in the state to register their cars and get driver's licenses amounted to a poll tax.
"If, while here, such persons come to regard New Hampshire as 'home' and establish sufficient attachment to the state to satisfy the requirements of domicile, then they will be entitled to vote here. But if New Hampshire does become their domicile, they also will incur the same obligations of state citizenship as are imposed on all other residents of the state," they wrote. "On the other hand, if such persons regard some other place as home and choose to maintain their domicile there, then that place, rather than New Hampshire, is where they must vote, but they also may not then be obligated to obtain a New Hampshire license in order to drive, or to register their motor vehicle in this state."
"There is nothing unfair or unconstitutional about state laws that require persons to make this choice."
Last year, Sununu publicly suggested he had reservations about the bill and activists urged him to veto it. After he signed the bill on Friday, they accused him of going back on his word.
"Governor Sununu committed multiple times to vetoing this harmful piece of legislation that undermines the fundamental right of every inhabitant of our state to vote," Liz Wester, the New Hampshire state director for America Votes, said in a statement. "Governor Sununu said he would 'never support anything that suppress[es] the student vote.' It is now clear that the governor never intended to keep the promise he made that day and has turned his back on young people in this state at a time when New Hampshire needs young people more than ever."
Gilles Bissonnette, the legal director of the American Civil Liberties Union of New Hampshire, which opposed the bill, said it was improper for the state Supreme Court to have issued an advisory opinion on the law without a specific factual record to base its reasoning on. The two justices who dissented from the court's advisory opinion raised a similar issue.
Bissonnette said the ACLU was considering a legal challenge to the measure.
Popular in the Community