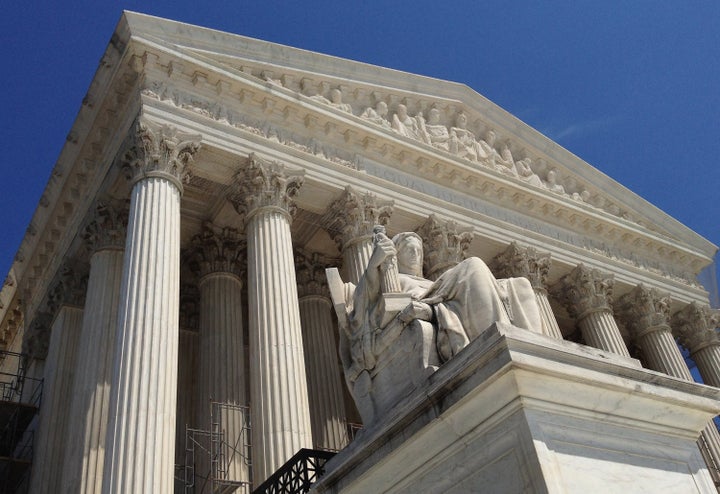 WASHINGTON -- The state of New Hampshire and the Justice Department agree that the state shouldn't have to seek permission from the federal government before making changes to its voting laws. But a conservative group that doesn't think any state should be subject to Section 5 of the Voting Rights Act, which requires certain jurisdictions to pre-clear any such changes, is trying to block New Hampshire's so-called bailout, alleging it's all part of a scheme to trick the Supreme Court.
The Center for Individual Rights filed a motion to intervene in a federal lawsuit last month to attempt to block New Hampshire from getting out of Section 5, alleging the 10 New Hampshire towns or townships covered by the provision aren't entitled to a bailout under the law.
Section 5 is one of the toughest weapons the federal government has to fight racially discriminatory voting laws. All or parts of 16 different states with a history of racial discrimination are required to have either the Justice Department's Civil Rights Division or a panel of federal judges in Washington, D.C. sign off before they make any changes to their voting laws.
But with the constitutionality of Section 5 before the Supreme Court this year, the Center for Individual Rights is alleging that DOJ is interpreting the law "very liberally" in an effort to create a "false impression" that it is easy to bail out of the requirement. The federal government will likely argue that Section 5 is constitutional because states with a clean record can get out of it.
"Part of the defense of the constitutionality of that statute is that the provisions permitting bail-in and bailout ensure that the statute remains focused on the jurisdictions with the worst records, and that the bailout provision can be readily used by covered jurisdictions with clean records," lawyers for the Center for Individual Rights argued in a filing last month. "The Attorney General thus has an incentive to interpret the bailout conditions very liberally, and his effort to defend the constitutionality of Section 5 in Shelby County seems likely to influence his determination of whether the bailout conditions have been met here."
Justice Department officials, who officially announced the bailout agreement with New Hampshire on Dec. 21, argued in a court filing last month that the Center for Individual Rights shouldn't be allowed to sabotage New Hampshire's bailout in an effort to hurt the defense of Section 5.
"Permissive intervention should not be granted where Movant's purpose appears to be to advance a constitutional challenge to the Voting Rights Act in separate litigation in a different court," DOJ lawyers argued in a court filing. "Movant is of course perfectly entitled to raise as an amicus in the Supreme Court any arguments he chooses regarding the constitutionality of the Voting Rights Act, but he should not be permitted to advance that end by invoking the judicial process in this case."
The Center for Individual Rights is representing 60-year-old New Hampshire resident Peter Heilemann. While Heilemann does not live in any of the 10 New Hampshire towns or townships covered by Section 5, he submitted an affidavit claiming that since Section 5 applies to statewide changes in election law, he had received the benefits from it. Heilemann's wife Susan said he wasn't available to speak on Wednesday afternoon but told The Huffington Post that he became involved in the case at the recommendation of "a friend that he respects." Haverhill Town Clerk Bette Pollock said that Heilemann is a registered Republican.
In addition to the Center for Individual Rights, two conservative lawyers who worked in DOJ's Civil Rights Division during the George W. Bush administration have alleged DOJ is making it too easy for New Hampshire to bail out of the preclearance requirement. J. Christian Adams alleged that the bailouts were being "mass-produced with collusion and deception," while Hans von Spakovsky said DOJ was acting in a "likely unlawful" manner.
"The conspiracy theorists are at it again, and again without any facts to back up what they say," J. Gerald Hebert, a former Justice Department lawyer who is representing New Hampshire in the bailout case, told The Huffington Post. "The goal of intervention is not to bring about strict enforcement of Section 5. They're trying to delay the bailout of New Hampshire because they believe it will hurt their case against the constitutionality of Section 5 in the Supreme Court."
Circuit Court Judge Thomas B. Griffith and U.S. District Judges Emmet G. Sullivan and Rosemary M. Collyer must sign off on New Hampshire's bailout before it goes forward. The Supreme Court will hear oral arguments on the Section 5 constitutionality case known as Shelby County v. Holder on Feb. 27.
Calling all HuffPost superfans!
Sign up for membership to become a founding member and help shape HuffPost's next chapter
BEFORE YOU GO
PHOTO GALLERY
7 Ways You Could Be Disenfranchised