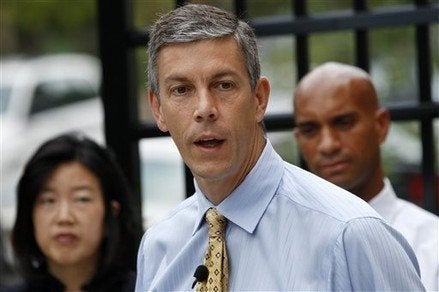 A contract for New Haven public school teachers is being hailed as a pathbreaking model worth replicating across the nation.
In the words of U.S. Secretary of Education Arne Duncan: "This is a really important progressive labor agreement. It's one that folks around the country should take note of." Duncan also claimed that the New Haven contract "shows a willingness to go into areas that used to be seen as untouchable. This shows real courage on the union's part."
AFT president Randi Weingarten, given credit for helping "broker" the New Haven contract, added: "I rarely say that something is a model or a template for something else, but this is both."
New Haven Mayor John DeStefano, a Democrat seeking re-election this fall, added that the teacher contract was only possible because of a level of collaboration with the unions not often seen in Washington, D.C. -- presumably a slap at the brash, and sometimes unilateral, moves of D.C Schools Chancellor Michelle Rhee.
When paired with the appointment of education reformer Alex Johnston to the New Haven school board and the talented Garth Harries (a former top aide to Joel Klein) as New Haven's assistant superintendent for portfolio and performance management, the potential for a new day in New Haven seems real and worthy of national notice -- and replication.
At least, that's what national reporters, including at the Wall Street Journal, apparently believe.
Great story -- until you actually read the details of the contract. A careful review of its provisions reveals the teacher contract is not that remarkable at all.
Like many teacher union contracts, the New Haven contract preserves tenure, does not allow good teachers to get paid more than bad teachers, allows a minority of teachers to block work rule waivers favored by a majority of teachers, and makes no commitments to close any specific bad schools.
This doesn't mean that New Haven isn't a city to watch, but these disappointing contract provisions certainly suggest that cities committed to serious education reform should not replicate its new union contract -- despite the AFT hype and Secretary Duncan's premature praise.
Consider three of the teacher contract's key "reform" features: performance pay for teachers; allowing schools to opt-out of work rules with teacher consent; and possibly converting low performing schools into charter schools.
Performance Pay: Under the New Haven contract, teachers will receive school-wide performance bonuses. This approach hardly required tough bargaining. Randi Weingarten already agreed to this approach in New York City four years ago.
What she did not agree to then or now was to allow the district to pay good teachers more than bad teachers. Paying good teachers more might strike some as common sense, but Weingarten can count and she understands that good teachers and bad teachers cast equal votes in union-leader elections. That's union realpolitik, not "real courage on the union's part."
New Haven's minimalist approach is eclipsed by other cities that have pushed the envelope further, including notably Denver and Houston.

Opting Out of Work Rules: As Randi Weingarten well knows, the New York City contract she negotiated, which expires at the end of this month, allows work-rule changes to be approved with a 55 percent vote of a school's teachers.
In fact, at a New York City charter school that Weingarten founded and chaired, the faculty voted to exempt the school from work rules embedded in the 165-page citywide master contract she negotiated. Apparently, even Weingarten couldn't figure out how to run a good school under the contract she negotiated for the rest of the city.
So, if anything, New Haven got rolled on this provision by agreeing to a 75 percent threshold (two-thirds for "turnaround schools"), when the AFT chief herself agreed to a more reasonable 55 percent threshold in New York City.
With a super-majority voting threshold, a minority of teachers can block work-rule changes favored by most teachers. Plus, the New Haven contract allows the New Haven Federation of Teachers to veto unilaterally a work-rule waiver even if 75 percent or more of the teachers vote in favor.
And, unlike the current New York City contract, the New Haven contract included no system-wide increase in the school day.

So much for pathbreaking reform.
Converting Low-Performing Schools to Charter Schools: The New Haven contract allows district schools to be converted into charter schools, a belated acknowledgment of the phenomenal success of local New Haven public charter schools -- Amistad Academy and Elm City College Preparatory Elementary and Middle Schools.
Charter school conversions have been allowed, as a matter of state law, for more than a decade in neighboring New York. And, the federal No Child Left Behind Act adopted in 2001 already presents conversion to a charter school as one of the options for schools designated for "restructuring."
Further, the Los Angeles Unified School District, following a parent protest calling for more schooling options for their kids, voted this year to put as many as 250 district schools up for management by nonprofit charter-school operators and other.
So, in a sense, the New Haven contract is simply following, not leading, a much larger trend. The contract's approach to charter schools, however, mandates unionization, guarantees no layoffs, preserves grievance procedures, and keeps in place full transfer rights of staff. Reform with a union twist, one might say.
New Haven still is worth watching because the mayor and school leadership are committed to moving towards a "portfolio" approach to overseeing its schools and, in the process, allowing a much greater variety of innovation within its schools.
New Haven's new teacher contract is substantially less novel than advertised and contains some significant obstacles to reform -- most notably the 75 percent threshold for work-rule waivers.
Nonetheless, one still senses that a broader breeze is blowing through the nation that will open the door for even greater change in the future.
For now, if New Haven ultimately transforms its school district, it will be in spite of -- not because of -- the new teacher contract. For the sake of their students, let's hope New Haven succeeds.
Related
Popular in the Community