 Warning. This is a test of the Emerging Detroit Brainstorm System. This is only a brainstorm. Enjoy.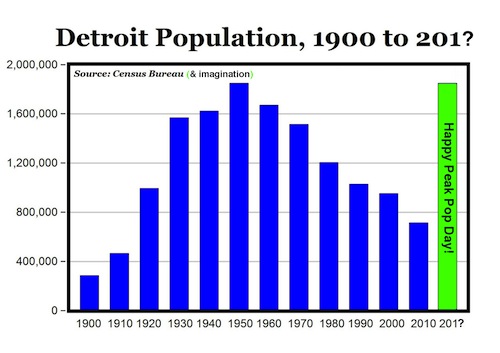 Detroit hit its peak population of two million (give or take a few jelly beans) in 1950. Since then, it's been a steep sleigh ride down to 700,000 and dropping. Imagine a day, or weekend, or week where 1.3 million people from around the world visit Detroit en masse to recreate and experience the high-water mark of a full and thriving Motor City. Maybe a few of them will even fall in love and stick around to help save the shrinking city from a fate similar to the decommissioned former planet Pluto.
If you charged a modest $5 online registration fee, you would raise $6,500,000 -- coincidentally the amount of money that could have bought all 13,000 $500 Detroit properties at the recent Wayne County Tax Foreclosure Auction. If people each spend an average of $100 during their stay that would be an additional $130,000,000 coming into the local economy -- more fun with numbers: that would nearly equal Detroit's massive $150,000,000 deficit.
Could this really happen? Sure! You'd have to pick a day far enough in advance (a year? more?) and make it really easy for people to broadcast their intent to visit, invite friends, receive updates, and organize their travel plans. Remember, there are more people from Detroit living outside the city than there are people in the city, and Detroit is surrounded by a 5,000,000-person metro area. That means there are plenty of people who'd be interested in coming home again, and plenty within easy driving distance.
You'd probably want a mix of centralized and decentralized organization. Seed it with a few big events and attractions, and encourage business owners and neighborhoods to swing big in providing their own offerings. Between hotels, campgrounds, residents offering lodging through Air BnB, CouchSurfing, and the like, there should be plenty of room. And with so many artists, musicians, and attractions in the city, there would be plenty to do and enjoy.
So, consider this idea out there in the public meme space, and excuse me while I get back to imagining what the aerial photography would look like for an event with well over 13 times the number of people who attend an average Super Bowl. Somebody call Google. This will require satellite imagery and some advanced head counting methodology...
Calling all HuffPost superfans!
Sign up for membership to become a founding member and help shape HuffPost's next chapter