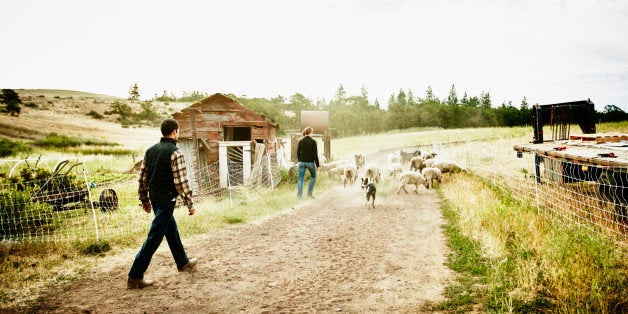 If your mailbox is anything like mine, this is the time of year when it fills up with glossy catalogs promising to help me find that perfect holiday gift. Today, in addition to the catalogs offering cozy wool sweaters, it has become increasingly common to receive ones offering the actual sheep. These holiday giving "catalogs," sent by charities, encourage their recipients to help improve the life of someone in a developing country by giving the gift of water, livestock, or education.
International development organizations like the one I lead, Plan International USA, rely on these catalogs to support impactful programs. But these organizations have been criticized for oversimplifying, and in fact trivializing, what are serious development challenges. Charity watchdogs are rightfully concerned that the language in the catalogs is not always transparent about how the funds are used. Likewise, some in the international development sector see holiday gift catalogs as one more example of the sector's failure to engage the public about the true challenges -- and the successes -- in development.
Clearly organizations like Plan have a major challenge when it comes to constructively engaging the broader public in our efforts. Though Americans are some of the world's most generous givers, research conducted by InterAction for the Narrative Project, reveals that only 26 percent of Americans are engaged in international development. The same research indicates that only 35 percent of Americans believe that they can have a personal impact on reducing poverty in poor countries. Facing a skeptical public, competition for charitable donations, and increased demands for short-term impact, is it surprising that charities use holiday catalogs to package development programs to donors? Your child or your uncle can understand making a donation to bring water to a village, but their eyes may glaze over when you start talking about a gift to a Community-Led Total Sanitation program.
That being said, does engaging the public always require we reduce the complex set of interventions that enable a mother to improve her standard of living so she can keep her children in school to "give a goat"? Simplifying the message is important, but we have an obligation to put holiday "gift giving" into the larger context and ensure that we follow the requests for support with stories of impact.
I have had the pleasure of traveling with donors when they see firsthand the results of their support. The highlight of these visits is when donors connect the dots between their donations and sustainable, locally-owned community development. In a trip to Nepal some months ago, it was powerful to see our donors discuss with Plan Nepal colleagues how their gifts to protect a girl in Nepal are combined with the gifts of many others to train parents about the dangers of child-trafficking and create community protection groups, and how local advocacy also translates into local financed investments that support child protection, such as police education and teacher training.
Connecting giving a gift of a goat or water with larger (and more complex) development work produces sustainable and powerful change in communities, such as improving the rates of girls that go to and stay in school. But not every donor can afford a trip to the field to see these results in person.
And let's also be honest that not every intervention will in every case produce the expected results. But we must be committed to continuing to be vocal and transparent around results. Why? Because poverty, child trafficking, malnutrition and illiteracy cannot be solved any other way. Improving the lives of children around the world requires imagination, innovation and experimentation. All the experimentation in the world will not be of use if we are not able to learn, from both failures and successes.
Development is a complex and -- yes -- a risky endeavor. Our ability to tell the story transparently and honestly is intimately linked to our ability to create a powerful narrative. Plan is investing in better reporting and more sophisticated story-telling to address these concerns. It is a long-term process that requires that we upgrade our skills and systems around evaluation and reporting. But our donors and the families in Plan communities deserve this and must demand it.
This week, I'll be joining millions of Americans in celebrating #GivingTuesday by giving to programs that help people in the world's poorest places become independent and stand on their own two feet. I'll give gifts of birth certificates, school uniforms, and maybe even innovative menstrual hygiene products. And as I do that as a donor, I also commit as a charity executive to continue to improve the transparency with which we tell the story of how these gifts combine to create impact. Can you say that your cozy wool sweater is bringing you on such an exciting journey?
This post is part of a series produced by The Huffington Post and the NGO alliance InterAction in celebration of #GivingTuesday, which will take place this year (2015) on December 2. The idea behind #GivingTuesday is to kick off the holiday-giving season, in the same way that Black Friday and CyberMonday kick off the holiday-shopping season. We'll be featuring posts from InterAction partners every day this week. To see all the posts in the series, visit here; follow the conversation via #GivingTuesday and learn more here. For more information about InterAction, visit here.
Calling all HuffPost superfans!
Sign up for membership to become a founding member and help shape HuffPost's next chapter