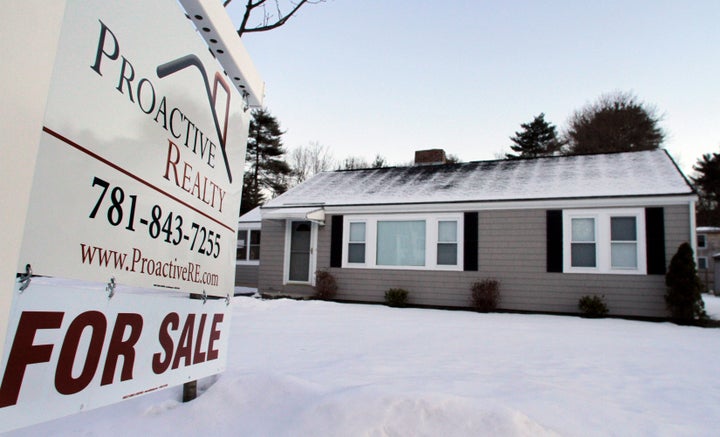 Sales of new homes rose slightly in March after reaching a record low in February, bolstering hopes among economists and home builders that the housing market's multi-year decline has finally hit rock bottom.
New home sales -- tabulated when contracts are signed -- grew 11.1 percent in March to a seasonally-adjusted rate of 300,000, according to estimates released Monday by the Census Bureau. Last month, only 270,000 new homes were sold, the lowest number recorded since the government started tracking the data in 1963. Housing experts say that some of the March increase reflects catch-up from February and January, when bad winter weather delayed home sales and construction projects.
Although the 11 percent monthly growth is welcome, new homes sales are still down a staggering 21.9 percent from March of 2010.
The median sale price for a new home was $213,800, up 2.9 percent from $207,700 in February, but down 4.9 percent from the March of last year.
Analysts are awaiting a Tuesday release of the closely watched S&P/Case-Shiller index of home prices in the 20 largest US cities, which is expected to show a 0.4 percent decline since February.
"With existing homes being sold at much more competitive prices, the demand for newly built properties will recover only very gradually," Capital Economics, a London-based research firm, wrote in response to the latest data. Meanwhile, a separate report indicates that nearly half of the housing market is now made up of distressed properties.
"It's certainly a case that we're establishing a pretty solid bottom for how low [home sales] can go," said Michael Englund, chief economist at Action Economics. "The outlook is pretty bleak for housing, but not as bad as we thought a month ago. It does appear that without any sort of big outside shock, things are not going to get any worse."
Last month showed several mildly encouraging signs that the housing market may be on the mend: existing home sales and new home construction both increased slightly in March. Even so, President Obama said last week that housing is "probably the biggest drag on the economy right now."
Englund and others who think the housing bust has finally bottomed out argue that the general uptick in economy will eventually translate to a pick-up in home sales.
"I look more to the housing market being pulled by the rest of the economy, and therefore I'm counting on the housing market moving forward because the rest of the economy is moving forward," said David Crowe, chief economist of the National Association of Home Builders. First time home buyers, Crowe argues, will begin buying more as the job market improves.
"We still have a sizable pool of people waiting to enter the job market, and that's just one more factor hanging over the head of the housing market. People that quit looking for jobs are probably also not looking for a new home," Englund said.
Englund points to employment as the key to improving the housing market, saying businesses have to start hiring again.
"What's unusual in this recovery cycle is that the business community remains remarkably terrified," Englund said. "By year three, that's usually when the business starts to go gangbusters. I've never seen such a spooked economy at this state of the cycle."
Calling all HuffPost superfans!
Sign up for membership to become a founding member and help shape HuffPost's next chapter