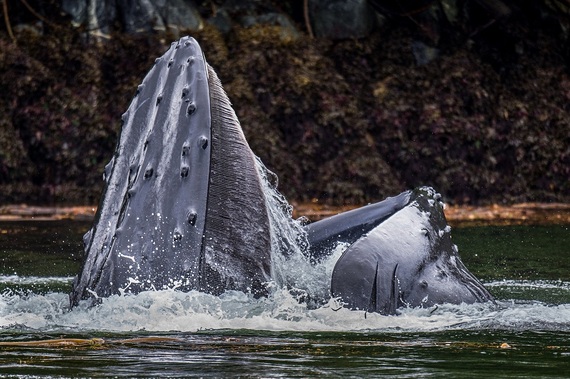 On tonight's episode of PBS's EARTH A New Wild, host M. Sanjayan travels deep into some of the most spectacular forests on the planet, from uncharted areas of the Amazon to the jungles of Sumatra. But this isn't your typical nature documentary. Tonight's episode demonstrates that in forests around the world, nature and people can thrive together.
A shining example of this is Canada's spectacular Great Bear Rainforest. Great Bear is full of massive old-growth forests spread across a vast landscape of mountains, fjords and waterways. It stretches for more than 250 miles, from the northern end of Vancouver Island to the Alaskan border. Nearly 60 percent of the planet's original coastal temperate rainforests have been logged or developed. This place represents a quarter of what's left.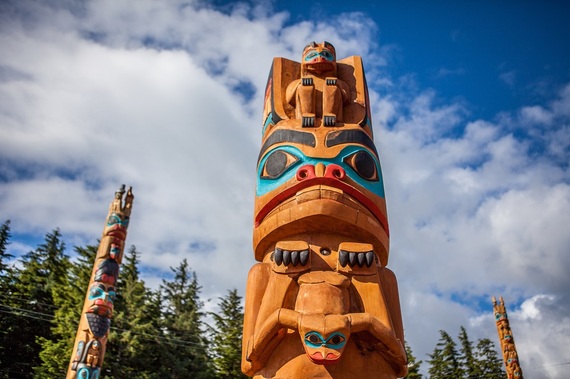 If there's a place to get conservation right, this is it. And to get it right means taking into account all the ways people value this great forest.
To the First Nations peoples of the region, the forest comprises their histories, identities and spirituality. To families of loggers, it means livelihoods and jobs. Over the past decades, during the so-called "timber wars," the area had become a symbol of these seemingly irreconcilable differences between protecting a pristine environment and sustaining a viable economy.
Yet as we see in EARTH A New Wild, these disparate interests are inextricably linked. For example, the forest's iconic bears drag salmon catches into the forest, where the leftovers break down and nourish trees. Those trees, in turn, keep the water healthy for spawning salmon. Those salmon fuel an entire economy miles away along the coast. Pull on one strand of the web and you disrupt the entire system.
Understanding these connections was key to resolving the longstanding conflict between loggers, environmentalists and local communities that threatened the future of the forest. Protecting the forest, it turns out, can also protect the region's economy and way of life.
After years of discord, in 2003 Great Bear's main constituents -- local, regional, and provincial governments; timber companies; conservation groups; and, most importantly, First Nations communities -- came together to create a bold plan for blending conservation with compatible human use.
The result: 5 million acres are now off limits to logging, and more than 19 million acres are under strict forest management guidelines.
My organization, The Nature Conservancy, was honored to help bring this agreement to fruition, leading a campaign to $60 million (CDN) in private funding, matched by Canadian provincial and federal governments. The resulting $120 million (CDN) Coast Opportunity Funds are financing both conservation management and ecologically sustainable business ventures designed to protect the forest and support the livelihoods of local communities.
Today, in places like the Great Bear Rainforest, conservation means more than wilderness agreements. It means preserving cultures, strengthening communities and building sustainable economies for the long-term. When healthy grizzly bear habitat and a healthy job market mutually benefit each other, we can truly say it is a win-win for both nature and people.
Tune in to EARTH A New Wild and visit TNC's New Hope for a New Wild for more on Great Bear and other great stories about how humans and wildlife can live together in partnerships that benefit both.
Images (top to bottom): Humpback whale off the coast of the Great Bear Rainforest in Canada, © Jon McCormack; Totem Poles in Hydaburg on Prince of Wales Island in Southeast Alaska, © Erika Nortemann/TNC; A Kermode bear on Gribbell Island in the Great Bear Rainforest, © Jon McCormack.
Popular in the Community